North West will have her first movie role
The eldest daughter of Kim Kardashian and Kanye West will lend her voice to a character in "PAW Patrol: The Mighty Movie"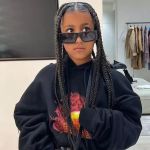 We told you long ago: if Kim, Kourtney, Khloe, Kylie's ability to stay relevant, to dictate trends and tendencies is getting thinner and thinner along with their waistline, the future is North West. It's up to the next generation of the Kardashian-Jenner family, and in particular Kim Kardashian and Kanye West's eldest daughter, to stop the clan's decline and bring it back to the glory of some time ago. Although she is only 9 years old, the little girl seems ready to take on the daunting task or, at least, has begun the training necessary to pick up the legacy of her mom and aunts, spanning fashion and show biz. As a true Nepo baby, North has grown free to experiment with her creativity at the highest level. So while her peers may find the ultimate in having a drawing hanging on the fridge at home, her sketches, on the other hand, end up in a Yeezy collection, and while other 9-year-olds are limited to school plays, she is making her debut directly on the big screen in a mega production signed by Nickelodeon Movies, Paramount Pictures and Spin Master Entertainment. Young West, in fact, is about to take her first steps in film and will lend her voice to a character (as yet unspecified) in the animated film PAW Patrol: The Mighty Movie due out next fall. Joining the budding it-girl will be Mom Kim, who, as in the first PAW Patrol: The Movie, will voice Delores, a poodle who works at an animal shelter; her brother Saint, who will have a small cameo; and an exceptional cast that includes Serena Williams, Kristen Bell and James Marsden.
The news has, inevitably, reignited the controversy about the children of famous mothers and fathers and how, even if (in some cases) lacking in talent or special predispositions, they have careers already established in showbiz and start directly from big projects, instead of studying and working their way up like other ordinary mortals. Yet, in a way, North has been training for this role forever. She is not even 10 years old and her resume is already rich: she starred in a campaign for Fendi; she made her styling debut for Vogue, choosing not only her own clothes but also those of her siblings for a photo shoot dedicated to her mother Kim; during the Yeezy season 8 fashion show, she gave the audience a 2-minute rap performance in which she showed a naturalness as a seasoned artist; last December, she duetted with at Kourtney Kardashian's Christmas party; and when she showed up with her mother at fashion shows in super-cool, designer outfits, she caught the attention of photographers and social media. Also sharing with her mother, she has an account on TikTok with over 13 million followers where she posts videos where she dances, shows off her make-up skills, and does pranks and funny things accompanied by her siblings and friends. The next step in her climb to success? Debuting in film and conquering the world of show biz.