Prada's new serum costs £370 for 30ml
What's behind the luxurious skincare product and the rest of the Prada Beauty line
Summer is in full swing and most of us are already thinking about holidays. Not so Prada, which is just today, 1 August, launching Skin and Colour, Prada Beauty's new make-up and skincare line designed to help skin adapt to the changes in our busy lives and express itself freely through the use of versatile shades and hues. Developed by Miuccia Prada together with Lynsey Alexander, Prada's Global Creative Makeup Artist, and Ines Alpha, a 3D artist working on augmented reality and avant-garde makeup in the digital world who has been appointed the brand's Global Creative E-Makeup Artist, the products perfectly combine minimalism, sophistication, versatility, heritage and the future - codes that have also always characterised the Milanese fashion house's collections. The product that attracted the most attention immediately after it appeared on the website is the Prada Augmented Skin Serum. The reason? The price, which is £370 for just 30 ml.
What does it promise?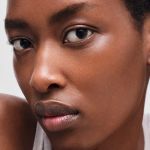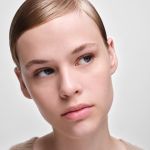 Prada's skincare products aim to renew, strengthen and restore the skin's natural functions based on biological performance. The serum in particular, which is characterised by its light texture, works specifically on three levels: It revitalises the complexion, refines the skin's texture and gives a firm, radiant appearance.
The formulation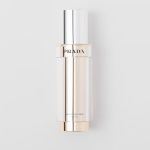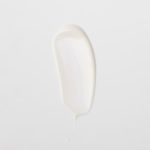 Prada Beauty's entire skincare line can rely on Adapto.gn Smart Technology, a multipotent complex that uses natural active ingredients called adaptogens, a family of 15 rare plants that have existed for more than 400 million years and can withstand extreme conditions. These active ingredients work in synergy with dermoactive and dermocosmetic principles such as proxylans, hyaluronic acid, vitamin C and ceramides, which are known for their nourishing, revitalising and skin barrier function supporting effects. In particular, the serum contains hyaluronic acid (low molecular weight), which improves the volume of the skin and gives it a firm and smooth appearance, peptides, which promote the production of collagen and elastin, and squalane, which smoothes the complexion and gives it a radiant appearance thanks to its antioxidant properties.
What the other products in the line are and how much they cost
Prada's skincare range includes the Prada Augmented Skin Day and Night Cream (€360 for 60ml and €290 for 60ml refill), the Prada Augmented Skin Face and Eye Serum (€370 for 30ml) and the Prada Augmented Skin Cleanser (€95 for 125ml). As for make-up, the brand is launching the Prada Reveal Foundation (€60 for 30 ml) in 33 different shades. What makes it so special? A patented technology that, thanks to an intelligent molecule, optimises the diffusion of light while improving the radiance and texture of the skin. The Prada Colour range includes a selection of 26 lipstick shades (€45 and €35 refills) and 6 eyeshadow palettes (€80 and €65 refills). Each of these palettes is housed in co-designed packaging created by master perfumer Daniela Andrier, the nose behind the Les Infusions de Prada fragrance collection, with scents of vanilla, heliotrope and iris.
Colours and inspirations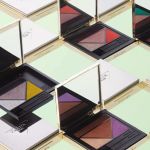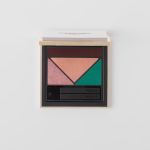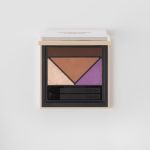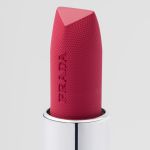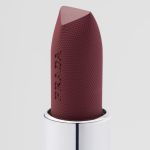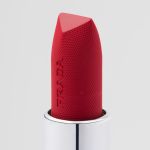 When it comes to eyeshadow, blush and lipstick colours, Prada Beauty's journey began in the brand's fashion archives. Here, Lynsey Alexander had access to books and more than 27,000 fabrics and samples, including material samples such as beautiful iconic prints and distinctive Saffiano leather or nylon. In the end, Alexander and Miuccia Prada chose six prints that inspired the eyeshadow palettes - from the geometric patterns of the 1996 fashion show to the William Morris flowers that adorned T-shirts and dresses in 2003. MUA's favourite eyeshadow palette is No.2 Profusion, with a mix of easy-to-wear metallic shades, a black powder for added definition or coverage and a bright yellow. "Prada is about finding your mood and expressing yourself," said Lynsey Alexander, explaining that she knew during product development that lipsticks should be matte because "matte is what you wear if you want your lipstick to last." This was also the opinion of Miuccia Prada, who always presented her models on the Prada catwalks with this type of lipstick. The result is two different types of matte lipsticks: the soft-matte and the hyper-matte. The former is inspired by the iconic Re-Nylon fabric and uses a white pigment as a base for a luminous, diffused finish, while the latter imitates Saffiano leather thanks to a black pigment base that provides a matte, intense finish.