The heels of summer 2023 according to a trend research
From Barbie sabots to Mary Janes favoured by the royals and styles embellished with rhinestones or mesh
Whether you are pro- Barbie or anti-Barbie, you have to admit that the film, directed by Greta Gerwig, starring Margot Robbie and Ryan Gosling, and featuring clothes by Oscar-winning costume designer Jacqueline Durran, attempts to recreate the most popular looks of the original fashion doll born in 1959, who was also the first doll to wear shoes with heels. Of course, we humans were not born with arched feet like her, who can wear all kinds of shoes and feel no pain even with the highest-heeled models (at least that's what we have believed since we played with them as children). But apparently not all women around the globe have overcome the social Carrie Bradshaw-like passion for shoes with more or less prohibitive heels. And if it's true that Barbie can be anything she wants, then who are we in the real world not to borrow her morals and switch from a pair of practical trainers to vertiginous pumps and sabots.
This is proven by the latest study by Stylight, the global fashion beauty and home platform, founded in Munich in 2008. The analysis of the shopping and surfing behaviour of more than 120 million customers per year has shown that no less than seven trends for 2023 stand out in the selection of shoes with heels.
Mesh kitten heels increase in popularity by 30%
Maybe it was the ballerina by Alaïa, which is now sold out everywhere, or maybe it was the Mermaidcore with dresses that look like fishing nets and are completely see-through, the fact is that we are now seeing these heels as protagonists for the first time. Big fashion houses like Miu Miu, Bottega Veneta and Dolce & Gabbana have already added this very model to their repertoire.
Wavy heels are the new obsession of trendsetters
This is more than just a current trend, it is the next buzzword for the coming autumn. Names like Dior, Loewe, Bottega Veneta, The Attico, Proenza Schouler and Cult Gaia have already designed their iconic styles. What exactly is it made of? A heel rotated by 90° that creates a kind of wavy L on which the weight of the body falls.
Heels with rhinestones and precious stones, possibly in pink, have been researched for more than 95%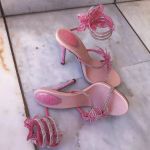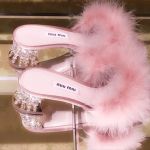 And here we have the Barbie factor. They are precious, glitter incessantly and add just the right touch of opulence to any outfit - from jeans to dresses to suits. They are most courted by big names like Prada, Chanel and Aquazzura, but each brand has incorporated these stones into their footwear because they believe everyone can have their princely moment.
Sheer heels have not been forgotten even after the Kim Kardashian boom
Just the band that wraps around the foot or even the whole heel, both transparent. And if Kim Kardashian made us sweat just looking at her in 2019, then this exact pair of shoes is still popular today, maybe even more popular than before. Dare to try, there's a style for everyone, no matter which shoe you choose.
The Mary Jane 2.0, a favourite even among royals
But not the classic model we have always worn. The most coveted model at the moment has a strap that runs across the top of the foot and is well attached to the front of the shoe. As many as 17% of the requests for these 'new Mary Janes' came from Kate Middleton, who wore them in white with a black patent toe.
Mules with heel show an increase of 92%
And there it is again, the Barbie slogan to tempt us into buying this model, one of the must-haves of the summer. With their Y2K style, they are comfortable and go with any look, and thanks to their practicality, they are also a candidate for perfect daytime shoes. There has been a 92% increase in demand on Stylight.
Sandals with heels are the classic that never go out of fashion
Another star of summer 2023, slimming the figure while adding elegance no matter what you wear. Among the favourites is the silver model, whose demand, by the way, is associated with weddings. No wonder: beautiful for a night out in a gorgeous dress and practical to wear with everything on the remaining hot days. Booming clicks are mainly associated with the Saint Laurent and Alohas brands.
The heels selection to buy