Beauty trends spotted at London Fashion Week
From Harris Reed's kiss curls to David Koma's double glitter lips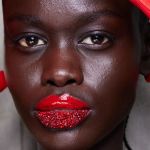 Despite the fact that London Fashion Week has always been the most eccentric and experimental, there were no particularly unconventional choices or disruptive beauty looks to be seen on the catwalk. The only concessions to extravagance and provocation were Isamaya Ffrench's spider lashes for Chet Lo, combined with coloured tongues, and the bows that became an integral part of Simone Rocha's make-up, an unexpected romantic touch to emulate for a special evening. Greenlight, on the other hand, for old-school glamour inspired by the 1920s and 1930s, with waves framing the face and sometimes glowing with gold and silver, as at Harris Reed. There was no shortage of gothic looks either, a dark alternative to the classic (and super trendy at LFW) no-make-up.

Here are the most interesting beauty trends seen on the catwalks at London Fashion Week.
Erdem's Bejewelled Ponytails
Erdem Moralıoğlu took participants to the Home Of Hope For The Restoration Of Fallen Women, a women's shelter that operated in the late 1800s. For the FW23 fashion show, the designer transformed the models into the "fallen, friendless young women" who lived in this "home of hope" centuries ago, basing the aesthetic of the clothes and beauty on their rebellious spirit. Thus Victorian-style taffeta dresses, lace and jackets were accompanied by dramatic smokey eyes and wet hair. Anthony Turner made ponytails to imitate the effect of hair after spending hours in the rain. To do this, he used a generous amount of Olaplex No.9 serum mixed with water and added a generous amount of colored crystals.
Harris Reed and Simone Rocha's downward waves
Simone Rocha's new collection is inspired by Lughnasadh, the Gaelic harvest festival celebrated every first of August. On a beauty level, the tradition was declined in a romantic key, with red, black and white bows placed under the eyes as if they were tears or precious jewels, while the hairstyle picked up the texture and look of raffia, which was incorporated into several garments. Cyndia Harvey let the models' hair fall forward over the face, almost completely covering the eyes with some soft curls "that looked weather-beaten and slightly destroyed." Hair forward, but with kiss curls, also for Harris Reed. Ali Pirzadeh referenced the structural elements of the collection by framing the models' faces with kissing mouth curls adorned with gold and silver leaves to "add dimension and texture while keeping it structured, sculpted and modelled." The finishing touch? A touch of glitter at the hairline on Josephine Baker-like Art Deco waves accentuated Sofia Tilbury's heavenly glamorous make-up, with golden eyes, rhinestone-studded and glittery lips and glowing skin thanks to a special "non-touring" technique that involved modelling the face with highlighter.
David Koma's double lips
If you think there's nothing more glamorous than a pair of red lips, then you have not seen David Koma's latest runway show. The FW23 collection is a tribute to Marlene Dietrich and her essentials, which the British designer has transformed into a constant interplay of masculine and feminine elements. Dinner jacket shirts that become mini dresses, black leather spy coats, asymmetrical silhouettes, boyfriend blazers, bad-girl biker jackets, marabou furs, knitted dresses, crystal-trimmed skirts and dresses made of layers of sequins. And lots of red, shiny and lacquered, like what the iconic actress wore on her nails and lips. These inspirations have been transformed into high-shine double lips by MUA Patrick Glatthaar. What makes them so special? The upper lip is covered in a fiery red patent lipstick, while the lower lip is adorned with a shower of crystals in the same shade.
Richard Quinn's pop eyeshadow
For FW23, Richard Quinn wanted to fashionably reinterpret Frances Hodgson Burnett's The Secret Garden. The magical, floral mood inspired MUA Terry Barber, Artistic Director of MAC Cosmetics, to create a colour palette of lilac, aquamarine and silver, paired with rounded 1920s-style eyebrows, as well as Sam McKnight's hair. To create the look, Barber first prepped the skin with MAC Cosmetics' light diffusing Hyper Real Serumizer, applied the brand's Studio Radiance Face And Body Foundation and then moved on to the eyes. Using the MAC X Richard Quinn Eyeshadow Palette, he drew shades of colour that completely surrounded the eye, finishing with a touch of clear gloss on the lips.
Chet Lo's Spider Lashes
For FW23, Chet Lo's signature popcorn textures turned black, exploring an unprecedented and somewhat dark side of the designer who sought to interpret his diagnosis of depression through a childhood memory: the reassuring glow of creatures of the deep as a metaphor for the light that led him out of darkness. Certainly not an easy theme, Isamaya Ffrench translated it into no-make-up, with small eccentric elements like the tongue painted green, red and blue and the spider lashes. The MUA added false eyelashes and put them together in little clumps.
Christopher Kane's glow
Animal instincts, biology, his working class school days in Glasgow and artificial intelligence are some of the references in Christopher Kane's latest collection, translated into geometric, stiff, sharp cuts and glossy vinyl textures. A similar effect was achieved by Sofia Tilbury with Charlotte Tilbury products such as the Beauty Light Wand Liquid Illuminant in the shade Spotlight, spread on the sides of the face. The result is an ethereal, luminous complexion that is enhanced by the minimalism of the rest of the look.
The sharp look from Burberry
Daniel Lee made his debut in the artistic direction of Burberry with checks that permeate every outfit, coloured from blue to blue, green, pink, coral or bordeaux, but none of these colours influenced the make-up, which is almost completely nude. A single glamorous concession, seen only on some models, was an ultra-refined and applied cat eye that framed the entire eye from top to bottom, with a sparse eyeliner that ended with two small codes.