Beauty trends spotted at New York Fashion Week
From the goth of Rodarte to the minimalist looks of Proenza Scholuer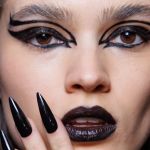 New York Fashion Week gave us plenty of inspiration for our upcoming beauty looks that veer between experimental, romantic and dark aesthetic. Lips are back in the spotlight with a triumph of full colour, bright red, magenta and black lipsticks as we saw at Christian Siriano and Kim Shui. The complexion is pale and luminous, dewy and creates the perfect contrast to accentuate graphic eyeliner and gothic make-up. Those not ready to transform into a nocturnal creature like Rodarte's models can ditch the Wednesday vibe and copy Enid Sinclair's with vitamin colours and '90s and 2000s details. And as for the hairstyle? Better watch tutorials on how to do braids and the perfect ballerina bun.
Here are the most interesting beauty trends seen on the catwalks of New York Fashion Week.
The Wednesday-core of Rodarte and Kim Shui
No one is immune to the Wednesday effect. Not even the designers at NYFW. The gothic aesthetic of the Netflix series will influence the way we style ourselves and wear make-up for a long time to come. So, green light to dark lipsticks and vampy lips like the one Romero Jennings created for Kim Shui by mixing MAC's Lip Liner in Nightmoth (the same product Jenna Ortega wears in the show) with the brand's Locked Kiss Ink in Gossip and Sardonic. Dark lips were also seen on the runway at Rodarte, where James Kaliardos created make-up worthy of a true gothic fairytale using products from NARS. The main focus, however, was on the eyes, which were somewhat inspired by Siouxsie Sioux. The graphic eyeliner lines not only framed the eye area, but extended to the eyebrows and contrasted strongly with the models' pale, ethereal complexions.
The Dopamine Eyes of Anna Sui
Dopamine make-up is one of the trends of 2023, as Anna Sui's fashion show showed. Here, Pat McGrath's team took inspiration from the 1960s and coloured the models' upper eyelids with a Barbiecore shade of pink, while the lower lash line had a hint of turquoise blue. Even the mascara is tinted. The result is a vitamin explosion of colour that is very easy to copy but looks great.
The graphic glam of Prabal Gurung
Prabal Gurung's FW23 collection was inspired by butterflies, which is reflected in the make-up in the form of splashes of colour. MAC's Sil Bruinsma applies pink, green and gold to the central hairline, eyes and eyebrows as if it were a mask or a precious oriental gemstone. The effect is striking, a glam that oscillates between extreme elegance and punk. The most important thing is that the rest of the face remains naked.
The animal instinct of Collina Strada
Collina Strada opted for a daring approach, transforming the models' faces into wearable works of art. Creative director Hillary Taymour and make-up artist Isamaya Ffrench played with masks and silicone applications, colours and biodegradable glitter to create surreal prosthetics that transformed the models into dogs, rhinos, lizards, dolphins and other fantastical creatures straight out of a zoo at a fashion rate.
Sandy Liang and Jason Wu's ballettocore hair and bows
NYFW saw not only the rise of gothic style, but also a return to a certain romanticism, an effect of the balletcore trend beloved by the creators of TikTok. As for hairstyles, this mood was reflected in a cascade of bows adorning the very long locks of Sandy Liang's models, as well as in the many chignons seen on the catwalk, for example by Jason Wu and Christian Siriano. Siriano's bows were particularly dramatic and seemed to open like the petals of a rose.
The full lips of Christian Siriano
Christian Siriano brought a modern-day Audrey Hepburn to the catwalk, focusing on full lips and wearing ballet-style hairstyles. For the full-colour effect, Charlotte Tilbury used products from her eponymous brand: KISSING Lipstick in Velvet Underground, a shocking shade of pink, to which she added a touch of gloss with Collagen Lip Bath in Refresh Rose.
The bold braids of Tia Adeola and Ulla Johnson
Tia Adeola opted for an eye-catching hairstyle with braided plaits, which she assembled into beauty sculptures inspired by 90s Atlanta style, according to Mike Martinez and Sahara Siggers. In a more romantic mood for Ulla Johnson's Cottagecore collection, Joey George created intricate braids that looked like a continuation of dress patterns.
Proenza Schouler's effortless hair
«The inspiration for Proenza Schouler's look this season was "Portraits of Women" This encompasses different moments in life, whether it's going to work, going for a walk, meeting friends for coffee, the simple moments,» explained Guido Palau, who used Bumble and Bumble products to naturally discipline the models' hair after styling. The natural vibe continued into the rest of the beauty, with minimal make-up that focused on glowing skin. Less is more!