Beauty trends spotted on the Haute Couture runways
A deluxe yet easy-to-do beauty surprises in Paris, including scarlet lips and endless lashes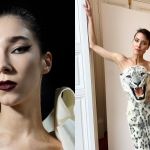 One always associates Haute Couture with an unattainable dream. True, if you look closely at the dresses, which are true works of art obtained from minute, strictly handmade work that involved hours, not to mention days and months, of preparation. Yet in Paris, at Haute Couture Fashion Week, where designers presented their spring-summer 2023 collections, it was accessible beauty looks that stood out. In short, as surreal as it seems to us to even approach Victor&Rolf's upside-down gowns or Schiaparelli's feline details, here is where the dream of seeing ourselves in Dior's same smudged eyeshadow or Chanel's glossy red lips definitely becomes more real. Let's take a detailed look at the hottest trends straight from the Haute Couture runways, which just concluded in the Ville Lumière.
Chanel's scarlet lips
The natural beauty of the models, with nude faces, was emphasized by the accessory already dear to Coco Chanel herself: red lipstick. And make-up artist Lisa Butler declined it according to the models' complexion to enhance each complexion. It appears glossy, shiny, mirror effect, as well as a symbol of inclusiveness. Complementing it is the hair, with natural waves obtained from braids left on pre-styled wet hair.
The ethereal skin of Schiaparelli by Pat McGrath
Make-up in the name of minimalism, to contrast the visual richness of the clothes, thanks to a natural but hyper-bright complexion. Guru Pat McGrath thus chose to leave eyes and lips natural, aiming for a flawless Instagram filter effect healthy skin, making use of a light layer of foundation and illuminant where needed. To enhance the effect, her hair took care of it: with a wet effect, gathered in a low top knot chignon.
Dior's "emo" eyes
It is inspired by the 1920s muse Joséphine Baker, the fashion show captained by Maria Grazia Chiuri. A concentrate of contemporary chicness enhanced also on the eyes, sensual thanks to a smudged effect achieved by a palette of grays that, mixed with black, made the look intriguing with wide shades to border the eye, above and below. Peter Philips, creative director of Dior make-up, highlighted the eyes with a combination of black shadows blended with silver in a transparent way. The result is a soft, non-glossy makeup that plays with light to give mystery. Mystery also given by the hairstyle: a low, onion bun, with ever-present tugs beloved even in the Roaring Twenties by Baker herself.
Miss Sohee's chic corpse bridal look
It almost feels like déjà-vu for this very richly detailed look. It is a bit reminiscent of Versace style but also of Wednesday Addams. Yet in a completely authentic way. Credit goes to makeup artist Bea Sweet, who did a mix of contrasts, pairing fuchsia eyeshadow with berry lips or customizing a cascade of glitter around the eyes for models without a wedding veil.
Jean Paul Gaultier's XXL Lashes
Standing ovation for couturier Haider Ackermann's first work at the helm of the fashion house and standig ovation to the models' looks as well. Very simple, with black stripes, the eyes were embellished with over and fake lashes, almost reminiscent of the spider lashes that became popular on TikTok a few months ago. And couture also the hair, with a kind of bow instead of a chignon, with a wet effect.
Valentino and Viktor&Rolf's punk eyes
Already the new wings instead of classic eyeliner are depopulating the looks of Generation Z. But to make them couture, it seems the two maisons have found the perfect ploy. With punk connotations, these extreme comma eyeliners play with the volumes of the looks, starting from the lower rhyme and extending to the temple, in a more or less subtle way.