Kylie Jenner and her BFF Stassie launch a make-up collection
Lip gloss and eye-liner in pastel shades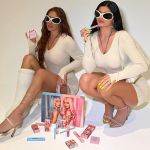 Kylie Jenner is back with a new launch for Kylie Cosmetics, a limited edition make-up collection created with her best friend Stassie Karanikolaou.
"AHHH FINALLY !!! @staskaranikolaou and i started dreaming of this collab a few years ago and we finally made it happen. Our mini collection includes a gloss duo, a special stassie lipkit, a highlighter in stas's perfect shade and two fun liquid eyeliner pens. it was so special creating this with my best friend. Can't wait for you guys to get your hands on it this next monday 6/13 on kyliecosmetics.com @kyliecosmetics".
The young entrepreneur wrote on IG, sharing her excitement about the new products such as, the "Stassie Baby" Lip Kit with its nude pink shade or the High Gloss Duo in the shades "Gonna Get Wasted," a light peachy pink, and "Twinning," a light shade that contains blue and pink glitter. Completing the exclusive offering are two liquid eyeliner pens: "4 Ever Ting," in hot pink, and the light blue of "Blue Eyed Babe."
The same two-color combination also marks the packaging and the campaign shots. In the images the two BFFs are portrayed in pastel matchy-matchy versions, one in pink and the other in light blue, both sheathed in shiny vinyl leotards accessorized with fetish mood lace-up boots, opera gloves and colorful wigs.
The Stassie x Kylie collection is available from June 13 on the Kylie Cosmetics website.