The extraordinary story of a pioneer: Cristina La Veneno
Battles, mysteries and life of the Spanish queer icon who shocked public opinion and anticipated every LGBTQ+ battle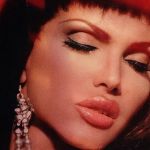 "As individuals we are trained to perceive what is the prevailing climate of opinion, and to adapt our responses to this climate", the words of the sociology teacher during a lesson in the first episode of the cult miniseries VENENO encapsulate the key on which to base the ideological progress towards diversity inclusion. Broadcast in 2020, created by Javier Ambrossi and Javier Calvo, the series explores and recounts in a perfect balance between fiction and reality the incredible story of Cristina La Veneno's mysterious life, rekindling the spotlight on a figure who still represents in a very relevant way a minority that continues to fight for its rights. Cristina La Veneno, Spanish TV personality and showgirl, was one of the first transgender icons, a bulwark of the LGBTQ+ community in its claim for community and individual identity.
Escape from Adra and rise to success
Born in 1964 in Adra, Andalusia, Cristina Ortiz Rodríguez grew up in a discriminatory and culturally unprepared environment to accept her personality and to understand the malaise associated with gender dysphoria. Marked by her conflictual relationship with her mother and victim of countless violence and abuse in both the family and social spheres, she soon finds the strength to escape from this condition by moving to Madrid. Finally free to dress as her individual true-self, she began performing in drag shows and began transitioning in 1991, on her return from a trip to Thailand. She initially adopted the pseudonym Tanya, which she later changed to Cristina to pay homage to a friend who had passed away. Having come into contact with the Madrilenian prostitution environment, she began working as a sex-worker in the parque del Oeste area, immediately distinguishing herself by her formidable confidence and dazzling personality. It is in this context that she is immortalised in the reportage on transsexual prostitutes by journalist Faela Sainz, aired on Pepe Navarro's nightly programme Esta noche cruzamos el Mississippi. This is the turning point for the career of Cristina La Veneno (a name given to her after a confrontation with a partner by her faithful friend Paca La Piraña), whose popularity begins to grow and evolve, soon leading her to fame. Her charisma and exceptional beauty guarantee her the attention of the public, increasing day by day the interest around her life.
Magnetic charm: an image revolution
"I don't know what I am honestly. A sultana, a courtesan, an Indian... like Pocahontas! But with a shark." Her hyper-accessorized, ultra-feminine style, full of cultural references that send simultaneously to the world of burlesque and the Middle East, proposes an entirely new image in late 20th century queer iconography. With remarkable standing, sophisticated aesthetics and magnetic mannerisms, La Veneno is light years away from the stereotypes of the 'transvestite' that we have unhappily learned to live with in the 1990s, especially and especially in the Italian television schedule. The image of the transsexual community that popular culture has proposed to us has enclosed within rather reductive schematic canons a living and rich subculture, preventing the construction of a constructive dialogue on gender identity. On the contrary, the caricatured figure of the 'man dressed as a woman' persisting in the last decade of the 1990s, resembling a witty "macchietta", is not far removed from cross-dressing in sixteenth-century theatre with complete male hegemony and has sabotaged any plausible seriousness in dealing with a topic of this relevance. Remarkably, in the meantime, in Spain, a powerful and disruptive figure like Cristina La Veneno succeeded in laying the foundations for a change of course, introducing a discourse in that very 'climate of dominant opinion' lacking the means and language to talk about it. Through the medium of television, La Veneno entered the homes of all Spaniards, convinced, somehow almost forced, to open their doors to her explosive character, the fascinating figure capable of representing with extreme authenticity herself and at the same time a faceless and voiceless minority. Cristina imposes her self-confidence forcefully and demonstrates it by mastering her sensuality with infinite naturalness and a touch of irony in 'not taking herself too seriously', which only adds to her sex-appeal. Her beauty is not the only outstanding element: her tone-of-voice, her gestures in moving her long hair while shaking her head and her sinuous movements are all elements of attraction and malice.
Falling down and getting back up: prison imprisonment
The twisty turns, dizzying edges and mysterious events that have punctuated her incredible life have consolidated public interest in her character and made her an empowering icon for the LGBTQ+ community in Spain and abroad. At the age of thirty-nine, in 2003, Cristina was sentenced to three years in prison for taking part in an insurance company fraud. She is imprisoned for three years in the men's section of the Centro Penitenciario Madrid VI-Aranjuez, an experience that she will remember in the years to come as heavily traumatic on a physical and emotional level. She comes out of prison with severe psychological and eating disorders, including anxiety, depression and bulimia, but again proves her formidable character by returning to show business to recount her experience in prison and denounce the violence she suffered from other inmates and from the prison police itself.
The mysterious disappearance of La Veneno
On 9 November 2016, a month after the publication of her biography entitled ¡Digo! ni puta ni santa: Las memorias de La Veneno, written by journalist Valeria Vegas, the press announced her sudden disappearance. The circumstances surrounding his death remain shady, the possibilities contemplated are multiple: domestic accident, suicide, murder. The coincidence linking the publication of inconvenient truths about important Spanish personalities within her memoirs and her subsequent sudden death does not go unnoticed, lending her memory an even stronger politically-uncorrect guerrilla connotation towards the hypocrisy of the ruling class. Her passing puts an end to a story of courage and revenge, but at the same time opens a new chapter of progress, passing the baton to those still alive who share the values of fairness and empowerment that Cristina La Veneno carried as her flag. The pioneering battle of this extraordinary woman does not end with her death, her communicative power has been absorbed by the queer community that fearlessly continues to keep the formidable Veneno legend alive.