What is happening to Harry Styles?
From the TikTok theory on his baldness and the Texas State University digital history based on him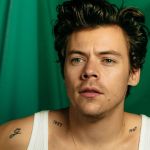 The news will blow all fans of the British musician into raptures: there is a university course entirely dedicated to Harry Styles. The announcement comes via Twitter directly from Dr. Louie Dean Valencia, associate professor of Digital History at Texas State University and creator of Harry Styles and the Cult of Celebrity: Identity, the Internet and European Pop Culture. During the lectures, included in the academic program for spring 2023, the singer's climb to success, from his debut with One Direction to his solo career, will be analyzed, with a special focus not only on his sound and style, but also on his social impact in relation to issues such as gender equality, feminism, anti-racism, sustainability and "treating people with kindness." The idea of the course, developed during the pandemic, is to not only learn about Harry Styles and his work, but also to look at the world he encountered as a celebrity. In doing so, not only Styles' lyrics, live performances, interviews, or films will be studied, but also the writers who influenced his work such as Susan Sontag, Rumi, Alain de Botton, Murakami, and Bethan Roberts.
TikTok and its importance in shaping the fame of contemporary pop stars will probably find its way into the course, but who knows if the question that many people have been asking on the Chinese platform in recent weeks will be answered during class hours: is Harry bald? There is an increasing number of users posting content with the hashtag #baldarry in which they speculate that the star habitually wears a wig because he is actually bald.
In the For You, among celebratory edits, snippets of live performances and declarations of love, there are videos that attempt to prove the absurd conspiracy theory. It seems that what triggered it all was, in addition to Harry's floating hair, an old One Direction interview during which the band members were asked who would be the first of the five to go bald. Harry, with irony, raised his hand without hesitation. And we are sure that seeing TikTok's buzz about his hair, or rather its absence, he is having a fat laugh. Want to check it out for yourself? Style will be in concert in Italy with the Harry Style: Love on Tour in the coming days: Monday, July 25 in Bologna and Tuesday, July 26 in Turin.