Ruth Handler and the myth of Barbie
The history of the doll born to teach girls to be "whatever they wanted"
Everyone has had at least one. We would spend entire afternoons changing her clothes, pretending she was a princess or a secret spy, combing her long hair, drawing tattoos with a Bic pen, or taken by a childish raptus we have decapitated her head. She, unbothered even in front of the meanest of kids, managed to survive. Now that she is 64 years old, Barbie, born in the late 50s as a claim of female empowerment from the mind of Ruth Handler, after having landed on the Moon and adventured in hundreds of other careers, between moments of great success and harsh criticism, she has become a social influencer ready to remind girls that they can become whatever they wanted. Today like then. While we wait to see her conquering even the world of cinema with the live action film in progress in which she will be interpreted by Margot Robbie, we celebrate her by retracing her history.
And Ruth Handler created Barbie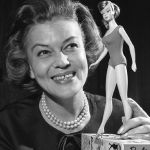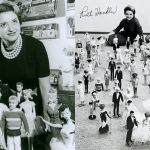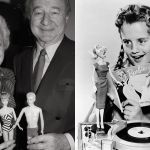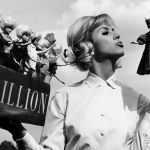 Late 1950s. United States. In Willow, Wisconsin, Ruth Handler watches her daughter Barbara play and, noticing that she often enjoys giving her paper dolls adult roles, making them protagonists of small scenes of everyday life, she has an illumination: to create a doll with the features of a woman. Until then, on the American market there was nothing of that kind and, if boys had a wide variety of options, among toy cars, puppets, balloons and dozens of other trinkets, the only choice available for girls were are dolls to play the role of mother. During a family trip to Switzerland, the definitive inspiration came from Bild Lilli, "action figure" version of the character of a comic strip published by German newspaper Bild Zeitung.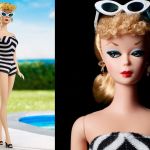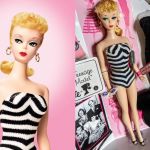 The history of Barbie
So Ruth, supported by her husband Elliot, co-founder of the Mattel toy house, started working on the project. Once the patent and related rights of the Teutonic doll had been purchased, it was reworked and sent to Japan for production. The result is Barbara Millicent Roberts, better known as Barbie, a 29.2 cm tall vinyl doll weighing 205.2 grams with an adult body, make-up inspired to Erwin Blumenfeld's famous cover of Vogue issue of January 1, 1950.
"Every little girl needed a doll through which to project herself into her dream of her future. If she was going to do role playing of what she would be like when she was 16 or 17, it was a little stupid to play with a doll that had a flat chest. So I gave it beautiful breasts."
The same Handler will explain in 1977 to The New York Times. Just the time to dress her hair in a ponytail, wear a zebra bathing suit, sandals, sunglasses, earrings and, on March 9th 1959, Barbie is ready to make her debut at the New York Toy Fair. The reaction of the experts is lukewarm and many sellers, doubting the real attractiveness of the new toy for girls or parents, refuse to sell it. Mattel's solution is brilliant: addressing children directly, using television, in particular, advertising space within The Mickey Mouse Club.
The decision turns out to be a success. Only in the first year, the doll, also available as a blonde (the version that has always been preferred as confirmed by the fact that the most sold Barbie in the world is the Totally Hair Barbie, with long hair down to the feet, made in 1992) sells 350 thousand copies and at the beginning in the 60s, sales revenues are around 2 million dollars.
One, none, one hundred thousand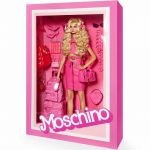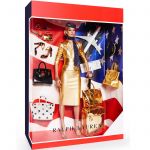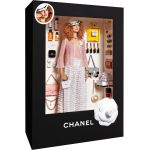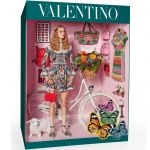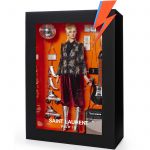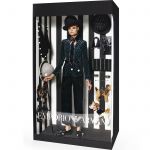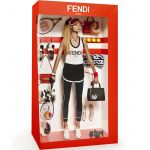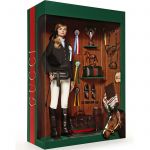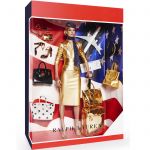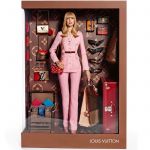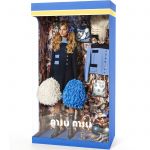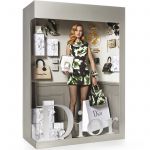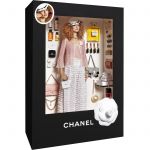 Born with the aim of "showing girls that they could become what they wanted", conceived as an object on which to project their own future and arrived, with a revolutionary attitude, to explain that the life of an adult woman is just about being a mother, Barbie starts working soon. From her initial career as a model, she moved on to being a teacher, nurse, dancer, flight attendant. In 1965 she spends her evenings doing pijama party with friends in her impeccable Slumber Party set which also contains a scale with a fixed value of 50 kg and a small book of "don't eat" tips on how to lose weight (the most controversial and criticized gadget ever).
Barbie in Space
A false step redeemed in the same year when, while the USA and Russia are in full swing to space, she lands on the moon, anticipating Neil Armstrong and history. The difficult '70s arrive and like the economy, Barbie also faces her first crisis, overcome by lowering costs and adopting loyalty strategies with expedients for clubs and personalized mail. Crossed almost unscathed the period of youth protest and the criticisms of the feminists who see her as the prototype of the object woman, the creature of Ruth Handler is ready to face disco-music, aerobics, alternating the professions of surgeon, rock star, Olympic gold and manager in a suit with padded shoulders, the perfect promoter of democracy between the sexes in the world of work. Independent and eclectic, in 1989 she joined UNICEF as an ambassador, in 1992 she made her debut in the world of rap and, at the same time, she went on to become President of the United States, before devoting herself to the sport by becoming a Major League Baseball player.
Barbie can be all
In her sixty years of life, Barbie collects hundreds of professions, from the paleontologist to the wrestler, but also a few facelifts: the oblique gaze has shifted to the front, the breast has shrunk, the bust has risen slightly. In 1992 she started talking (pronouncing the ominous phrase "mathematics is difficult" and unleashing the anger of many women) also to entertain all his great group of friends and relatives which includes her sister Skipper and, obviously, the iconic Ken, the eternal boyfriend. Without husband or children, as Lenore Wright, professor of philosophy at Baylor University points out:
"Barbie's portfolio reflects her financial success, independence and material wealth: a "house of dreams", a house-city, a cabriolet , a swimming pool, a camper, a Jacuzzi, a couture wardrobe, a horse, a dog and so on."
In fact, there are thousands of properties, clothes and accessories accumulated by the plastic girl in her life.
From toy to controversial icon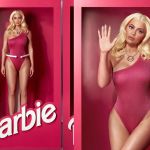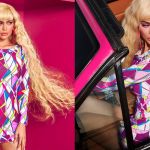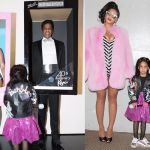 Faithful friend of every little girl, the vinyl girl soon became a true icon, crowned by the king of pop art Andy Warhol in Portrait of Billy Boy as Barbie, much more recently by Vogue Italia who dedicated a famous editorial to her. Giampaolo Sgura and the many designers, from Karl Lagerfeld to Giorgio Armani, who competed to dress her or created collections inspired by her (Moschino SS15). For films and celebrities having their own Barbie version (Twiggy was the first in 1967 and Gigi Hadid one of the last) was and still is a milestone, a symptom of popularity achieved and consolidated as confirmed by Beyoncé and Kylie Jenner who have chosen the last Halloween to become the most famous Mattel doll.
The success of the toy invented by Ruth Handler is stellar, but certainly not without shades. With time and despite the roots linked to female empowerment, the term Barbie has become synonymous with the stereotypical image, probably conveyed by the famous Barbie Malibu model of 1971, of the frivolous, airy and pink-dressed Californian blonde. The same told in Aqua's 90s hit Barbie Girl.
Controversies
The most frequent criticism made against the doll is to promote an unattainable and anatomically unrealistic level of perfection and thinness, to feed a sense of frustration and, in the worst cases, an inferiority complex in girls. In 1995 the International Journal of Eating Disorders calculated that in the real world Barbie would be a 1.75 meter tall person with 99 cm of breast, 53 of waistline and 83 of hips. Other studies claim that she would be too thin to have a regular menstrual cycle and that her legs, 50% longer than her arms, would prevent her normal walking, forcing her to almost crawl.
Still, in the nineties, Erica Rand, author of the essay Barbie's Queer Accessories, pointed the finger at Mattel for not proposing models that represent the ethnic diversity of women in the world. Liquidating the attempts made up to then with these words:
"To simply change the color of the skin of a white Barbie without changing her body and features is equivalent to saying that the" true "Barbie is the white one".
Now in the new millennium, the US company has tried to remedy these shortcomings with Project Dawn and the Fashionistas line. With the first, Barbie was proposed in seven leather tones, 24 different hairstyles, 22 types of eye color; while the second introduced three new silhouettes: curvy, tall and petite. More and more positive and inclusive leotards, Mattel has recently added to the many Barbies also some with disabilities. To offer girls positive reference models, the doll has taken the form of some inspiring women like painter Frida Kahlo, plus-size model Ashley Graham, dancer Misty Copeland, football player Sara Gama, British model Adwoa Aboah, NASA scientist Eleni Antoniadou and director Ava DuVernay.
Barbie influencer
At the threshold of sixty years, Barbie had to deal with the digital world, learning the language of social media and jostling between fashion bloggers and influencers to claim her status as a global icon. The doll created by Ruth Handler as a revolutionary act, the only adult in a world made of newborns, soon realized that in order to continue to maintain success it was necessary to adapt, keeping up with the times. And so she did. She learned to take selfies and to exploit passion for fashion and a sense of style, telling about what happens in her life and the topics that are important to her for the over 2 million followers of her official Instagram account @BarbieStyle. Yet another example of how Barbie is a self-made woman (albeit plastic) capable of winning any challenge.