Brigitte Bardot and her 89 years of style
The bomb that enchanted the 1950s and 1960s has a birthday: here is what we still owe and want to acknowledge today
If you are addressed by an acronym, you will certainly not be indifferent to it: B.B. was born in Paris on 28 September 1934. After starting out as a classical dancer, she first became a model and posed for the covers of the fashion magazines that were fashionable in those years. She then continued as an actress and also made her debut as a singer from 1962. Her family background revealed itself as one devoted to the arts: Her father was a great lover of cinema who made many amateur films with his daughter, while Bardot, on the other hand, grew up with a taste for fashion and dance, which was passed on to her by her mother. From then on, she was hired for numerous photo shoots by Hélène Lazareff, the director of Elle magazine, who was also a friend of her mother. The rest is history.
The style of Brigitte Bardot
She pioneered the pouty lip trend before it went viral on TikTok. Her unique and always sullen face was a perfect contrast to her playful fringes and sensual style. If B.B. is still the muse of millions of girls some 60 years later, it's because she left her mark on the fashion industry for more than one reason. Her style was bold and sexy, but never vulgar, and tempered by a feminine and soft touch, like the headbands she often wore.
Although she never went unnoticed, Bardot often wore simple jeans with a T-shirt. A true trendsetter, she pioneered numerous styles that endure to this day.
First and foremost: the Bardot neckline. The neckline, which leaves part of the décolleté and shoulders exposed, takes its name from her. Brigitte was famous for wearing tops and shirts that exposed the collarbones and shoulders. In keeping with her sexy and carefree look, this trick makes for a "bold" yet seductive look without giving too much away.
Brigitte Bardot's favourite places
As far as style heritage goes, we can't stop here because B.B. taught us so much more. Before she helped make Saint-Tropez one of the hottest resorts for the international jet set, it was a cosy fishing village that she visited in her youth. Thanks to her starring role in the film "And God Created Woman" (1956), she was already admired by many young women.
Both on screen and in her private life, she liked to wear stripes, including on classic sailor-style shirts and capri trousers that represented the fishing village. Thus was born the so-called Riviera style, which became a true obsession to emulate. A trend that was not only popular in the 60s, but still endures today - also thanks to Jacquemus and their style mix of these staples and their revolution.
Brigitte Bardot's collaboration with Repetto
We could list a lot more, but let's use a current trend we can't thank our iconic Parisian blonde enough for: Ballet Flats. In 1956, she collaborated with the French brand Repetto, which, alongside Carel, has recently become a reference again for this type of shoe, of which she was a big fan.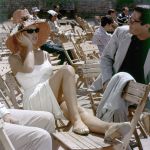 They became a popular footwear choice in the 1950s when movie stars of the time, including Audrey Hepburn, began wearing them in films. During these years, the flat ballet shoe became an icon of elegance and practicality and a symbol of a new, emancipated and independent femininity. Brigitte managed to complete almost every look with these low shoes and perfectly embodied the typical French look with the "Je ne sais quoi".
The Brigitte Bardot, Jane Birkin and Serge Gainsbourg triangle
When we talk about Brigitte Bardot in pop culture, we can't help but associate her with another icon who passed away a few months ago: Jane Birkin and her romantic rivalry with Serge Gainsbourg. In those years, Jane embodied a different kind of beauty than Serge was used to, a fresh and androgynous beauty, quite unlike B.B.'s feminine and voluptuous charm. Speaking of "Je t'aime...moi non plus" - the version of which eventually became famous with Birkin - has a history that is perhaps less known to the public. Originally, the song was written and recorded with Brigitte Bardot, who, being married, did not agree to its release because it was intimate and controversial.
The song "Bonnie & Clyde" has also captured the hearts of younger generations, thanks to Gossip Girl, which used it as the soundtrack for a cult scene in which the beloved TV series couple Chuck and Blair flee in a car.
Brigitte Bardot's love of animals
After leaving cinema, Brigitte Bardot became a prominent animal rights activist and also appeared on TV programmes to expose the mistreatment and horror of animals, and publicly declared herself a vegetarian. In 1986, the Brigitte Bardot Foundation for the Welfare and Protection of Animals was established and she sold some of her jewellery and personal belongings to fund it. In addition to this enormous commitment, she also supported Sea Shepherd's efforts to protect marine animals and had a ship named after her. She also continued her activism in the 2019 European elections, where she supported the Animal Protection Party.
Brigitte Bardot undoubtedly remains a figure who will never be forgotten and continues to contribute to the world after so many years. B.B. brought fashion, gossip and trends, but it's only fair to acknowledge her significant activist efforts that continue to keep her busy. So, congratulations, Brigitte!"