10 It Girls of 2022
From Julia Fox to Anne Hathaway, the girls who shaped the year with their style, setting trends and collecting applause on the red carpets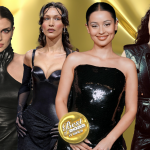 They are famous, young, talented and have the ability to anticipate and launch trends with every outfit change. Every one of their red carpets marks a surge on Lyst and crowds our social feeds, influencing our choices when it comes to both clothing and beauty purchases. They are the most influential it girls of 2022 and their names are Julia Fox, Iris Law, Emma Chamberlain, Rosalía, Taylor Russell, Florence Pugh, Bella Hadid, Anne Hathaway, Emma Corrin.
Julia Fox
Few people knew her before, but in 2022 her name was on everyone's lips. For her relationship with Kanye West and for her looks. Julia Fox loves to provoke and, this year, she did it every time she left the house. Remember this summer when she went out shopping at the supermarket in underwear, a trench coat and denim boots? And the dress with the hand clasping her neck, by Han Kjøbenhavn, worn to the Vanity Fair afterparty? Julia loves DIY fashion, very low-waisted trousers, visible thongs, skimpy tops, high boots and wow effect overcoats, preferably from emerging brands such as LaQuan Smith, SEKS, Sia Arinka, Miaou, Luis De Javier. Even when it comes to beauty, with her bleached brows, Fox is always among the first to show off the new trends.
Iris Law
Daughter of art, parents Jude Law and Sadie Frost, Iris Law is one of the coolest nepo babies of recent times. With ultra-short hair, diaphanous skin, experimental make-up and edgy looks full of Y2K references, she has become one of Gen Z's favorite it girls, so much so that she ended up on the radar of Donatella Versace who wanted her for the Dylan Purple perfume campaign. Low-waisted trousers, asymmetrical cropped tops, mask-shaped glasses and ultra-modern hairstyles, if you're not following her yet, now is the time to do so.
Bella Hadid
Bella Hadid was nominated by the British Fashion Awards 2022 on 6 December as Model of the Year, according to Lyst's annual report she is the celebrity trendsetter of 2022, she has appeared on all the most important catwalks of the year such as the viral Coperni one with the sprayed dress and she is one of the stars of the 2023 Pirelli calendar. The many successes she continues to collect are not surprising because every trend that has marked the last few months has had Bella among its promoters. From legwarmers to shrugs, from corsets to body chains to the return of patent leather and pouf hair, Gigi Hadid's sister has flaunted every new trend first, as well as contributing to celebrities' renewed love of vintage. Throughout the year, her looks that went viral were many. Our favorite? The Gucci by Tom Ford from the 90s worn at Cannes.
Rosalía
Rosalía's new album with its rather evocative title and visual, Motomami, is perhaps the reason for the explosion of the biker aesthetic. The Spanish singer has confirmed herself as one of the most influential it-girls of recent times, beloved by Gen Z and beyond for her looks that combine traditional and contemporary and for her easy attitude, which makes her look like "one of us". So every time she appears in public she is imitated, even when it comes to beauty, such as her passion for tooth gems, which has become a real trend. Those who have seen her on tour in recent months and did not yet know her have fallen in love with her. And even Acne Studios chose her for its latest advertising campaign. What are you waiting for to follow her?
Florence Pugh
According to The New York Times' list of the most stylish and influential people of 2022, and it's no coincidence. Florence Pugh is one of the rising stars of the year. Not just for her performance in Don't Worry Darling with Harry Styles or for the film Wonder currently on Netflix, but for her red carpet looks, most of them by Valentino. It was she, in fact, who was awarded Pierpaolo Piccioli as Designer of the Year at the British Fashion Awards 2022, in an alluring red evening dress, paired with a beautiful burgundy lipstick. Her best fashion moments of the year also include the pink Rodarte slip dress chosen for the British Independent Film Awards.
Anne Hathaway
After periods of lockdown and years when her career was more focused on performance than fashion, Anne Hathaway has renewed her style by appearing in increasingly cool and interesting outfits, also thanks to collaborations with major fashion houses such as Valentino and Bulgari. She had her moment as the it girl of 2022 during an Interview Mag shoot where she posed seductively in Balenciaga, Gucci and Dior dresses, but also on the many red carpets in recent months that have seen her dress all in pink and in full Barbiecore for Valentino, in a slightly sixties Gucci at the Venice Film Festival, launch the #coastalgrandmother trend last summer and intercept the Andy Sachs mood at the last NYFW.
Alexa Demie
It has been rumoured in the last few hours that, after her latest and highly criticized advertising campaign, Alexa Demie is distancing herself from Balenciaga, but it is undeniable that part of her it-girl status derives from her collaboration with the brand that has dressed her in the greatest number of her public appearances. Add in Euphoria's Maddy effect and a beauty routine that perfectly captures the recent love of dark girls and you'll understand why the actress, with her sophisticated, noirish style, full of 90s references and Y2k, is one of the names that most influences how we dress and do our make-up.
Emma Corrin
Eclectic, eccentric, genderless and always interesting. Emma Corrin's style, carefully studied with Harry Labert's stylist, is a perfect mix of haute couture and street style, evening gowns and boysh suits, always made special by an unexpected, quirky, funny detail that got her noticed by brands such as Miu Miu, JW Anderson and Loewe (for whom she is a testimonial) and crowned her the first non-binary person to get the cover of Vogue. Her best look moments of the year include the balloon bra dress by Loewe worn to the Olivier Awards, the ultra dramatic black Miu Miu at the Toronto Film Festival and the balloon mini dress with a gold fish print by Loewe seen on the red carpet at the BFI London Film Festival.
Taylor Russell
Taylor Russell was the revelation of 2022. Not only for her performance in Bones and All, but for the many outfits she sported during the film's presentation tour. Her wardrobe has very often stolen the show from the bold stylistic choices of her set and red carpet partner, Timothée Chalamet, with choices that combine modernity, elegance and provocation. All suggested by stylist Ryan Hastings. Among the social moments that have made her a perfect contemporary femme fatale are the Venice Film Festival 2022 with the green strapless gown embellished with a bow on the neckline and Balenciaga's opera gloves; the BFI London Film Festival with the Schiaparelli Haute Couture composed of a pencil skirt, bustier, structured jacket and wide-brimmed hat; and the Academy Museum Gala with the Alexander McQueen from Sarah Burton's latest collection, in leather, featuring a halter neckline, bare back and long patent leather gloves. Also of note was the catwalk debut for the SS23 show of Loewe, brand of which she is global ambassador. The plus? The 1920s hairstyle.
Emma Chamberlain
2022 was the year of her comeback with a new You Tube show, many red carpets and various social appearances. If in everyday life Emma prefers a more laid-back, street look with classic Californian girl Y2K influences, consisting of denim shorts, crop tops, loafers and Boston Birkenstocks with white socks and vintage handbags, on the red carpet she opts for a sophisticated party girl mood. Often dressed by Louis Vuitton (of which she is an ambassador), as at the Met Gala 2022, together with stylist Jared Ellner she is designing increasingly chic outfits that reinvent that of timeless divas such as Grace Kelly or Audrey Hepburn. An example? The red Valentino dress seen at the Venice Film Festival.