Exploring the allure of Michèle Lamy
Witch, alien, proud, woman. We focus on the controversial and antithetical style of one of the most eccentric and daring female role models on the fashion scene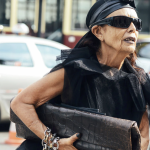 In the last period we have loved the world of Barbie and its ultra-pink imagery of sculptural bodies and platinum hair, but have we forgotten the allure of darkness? Let's enter the dark and sophisticated reality of the latest muse: Michèle Lamy. To the eye, Michèle Lamy can be mistaken for a primitive divinity, a pagan priestess, an Uzbek shamaness, a traveller from the future. The reality is that Michèle Lamy is simply a woman: a scholar of the non-rules of aesthetics who explores the parameters of beauty and ugliness, capable of annihilating and confusing them with wisdom and awareness.
Her beginnings
She was born in Jura, France in 1944. After legal training and the start of her career as a defence lawyer, Michèle Lamy abandoned the toga to begin a dialogue with fashion. After countless trips up and down France as a cabaret dancer driven by the scent of revolution that hovered around that time, she moved to the USA, from New York to Los Angeles, where she managed two landmark venues for city nightlife, Café des Artistes and Les Deux Café. Already an icon in the fashion world and an emblematic face of the star system, she evolved in this capacity and founded her own brand, Lamy. It was here that Rick Owens took his first steps into the world of design and destiny would indissolubly unite the paths of the two. The power couple of experimental fashion and futurist style, they are proponents of each other's success and accomplices in both business and private life. Michèle Lamy is the designer's definitive muse, the perfect embodiment of the Rick Owens style. She appears in public wearing his creations as a true aesthetic manifesto, bringing each of her public outings closer to a kind of artistic performance.
The relationship with Rick Owens
On this occasion Michèle's path crosses that of a young Rick Owens. The meeting takes place in Little Tokyo, Los Angeles, for a job interview organised by Michèle's collaborator who suggests the name of a young American artist for a position at Lamy. The interview goes well, Rick Owens is hired as a pattern maker and before long he finds himself knocking on Michèle's door at night, drunk, to tell her: I have a crush on you and you have a crush on me! "I have a crush on you and you have a crush on me!" This event sanctioned the union of the most iconic power couple of experimental fashion and futurist style, proponents of each other's success and accomplices in business as much as in private life. Their complicity is based on compensation: reconciling their different ways of being - she is a social animal and he is an introspective who needs solitude - they both draw maximum artistic inspiration from their daily experiences and give life to a single broad avant-garde artistic vision.
Michèle Lamy is the designer's ultimate 'muse', a term she dislikes but which represents the aspirational admiration Rick Owens sees in her and uses to embody his style. Michelle appears in public wearing her creations as a true aesthetic manifesto, bringing each of her public outings closer to a kind of performance art.
Body painting, Lamy style
The study of forms and cultural references are unmistakable traits of the Michèle Lamy style. The result is shadowy and gothic, almost awe-inspiring, like any art expression that stands out. With fingers constantly stained with henna and Berber-inspired tattoos on her phalanges, she draws a thick, imprecise crayon line on her forehead, sharing her ritual of body decoration with the world.
Maxi Maxi
She wears huge accessories, giant metal bangles all over her forearm, difficult to slip off because of the huge amount of large rings on her fingers. She exaggerates body shapes with voluminous Martian straps, maxi pockets and large saddlebags reminiscent of marsupial anatomy. References to the animal world continue with voluminous headgear in the shape of rabbit ears, horns or antennae. She rises two palms above the ground wearing Rick Owens' iconic, vertiginous heels with prismatic platforms. Michèle Lamy takes the visual habits of human sense and twists them, demolishing aesthetic preconceptions.
Gipsy Vibe
Often when she gets into a taxi or walks down the street, she is asked if she can read palms. The almost ceremonial body decorations, the tribal-looking jewellery, the predilection for total black that goes with raven hair and dark skin, as if she were always sunburnt. All this brings out the incredible blue eyes that become even more penetrating, as if they needed it. All this gives Michèle Lamy that nomadic, almost sorceress-like look that cannot go unnoticed. She reconciles and contrasts the appearance of a gipsy fortune-teller with research into luxury and precious materials, often going back to contemporary trends. Not surprisingly, she collaborates with Kanye West and walked the runway for his Yeezy Season 9 presentation in Paris on October 3rd 2022 wearing an outfit reminiscent of her aesthetic, creating a bridge between her brand's post-apocalyptic styling and the evolving styling of the American rapper. She is also a friend and supporter of ASAP Rocky (with whom she shares a passion for gold and diamond teeth), and was the protagonist of FKA Twigs' "M3LL155X" video. Michèle Lamy is strongly connected to current artistic and cultural events, but contributes to the evolution by quoting and drawing from distant realities.
Feminine, Sensual, Bold
Despite her hyper-sophisticated and seemingly meticulously studied style, Michèle Lamy often declares that many of her choices are casual, such as the heavy black make-up around the eyes, the line on the forehead and the gold teeth. Such a varied mix of references is in fact the outcome of a cultural background built by dint of experience, travel, study of diversity and encounters with a wide variety of cultures, but mostly unintentional. This is perhaps Michèle Lamy's most fascinating trait. The unconscious courage to dare and to unite countless universes, breaking down gender boundaries and customary stereotypes, makes her an entity of unquestionable and fierce sensuality. Her personal interpretation of the female figure is a daring woman who deviates from the classic canons of beauty (she has been boxing for years and worships her wrinkles, to name but a couple of examples) but defines an even more powerful gender identity. Her charm derives from culture and the combination of seemingly disconnected elements, with only one common denominator: herself.