A complete history of sacai x Nike collaborations
The evolution of colorways and silhouettes from the debut in 2015 to today
Japanese brand sacai and Nike collaborations have truly taken the sneaker world by storm, most notably when the much loved sacai x Nike LDWaffle initially debuted in 2019. Contrary to popular assumption, and due to her lowkey nature, it is not widely known that sacai was actually founded and directed by a female Japanese designer, Chitose Abe. Since 1999, Abe has been honing her art and establishing her namesake brand. In turn, she has been able to create a label that seamlessly synergizes women's and men's streetwear through a high fashion lense, in a way that has had a huge impact on how we perceive women in the fashion and sneaker industry. Through her garments and footwear, she has become a prominent voice and inspiration to the next generation of designers. So it's important now more than ever that we recognise there is a power-woman, designer and mother behind the Japanese label.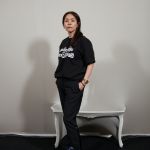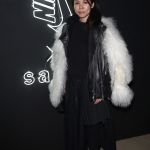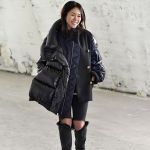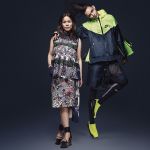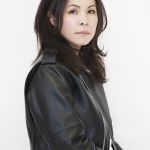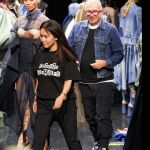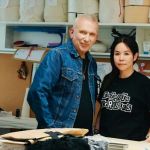 Circling back to the sneakers, Nike and sacai began their ongoing partnership long before the renowned LDWaffle came to light. The footwear designs between the two have developed dramatically over the years. So nss G-Club has taken a trip down memory lane and put together a comprehensive timeline of the Nike x sacai sneaker collaborations to delve into how their partnership has evolved beyond apparel and footwear.
Nike first touched bases with Abe and sacai back in 2015 for a women's collection in collaboration with NikeLab. Alongside a vibrant apparel collection, sacai's unique design language unites with Nike's sportswear aesthetic. Birthing the first selections of sneakers from sacai & Nike in the form of stylized takes on the Air Max 90 and Nike Dunk High Lux. The first to release was three futuristic yet minimal Nike Air Max 90's, all sporting a laceless makeover. Dressed in distinct colorways of obsidian/black with volt lining, volt/obsidian with volt lining, and wolf gray with volt lining. The clever use of colour blocking creates the illusion of a wedge giving these silhouettes that fashion-forward appeal. Following the sleek Air Max 90 trio that debuted earlier that year, three Nike Dunk High Lux with similar yet slightly different blocking were unveiled. With premium materials, the timeless silhouette was dressed in three distinct colorways: white, volt, and navy blue. Not quite through with the dunk yet, sacai released four additional colorways that abandoned the futuristic "Volt" theme from the initial collection. Looking at the Dunk's heritage, these four iterations feature some of the classic Dunk color blocking. Before everyone was drooling over the LDWaffle and the "Blazer with a Dunk", in 2018 a limited run of sacai Air Force 1 became available in-store at Hong Kong's "walk-in" sacai pop-up.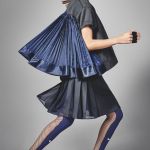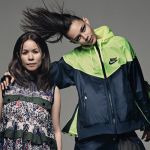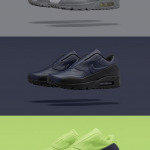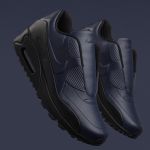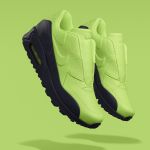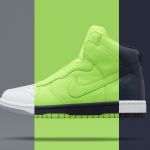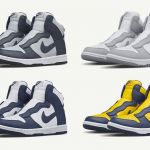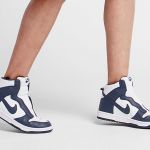 Four years had passed, and the two partners were at the beginning of a new era: the sacai x Nike LDWaffle era. Looking through Nike's vintage runner archive, designer Reba Brammer and her team proposed using these models for their upcoming collaboration. Kintsugi, the Japanese practice of mending shattered ceramics by bringing the pieces together with a beautiful gold seam, is at the heart of sacai's design language: they selected key elements from both the Nike LDV and Waffle silhouettes and layered them on top of one another. Along with the LDWaffle, was the just as complex "Blazer With The Dunk" duo. The design, first seen on the runway at Paris Fashion Week, slaps the Nike Blazer and Nike SB Dunk designs together into a single shoe, doubling up on every component, including overlaid double swooshes, tongues, and laces. The original two-pack of colours offered black, white, and Carolina blue, as well as a Snow Beach-inspired retro blend of yellow, navy, and red.
Later that year, the two hybrid designs received a second round of colorways, this time in two attractive black and white schemes for both the Blazer Dunk and LDWaffle. With "Pine Green'', the third LDWaffle went for brighter tones comparable to the colour palette that made the original so beloved. An anomaly compared to the other two — and presumably from a separate collection — hot pink tones and bright hues dominate the stacked constructions. In spring 2020, an all white/cream and black/white pack was released, highlighting the Japanese label's luxury side, using a combination of suede and nylon fabrics, they are laced up with silky satin ribbon laces with gold tips.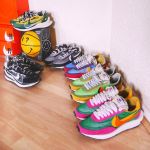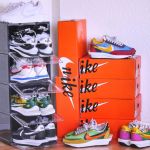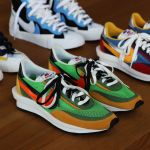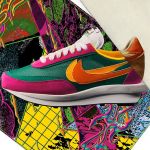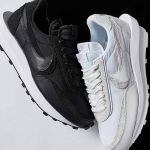 Sacai and Nike continue to build off of Abe's eccentric design DNA with the all-new sacai x Nike VaporWaffle. The combination of Nike's 1983 Pegasus and Nike's Vaporfly running models resulted in a highly modernized yet nostalgic sneaker. A deconstruction-fueled look, like prior collaborative models, delivers an exceptionally complex layered structure down to intertwined laces. As per usual, two colorways were released simultaneously: "Sail" with fuschia and royal highlights and "Black" with white details. The remaining colors seen on the Paris runway - "Tour Yellow" and "Villain Red" - are then released in December.
The waffle never seems to stop, and those who missed the first four iterations were in luck. Instead of mesh, the uppers were made of suede, synthetic leather, and nylon, paying homage to Nike's original racing sneakers and the last VapourWaffle colorways. Dubbed Sesame, we see neutral tones of beige and tan throughout, with hits of blue. Of course, it wouldn't be a Sacai x Nike sneaker drop if there wasn't a second pair to go with the first, which is colored in Dark Iris, popping orange touches.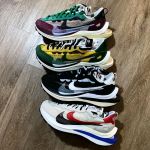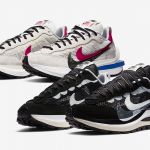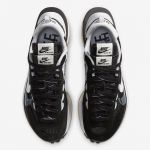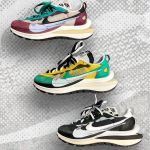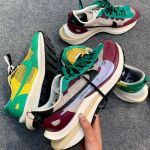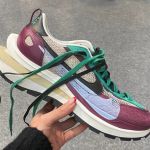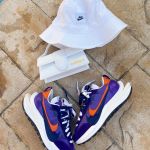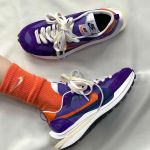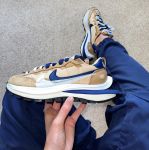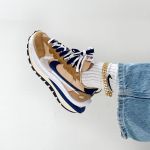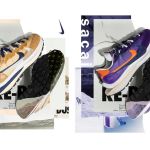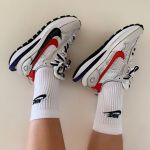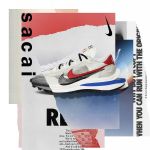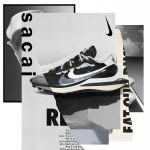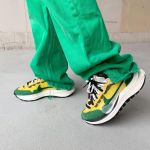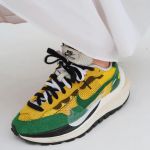 To our surprise, Abe and Nike have brought back one of their first collaborative sneakers, the "Blazer with a Dunk" in a new summer-ready low form. The sock liner and double tongue have an exposed foam finish, almost as if the mid was sliced in half. The leather profile swooshes and lace guards have been doubled, and the top component was offered in either "Classic Green" or "Magma Orange'' in June of this year.
Talking in present time, the most recent "Blazer with a Dunk" Low have just been released via raffle at various retailers, in the "British Tan" version and the more classic "Iron Gray" that features a dark shade alternating with a white part.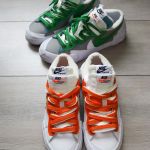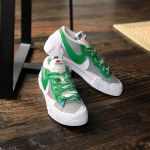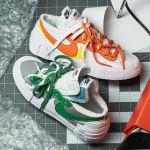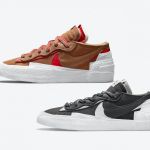 At last, the three-way collaborative sneaker we've all been waiting for. Although there is no word on the much-anticipated Nike x sacai x Fragment collaboration, we do have an exclusive look at the KAWS x sacai FW21 "Wearable Art" collection. For these two pairs, Close friends Abe and KAWS (Brian Donnelly) sought inspiration from the union of minds of Piet Mondrian and Yves Saint Laurent's. Going for those ultra-bright colors that we fell in love with in 2019, multicolor bursts of red and blue cover the stacked Blazer model. Unlike any of the previous colorways, branding appears on the tongue tags, printed insoles, as well as the stacked sole unit with a KAWS "XX" symbol.
With these two, it's all rumors, mock-ups, and samples. Images have been floating online for years, but this June, Fragment's Fujiwara Hiroshi was spotted in the navy edition of the Nike x sacai x Fragment LDWaffle, hinting that the three-way collaborative pairs may be available for purchase sooner than we thought. Set to drop in August, this duo of LDWaffles are adorned in "Blue Void" and "LT Smoke Grey". As well as the signature Fragment stamp, "The Classic/Fragment: sacai" can be seen on the lateral side and "LDWAFFLE: FA21-MNSRUN-233 SACAI/FRAGMENT" is used on the medial side.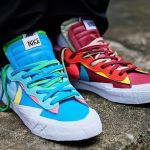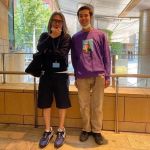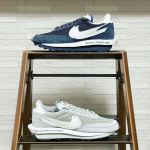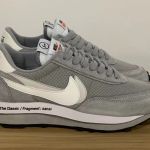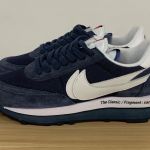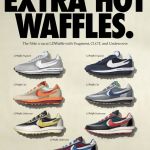 Sacai and Nike are far from losing momentum. Last year, it was announced that Abe would take over the Jean Paul Gaultier label for the Autumn/Winter 2020 Couture collection. Sacai has now officially revealed that the two colorways of the trio's joint footwear will be available at the end of September. And for the first time, the chunky low-top silhouette gets upgraded to a mid top. Thick white leather stitches extend along the entire side panels and collar, similar to that of a baseball glove, veering even further from the original VapourWaffle design.
Besides the two Fragment colorways, Chitose Abe will be releasing not one, not two, but five new collaborative pairs of the coveted LDWaffle in the near future. If you liked the two upcoming Fragment designs, you'll love what's to come. With three vibrant versions with UNDERCOVER and two of CLOT, we should all be able to get our hands on at least one pair!
It's been a long journey, but we've finally reached the end of the extensive Nike and sacai collaborative sneaker catalog, or at least the official iterations. ​​Of course this timeline could not be concluded without a few honorable mentions. In 2020, sacai donated two custom pairs of Nike LDWaffles to the La Mode S'Engage charity in support of the French #ProtegeTonSoignant initiative for coronavirus relief. On the sides of the special sneaker are stitched the phrases "#ProtegeTonSoignant," which translates to "Protect Your Caregiver." Both pairs were auctioned off, with all proceeds going toward providing medical equipment to French hospitals and healthcare workers.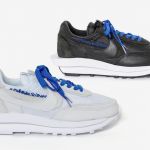 Before the official KAWS x sacai sneakers were introduced, KAWS personally imprinted his signature motif on a nylon black and white pair of the LDWaffle. This duo was made to support Free Arts NYC, a non-profit organization that provides mentorship and art education to marginalized youth. KAWS is no stranger to donating to the Free Arts; just a month ago, he gave his $250,000 "What Party" sculpture to their raffle, where fans could enter to win for $100. Sacai then matched the first 500 donation entries up to $50,000. The sneakers, which were auctioned off as part of the non-21st profit's annual fundraiser, featured cartoonish X-marked eyes on the heel and a sharpie-ink smiley on the midsole. Not to forget, Sacai Vapour Waffles' cleanest colorway ever appears in lush, creamy tones.
Those who were lucky enough to get an early pair, such as @wideawakearthquake on Instagram, have already styled them perfectly, making us all jealous. This colourway is covered in white leather on the upper and off-white suede with leather overlays. A gum waffle outsole is used below to match its sandy beach palette. Unfortunately, no release date has been confirmed, nor has there been any indication of one, so we will have to keep it in the back of our minds for the time being.