The fashion trends of fall-winter 2021-22
From Après-ski to animalier patterns, from party dresses to tailored outfits
Summer is coming to an end. It's time to leave flip flops, bikinis, sarongs and micro tops under the umbrellas on the beach to make room for winter clothing. Returning to the city, to work and to the usual daily grind seems like a nightmare from which we will begin to awaken only when June will come again. A way to survive the long, cold months ahead of us is to play with fashion, doing a little shopping and embracing some of the season's trends: from party girl mood to après-ski inspiration, from tailored garments to nostalgia for the outfits of the early 2000s.
G-Club has selected 10, from which to find the FW21 must-haves.
Après-ski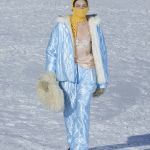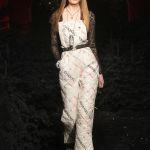 After a summer of sun and sea, the fashion world, from Chanel to Miu Miu, from Marc Jacobs to Kenzo, is hungry for snowy and cold weekends and wants we wear comfy puffers, matelassé overalls, Fair Isle knitwear, balaclavas, moonboots and furry ski boots. Ski chic, with an urban twist, is this season's obsession, perfect for pretending we're still on vacation in the Alps even when we're stuck in the city.
Animalier or Tartan
During the 2021 fall-winter fashion weeks, many designers, from Etro to Balmain, from Versace to Loewe, have tried to brighten up the grayness of the cool seasons with a wide selection of patterns ranging from new logo prints to optical, from patchwork to floral chintz. The main players of our future, as both Dior and N°21 teach us, are tartan and animal prints, perfect for giving a touch of style and a bold look not only to coats and jackets, but also to the now classic midi skirt and crop top combo (perhaps with the addition of a warm cardigan).
Party girl
No more sweats, joggers and Birkenstocks. After months of pandemic comfort and social lethargy, the mood in the air is for glamour, to shine brighter than a shower of shooting stars on St. Lawrence night. Whether you stay on the couch watching Netflix, go shopping at the supermarket or walk the dog, the season's main diktat is to dress up for the coolest party of the year. For Gucci, Paco Rabanne, Dolce & Gabbana, the inspiration ranges from the slightly kitschy opulence of the 80s to the refined bling-bling of the roaring 20s. So, if you want to give this winter a twist, bring out your make-up and cover yourself with sequins, glitter, fringe, crystals, tulle, lace and silver/gold details.
Tailoring & Power Suits
Along with the party mood, in the air there is also a desire to return to a classic, almost formal elegance. Lemaire, Givenchy, Tom Browne and The Row remind us of the never-ending beauty of a tailored jacket matched with perfectly cut pants or a midi pleated skirt (another FW21 must-have!), to be worn over a turtleneck or under a maxi coat. Better if tone on tone. A tip: the trend does not suggest subverting the effortless chic mood, but to go along with it even with a tie and a vest.
Y2K Nostalgia
TikTok docet. With billions of views, the hashtag #Y2K is gaining more and more followers and influencing the looks of celebrities like Bella Hadid and Dua Lipa and, above all, of Gen Z who is nostalgic for the style born in the late '90s and lasted throughout the early 2000s. So even on the catwalk, thanks to Blumarine, Charlotte Knowles or Laquan Smith, low-waisted jeans, baggy pants, butterfly tops, asymmetrical skirts, gathered dresses and asymmetrical pieces are back.
Layering
One item is not enough. The secret of the season is layering. Even in an unexpected way, with contrasting shapes, fabrics and materials. At Miu Miu the bra is worn over sweaters, the bodysuit over pants; at Courreges, Sportmax and Jacquemus the dress goes over pants; Rick Owens opts for a super hot combo of pullover, tee, pants and down jacket. There are many inspirations, depending on personal needs.
Denim
The shapes change, as does the height of the waist, but jeans and denim never leave our closet. In FW21 the most popular material in the history of fashion becomes even more important, declined in jackets, miniskirts and dresses, but especially in jeans that, this year, have a relaxed fit, baggy and can be worn with everything from the dress studded with pearls as for Rokh, with sparkling jewelry as for Schiaparelli or with the Norwegian wool sweater as for Rag & Bone.
Cut-out Silhouettes
In the last few seasons, clothes embellished with cut-out details have become a real must-have, a piece to show off every day or on special occasions and that we will continue to wear for a long time to come. This fall-winter the offer is even wider: from the ultra-chic bodycon dress by Longchamp to the more sophisticated ones by Rokh and Valentino, to the easy sweaters by MSGM.
Off-color Leather
We all have at least one leather jacket (real or eco-friendly) in our closet that we bring out when the temperatures drop. For FW21 the major brands, from Off-White to Salvatore Ferragamo, take a common essential and upgrade it, dying it with warm colors such as brown or red tones or bright shades such as green and electric blue. The result is bomber jackets, jackets, trench coats, mini dresses and skirts with a strong and cool look, so beautiful that they look like appetizing candies.
Catsuits
The ultra-tight catsuits, both plain and patterned, are perhaps this winter's toughest trend, but, thanks to the après ski inspiration, now it's not only Marine Serre who proposes them, but a large number of brands: from Prada to Givenchy, from Tom Ford to Pucci, from Rodarte to David Koma. If you wear them, you need to have great confidence, but if you are one of these brave people, you can be proud to be a true supporter of fashion and body positivity.