The style essentials of Stormi Webster
From the most hype sneakers of the moment to tie dye t-shirts and dreamy it bags
Stormi Webster is the most stylish baby-influencer of the moment. Filled with likes, shoes and bags from the day of her birth, the little heiress will be 3 years old on 1 February 2021 and already boasts important contributions in the fashion world, as the appearance on the covers of Vogue and Harper's Bazaar. Stormi is also muse for the collection of the brand Kylie Cosmetics, "Stormi" in fact, created in honor of his first birthday where to decorate palette and lipstick stand out his favorite colors and details like lilac, butterflies and glitter. The style and taste emerge already despite the super young age, and it could not be otherwise with Kylie Jenner and Travis Scott as parents: a mix of extremely feminine elements and urban details, and a particular attention to streetwear and luxury accessories, as mom and dad are doing in quality of young worldwide trendsetters.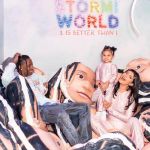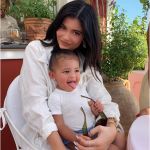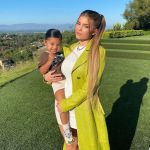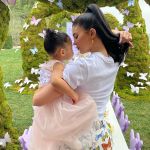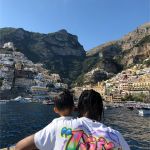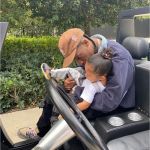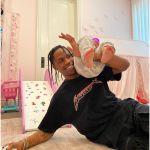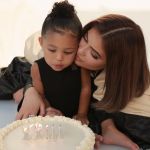 nss G-Club identified little Stormi's essentials, all those elements that can not miss in any of her outfits, to be copied to refresh our style and wardrobe, following in the footsteps of the "daughter of hype".
Twinning with Kylie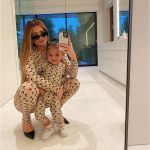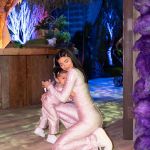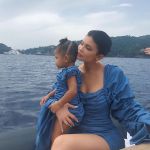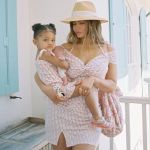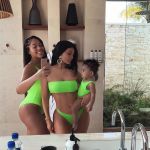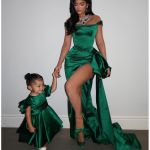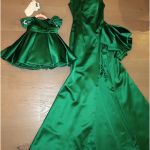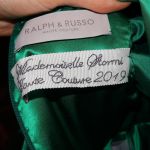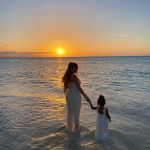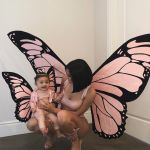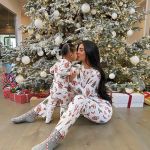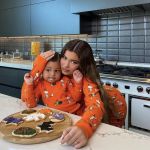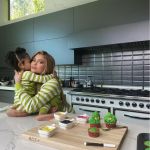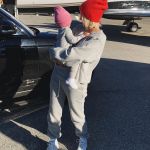 Stormi and Kylie are inseparable, and often show-off around in matching outfits, following the big in vogue trend among young mothers of "Twinning-outfits". Since her birth, Kylie has had her little Stormi outfits identical to her signature outfits to be worn together for the first holidays of the little one at Kardashian-Jenner's house. With the fast growth of the little star, the looks of the two developed in all the sauces: from pajamas to swimsuits, passing through suits, summer dresses and haute couture of Ralph and Russo, Stormi and Kylie are often matchy-matchy and terribly cool.


Sneakers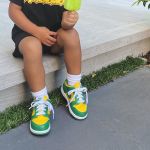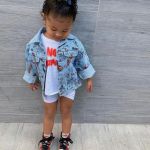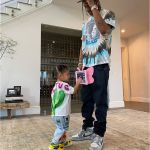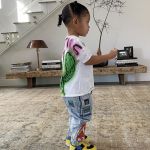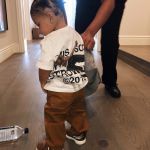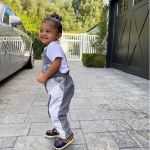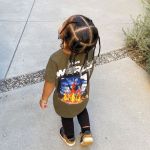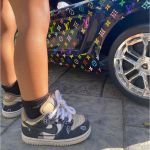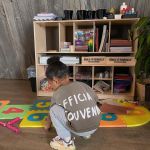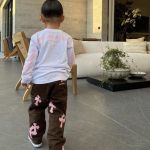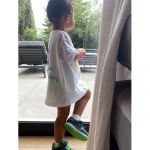 Thanks to the urban influence of Travis and his thriving collaboration with Nike, Astroworld's author daughter wears mainly sneakers: Air Jordan 1, SB Dunk Low, Air Force 1, Air Max 270 Cactus Jack and many other models precious and definitely nowhere to be found make the feet of Stormi always very icy. At home, at the park, on the tennis court and even on holiday, sneakers are the foundation of every Stormi's look.
It Bags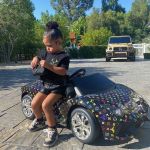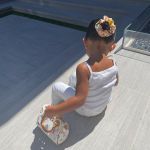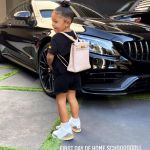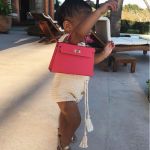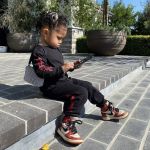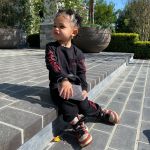 Stormi is a child, and maybe her sense of personal style is not completely developed yet, but she is very good at identifying what she likes and what she doesn't. When Kylie gave her a Louis Vuitton Nano Speedy she couldn't get rid of it even for a second. The handbags, signed by major fashion houses, are one of the main essentials of Stormi's looks. In her collection in addition to the LV model other scary bags stand out: a pink backpack by Hèrmes, a black and an orange Prada Nylon Re-edition 2020 bag, a pink Birkin by Hèrmes and the list goes on counting mama's endless bags closet. She's a very lucky girl.
Tie-dye pieces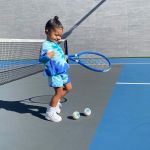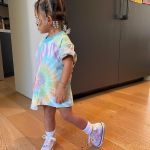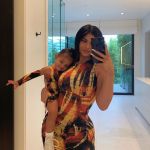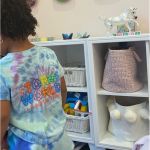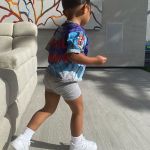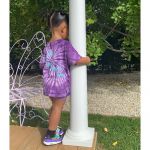 As a lively and exuberant child, Stormi loves all colors. When it comes to clothing she wants to include them all and loves a good tie-dye, in different shades. Whether it's on dad's merchandise t-shirts or simple T-shirts, dresses or accessories, this street-flavored pattern is the most frequently worn by the little one, even to match her mom in a tight black and orange dress! So lovely!
Jewelry and hair clips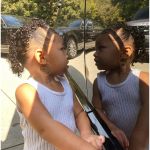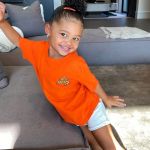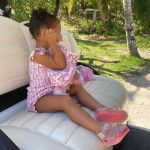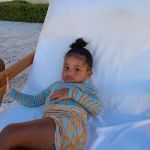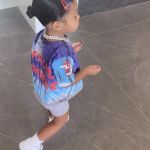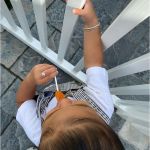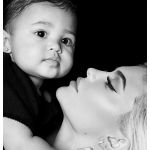 Chunky hoops with the name, pearls, small platinum hoops, mono letter earrings, tennis diamond and golden bracelets are the bling-bling items most worn by Stormi. She always appears accessorized even when he spends a simple afternoon at home with his mother while he prepares cookies to celebrate Halloween. Special mention for the Cuban chain studded with diamonds with a lightning inlaid on the back fastening gifted to her for her first birthday by daddy Travis Scott, who happen to have a twin one.