The art of being Rosalía, worldwide fashion and pop icon
From the revisitation of flamenco in the first album to the new work "Motomami"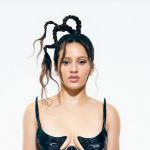 Rosalía is a cantaora ready to conquer her place in the world. This is confirmed by Motomami, her third album, released on 18 March. The Spanish artist's new work is a mix'n match of ideas, moods and sounds ranging from dembow to bachata and flamenco, from Latin pop to reggaeton, from hip hop to electronic. Supported by a crew of songwriters, producers and musicians such as The Weeknd, Pharrell and James Blake, the singer plays with worlds seemingly light-years apart, overcoming boundaries and stereotypes, but, above all, claiming the right to be true only to her own instincts and creativity.
"Me contradigo, yo me transformo / Soy to 'a' las cosa', yo me transformo."
She sings in Saoko, the opening track of Motomami, warning fans and detractors alike Rosalía Vila Tobella is now an international pop star. She is no longer a new talent in Spanish music, she is an ever-evolving artist, free to take risks, to dictate her own rules and rhythms as Beyoncé does. She is a butterfly that flies high and that many, including other emerging artists, love, follow and imitate.
Her story begins in Sant Esteve Sesrovires, the town of just over 7,000 inhabitants near Barcelona where she was born in 1993. Her life changed forever when, at the age of 13, she heard for the first time a flamenco song playing in the cars parked near her school. She is neither Andalusian nor of gypsy descent, but that visceral music gets into her blood. She listened to Camarón de la Isla, studied every harmony, how to modulate her voice with a southern accent, how to move her body and, above all, her hands, until she graduated in 2017 at the Escola Superior de Música de Catalunya with José Miguel Vizcaya aka El Chiqui, one of the greatest masters in the field. The first step towards success was the publication of Los Ángeles, a bare, dark and soulful album focused on the theme of death. The turning point came, by the way, the following year with the release of El Mal Querer and the single Malamente. Placed between tradition and contemporaneity, the singer has added rap, trap, electronic and urban sounds to the flamenco, giving it an innovative contemporary feel, perfect for the Millennials. Rosalía took the Andalusian sound, revised it and turned it into a powerful weapon of girl power. Far from the stereotypical storytelling linked to Caribbean music, such as reggaeton, which celebrates only sensuality, lightheartedness and the joy of fun.
"A ningún hombre consiento que dicte mi sentencia (no man is allowed to dictate my words)."
She sing in Malamente. Her songs talk about dramatic stories, troubled, toxic loves. Like that of Roman de Flamenca, the 13th-century novel which inspired El Mal Querer and narrates about a husband who, mad with jealousy, imprisons his wife in a tower.
It is a pop revolution radiating overwhelming, fresh and genuine energy. It only takes a couple of performances at important festivals like Sónar in Barcelona and a captivating communication strategy via YouTube and social media to place the Catalan girl among the most interesting talents on the international and not only Latin music scene. Suddenly everybody knows her name: she collaborates with James Blake, Travis Scott, Pharrell Williams and J Balvin; drinks cocktails with Kourtney Kardashian and Kylie Jenner; plays with Penelope Cruz in Dolor Y Gloria by Pedro Almodóvar; teaches Spanish to Alicia Keys; parties with Dua Lipa and the New York Times calls her "the Rihanna of flamenco".
Credit for much of her success goes to her aesthetic, which combines Frida Kahlo's paintings with Rihanna's style, Björk's experimental vibes with Beyoncé's powerful pop visuals, chola chic looks with 1990s hip-hop imagery, Traje de flamenca with chunky sneakers and grillz. His inspirations are strong and talented women such as iconic Spanish performers Carmen Amaya and Lola Flores, but also Aretha Franklin, Lil Kim, M.I.A, Michèle Lamy and photographer Carlota Guerrero who shot the zine that accompanied the launch of Motomami.
Rosalía is not afraid to show off. Neither in music nor in fashion. Supported by a mostly female crew that includes her mother-manager, her sister Pilar aka Daikyri who acts as stylist with Samantha Burkhart, choreographer Charm La'Donna, visual artists Domingo Rodríguez and Canada, her choices are always bold. Just as her videos mix weapons, nail art, Goya paintings, bulls, flamenco dance, logomania and symbols of gypsy culture, her outfits are a mash-up of contaminations, always poised between tradition and modernity. They reveal an exaggerated, hyper-feminine, but never flirty style. A visually powerful universe, a manifesto of empowerment made of pink, red, an avalanche of ruffles, fringes, polka dots, leotards, crop tops, baggy pants, platform sneakers, baroque patterns, mini dresses, chaps and tracksuits. Among her favorite designers there are emerging designers and famous Maison: from Asai to Versace, from Louis Vuitton to Left Hand L.A., from Jacquemus to Nike who chose her as testimonial to Riccardo Tisci for Burberry who created for her participation in MTV VMAs two different black custom outfits decorated with crystals.
Even her beauty is completely non-minimalist. She loves red lipstick, but has become famous for her dagger nails (they also have their own IG profile: @rosalia.nails profile), one of the highlights of her aesthetic since the beginning of her career which has been leading item in the Aute Cuture video. Her favorite nail artists? Talía Zuloaga from @talianails, @dvine_nails e @guitonails.