Five manicures for the stars to copy
From lemon sorbet colour to bespoke nails by zodiac sign: The spring nails of Selena Gomez and Megan Fox
Spring brings with it the desire to leave the grey behind. This applies to the appearance just as much as to the nails. Leaving aside the desire for colours like rouge noir and cobalt blue (but never black!), we prefer pure spring colours for manicures that are already looking forward to summer. And if the stars are already giving tips, why not take an example? Pen in hand: Zendaya, Hailey Bieber & Co. have something to tell us when it comes to nails.


Hailey Bieber's colourful, vanilla manicure
When it comes to chrome nails - or rather, glazed donut nails - they have come to be lumped in with Ms Bieber.
It's a sleek but edgy effect, thanks to a light check on nude-coloured nail polish.
These nails are as light as a cloud and as delicious as vanilla ice cream. How can you copy them? It's easy, even at home: after shaping the nails as desired and applying the base coat, take the colour of your choice and apply one or two coats, depending on the intensity. Next, take a pearlescent polish or, for those who prefer iridescent pigments, an eyeshadow brush to create the chrome effect. Finally, fix everything with the top coat to create a final shiny effect.
Selena Gomez's lemon yellow manicure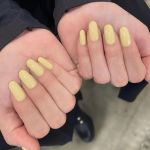 Taking a cue from the green, fluorescent or olive colour of the martini cocktail, the pop star inspires us to create a manicure reminiscent of a
sorbet or limoncello on the rocks
. It's a delicate, spring-like shade that brightens up not only the dullest day, but also the look of the moment. Like Selena, opt for a bold shape, like ballerina nails, with a tip that is neither too round nor too square.
Kourtney Kardashian's cherry manicure
Succulent and a little Lolita-esque
, this manicure is fresh and light and looks just as good with a striped top as it does with a black or purple dress (but also with pink or green, just saying). The oval, medium-length shape is also nice, as is the decision to apply a more off-white colour that veers into pink instead of the clear top coat.
Megan Fox's zodiac manicure
Although the actress is no longer on Instagram, at least for now, she also draws inspiration from the social profiles of others. For example, from her manicurist,
Brittney Boyce, who created some Taurus-inspired nail art for her.
A jet black manicure with a tapered stiletto shape decorated with crescent moons, eyes and silver-white stars. In short, all astral symbols of Taurus, popular because they appear minimalist but meaningful. Before you do this manicure too, consult the stars.


Zendaya's pink French manicure
The Americans call it "your nails but better"," meaning the best, manicured version of one's natural nails. That's what Zendaya did too (and thanks to her manicurist, Marina Dobic, we know exactly how). The polish in question costs about 15 euros, is milky pink and exactly the
CND Shellac Gel Polish in the shade Backyard Nuptials.
Dobic prepared the nails with a file and cuticle tweezers, then polished them with this natural colour in a square shape and fixed it with a generous dose of top coat.