Tips for a perfect tan for beginners
How to achieve an enviable tan for dummies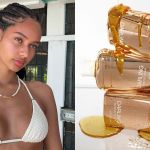 Although in recent years there has been something of a trend reversal whereby fair skin is considered a beauty factor (a bit like centuries ago when it distinguished the nobility from women forced to work under the sun), a golden complexion lights up and makes any complexion glow. Obviously, it is always a good idea to respect one's phototype and bear in mind that it is unrealistic, as well as unhealthy, to think of darkening in a short time beyond the limit imposed by one's complexion, but the objective of a "perfect tan" can be achieved with a few simple rules. Let's look at them together.
To promote an intense and even tan, it is best to prepare the skin before the actual exposure. To do this, you can use an exfoliator on the face and body at least once a week in the period preceding exposure, to remove so-called "dead cells" and thus avoid a patchy tan. In addition, to prepare the skin for exposure from the inside, it is also useful to take, at least a month beforehand, a supplement rich in carotenoids and antioxidant substances in combination with a diet rich in beta-carotene and vitamins C, E and A. Greenlight, therefore, to seasonal fruit (apricots, peaches and melon) and carrots, peppers, tomatoes and dried fruit. To help the skin stay hydrated, it is also essential to drink enough, i.e. at least 1.5 or 2 liters of water a day (or natural juices and centrifuges).
To encourage melanin production, it is best to expose oneself gradually during the first few days: short but constant exposure is better than endless sessions in the sun, which can easily lead to burns. The superficial tan of the first few days is in fact due to the melanin already available in the epidermis, but it is destined to disappear in a short time; moreover, it is sufficient to expose oneself to the sun for a maximum of 45 minutes a day, since beyond this limit no more melanin is produced. To get a good tan without running the risk of burning or peeling, always use a sunscreen that is appropriate for your phototype. Sunscreen should not be applied directly on the beach, as many people do, but it would be preferable to apply it in advance, at least half an hour before exposure to the sun, to give the skin time to absorb it. In the event of intense sweating, showers or bathing, it is also a good idea to remember to reapply the protection frequently.
Last but not least, a perfect and even tan requires proper hydration of the skin which, especially at the seaside, is subjected to the drying action of wind and salt. This is why, after every "sun bath", in the evening after the shower it is a good idea to rehydrate the skin with a specific product, based on natural oils useful for keeping the skin soft and hydrated and enriched with menthol and essential oils with a calming and refreshing action.
Are you ready? nss G-Club has selected for you the 10 best creams and supplements for a perfect suntan: