Sofia Coppola designed a kit to recreate Priscilla Presley's Eye - Makeup
In collaboration with A24 and Half Magic, the brand of Donni Davy, the deus ex machina behind the beuaty looks of "Euphoria"
Priscilla, the biographical film about Priscilla Presley directed by Sofia Coppola, will be released in cinemas on 3 November. The closer the date, the greater the hype about Elvis' young wife, especially her iconic 1960s beauty look. The voluminous hair, liquid lips and eyes accentuated with black eyeliner have become an obsession for many celebrities (Lana del Rey ring a bell?) and regular girls alike, who want to emulate her in their everyday lives or dress up for next Halloween. Starting today, that's about to get a whole lot easier, thanks to the Priscilla x Half Magic set, an eye kit created by Sofia Coppola in collaboration with A24 and Half Magic, the brand of Euphoria make-up artist Donni Davy.
Inspiration
Based on her 1985 memoir Elvis and Me, Sofia Coppola's Priscilla tells the love story between Priscilla and Elvis from a woman's point of view, from when they met in Germany to their life together at Graceland and their separation. There are the true facts, the music, the relationship between a young woman and a star, but also a lot of fashion and beauty. It's no coincidence that the film's trailer begins with Priscilla donning her signature winged look and applying a thick line of raven black eyeliner to frame her big blue eyes. The evolution of Priscilla's hairstyle and make-up is integral to her story. We see her transform from a schoolgirl with a ponytail and clean face to Elvis' wife with cat-eye and bouffant hair, before she transforms back into an independent woman who lives and wears make-up as she pleases. Red painted nails, false eyelashes that have to be strictly applied before every public appearance, hair colour and striking make-up are Priscilla's way of pleasing her famous husband. Indeed, he is the one who suggests every element of her look, as also pointed out by Donni Davy, who drew inspiration from him for her kit. The founder of Half Magic Beauty explained:
"I thought [the makeup] was a character in the film. I was so taken aback and altered a little bit by the part in the film where you see that Elvis is pushing her to go with heavier eye makeup and dye her hair. It's so dark and twisted because he is turning her into this vampy character, this sex kitten, full transformation from school girl to glamorous icon, and it kind of became her identity. This look inspired millions of people, millions of women, but did Elvis create it?".
What the Priscilla x Half Magic Set Contains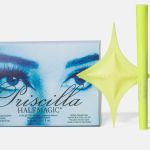 The kit contains three products: Magic Flik, a calligraphic eyeliner with a paddle tip for effortless one-touch cat eyes; Wing Magician, a special handheld guide with a unique diamond silhouette that helps draw perfectly angled and precise wings; and Eyelectric Extreme Lengthening Mascara for XXL lashes. The Priscilla set is available for $49 at A24films.com, halfmagicbeauty.com and Ulta.com.
How to recreate Priscilla's make up according to Donni Davy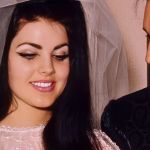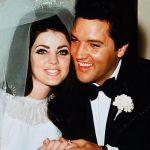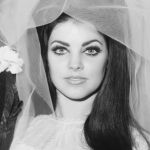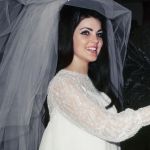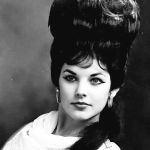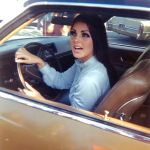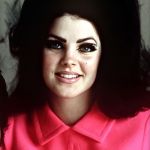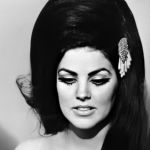 Priscilla's signature look has made her a beauty icon that stands the test of time. Millions of people have been inspired by her iconic Winged look, and with Half Magic's kit you can easily recreate it at home. Donni Davy herself explains how to apply the products to get the best possible result. The first step is to draw a wing-like line with eyeliner using Half Magic's silicone guide. How By placing the silicone diamond at the outer corner of the eye and choosing an angle and placement that appears to extend the lower lash line. Then, using liquid eyeliner, draw a line along the edge of the stencil. Then remove the stencil and fill in the upper part of the lash line to blend with the lash line. For an extra touch of drama, add a thin, straight line that slants down at the inner corner. Don't neglect the lashes. Bend them with an eyelash curler to enhance the doll's eye effect. Now apply a light coat of Eyelectric Mascara, starting at the base of the lashes. Let dry and then apply a second coat, concentrating on the tips of the lashes. This is the trick to avoid clumping and to achieve a lengthening effect. If you want to recreate Priscilla's look perfectly, make sure your eyebrows are raised and shaped. Finally, choose a lip liner a few shades darker than your natural lip colour and pair it with a much lighter lipstick, perhaps in baby pink or nude.