The craziest hair trends to try this fall
From barcode bangs to the jellyfish bob
Tired of 80s perms, ponytails and bobs? Then why not take the plunge and give your hairstyle an eccentric, perhaps rebellious and colourful twist in the coming months. Now that the sun is leaving us to make way for the typical greyness of the season, a new cut or unusual colouring could lift our spirits and, why not, bring out our panache and personality. So browse through pictures of barcode-embellished fringes, sculptural finger waves, rainbow mullets or braids filled with ribbons. Have you decided on a style for your new hairstyle?
Barcode Hair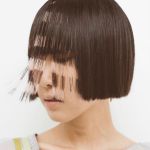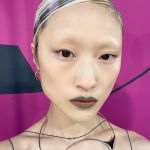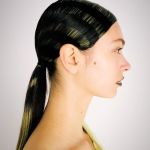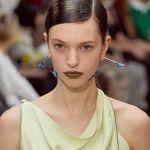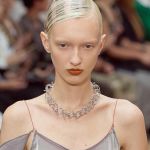 Will scannable hair be the next big beauty trend on the street? Who knows. For Kiko Kostadinov's SS24 fashion show, hairstylist Olivier Schawalder created a kind of barcode by putting colourful stripes at regular intervals on the models' fringes and topknots. The idea behind it? To give the hairstyle a look that is more intellectual than punky, almost chic. He achieved this with green, blue, purple and soft orange hues on the straightened bobs and braids.
Corset Braids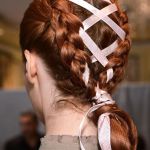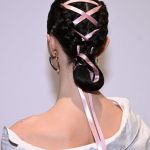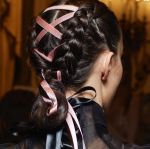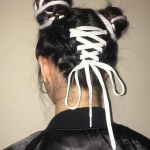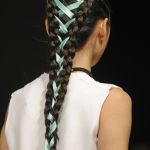 To celebrate the brand's 15th anniversary, Christian Siriano brought a ballet-inspired collection to the runway, combining the bows and tutus of the dresses with corset braids. Lacy Redway recreated a braided corset by gathering her hair into two inverted French braids, which she then twisted into a low ballerina chignon that ended at the nape of her neck. She then hand-braided a pink ribbon on each side so it looked tight, and sewed it together with a pin, like the one that closes a real corset. The look, which alludes to both the balletcore and coquette aesthetics, immediately went viral.
Finger waves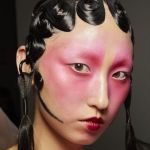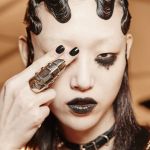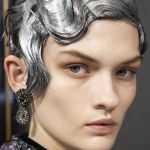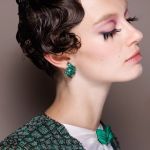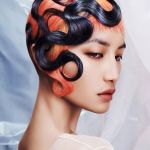 Remember Marc Jacobs' finger waves for FW16? They've never gone out of style. They can be the go-to for a special night out or a statement hairstyle like the Roaring 20s. And they are much more versatile than they look. They can be super classic and sophisticated, like the new styles by Giorgio Armani, Richard Quinn and Erdem, or super conceptual and eccentric. How to do it? By multiplying the waves, twisting them a lot and shaping them by sticking them on the forehead and sides of the face, like the frame of a rococo painting. To enhance the effect, it's always a good idea to use colour and shiny surfaces.
Colour-blocked Mullets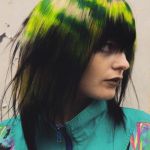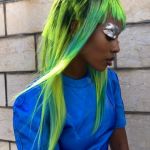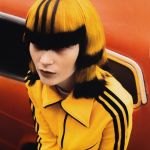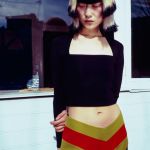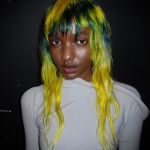 Colour is still the easiest element to play with to add character to a hairstyle, especially if you use it to emphasise the cut and furrows between the curls. An example? Aya Kuraoka's punky and colourful mullets, filled with acid green, lemon yellow and orange. The Japanese-born hairstylist and wigmaker loves vibrancy and rainbow hues, preferably with an imperfect, asymmetrical and rebellious look. The mullet and colour combination can be a fun solution to get through the grey days of autumn and winter.
Pop of Color Bun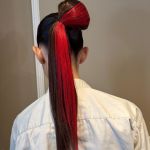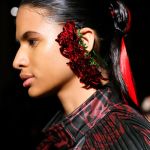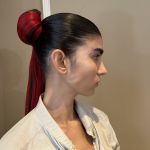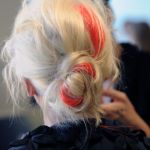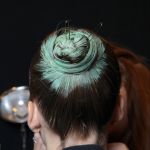 Just a touch of colour is enough to give it a modern, interesting twist and freshen up even a classic hairstyle like the chignon. If you're looking for something fancy but not too much, Palomo Spain's SS24 fashion show could be your inspiration. The models on the catwalk appeared to have their hair pulled up into a tight chignon, but the back of the hairstyle featured a single strip of bright red colour, which hairstylist Sarah Lund thought was a nod to the 1990s and elevated the look. If you're not ready to dye your hair, you can also lengthen it with clips or a ribbon that you put around the base of the chignon and let it fall back.
Level up Updo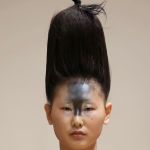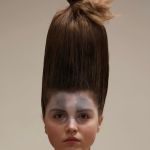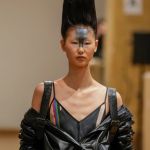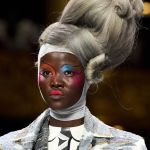 As Dolly Parton said, "The higher the hair, the closer to God," so high chignons and sculptural, towering braids or other gravity-defying hairstyles are popular again. There are more classic solutions like that of Schiaparelli, who brought sciura-style combing to the catwalk, and bold experiments like those of Francesca Liberatore and Thom Browne. For both, Marie Antoinette seems to have been the inspiration with her sculptural, very high and voluminous hairstyles typical of the Age of Enlightenment. There are two ways to adopt this look: Either you opt for a wig or you comb your hair and fix the resulting framework with lots of hairspray.
Hair-raising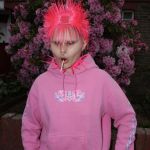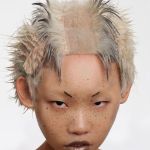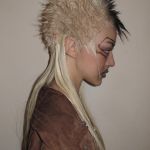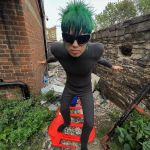 Punk mood. Or even better: cyberpunk. For hairstylist Yuho Kamo, hairstyling is a form of destruction that must be distorted and deviant. He believes in bad taste as an antidote to the ordinary, conventional hair that dominates the mainstream, favouring extremely spiky, hyperpigmented hair and post-apocalyptic, distorted imagery. Kamo often uses wigs, but the rebellious, upswept cut with punk tips is not difficult to imitate.
Hair brooches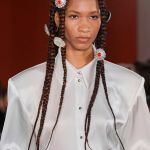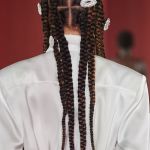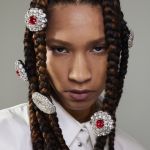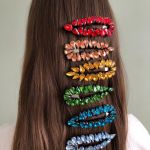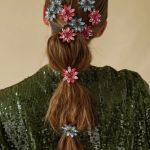 Did you see David Koma's FW23 fashion show? On the catwalk, some of the models wore braids illuminated by large jewelled brooches. Intentionally fake but still eye-catching, like certain bijoux found in the drawers of mothers and grandmothers. The idea isn't new and has been used by Chanel and Eudon Choi, but the hairpins chosen by hairstylist Cos Sakkas to highlight the long braids gave the look a kitschy touch that's perfect for the upcoming festive season, but also for a special evening out. So put bobby pins or bling-bling clips on your shopping list and messily spread them through your hair.
Creature Waves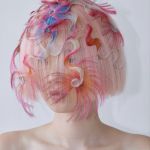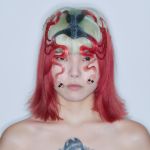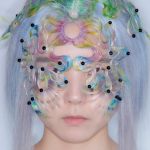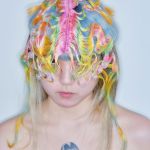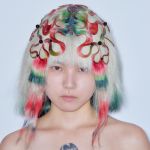 Japanese hair artist Tomihiro Kono has a striking and distinctive style that has won over artists like Bjork and Grimes and brands like Junya Watanabe and COMME des GARÇONS. His hairstyles, often created with the help of wigs and posticorn curls, are not just hairstyles but real wearable art installations. Particularly interesting and inspiring if you're looking for a quirky and unique look for autumn are the hairstyles collected in the book Fancy Creatures, which explores the relationship between humans and organisms on planet Earth. The features of these hairstyles, reminiscent of moths, furry mosses and sea creatures? A mix of pastel shades, kawaii, cyberpunk references, overlapping strands of varying lengths, restyled 1930s waves and colourful beads.
Jellyfish hair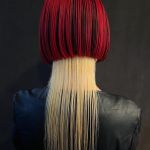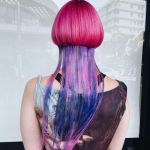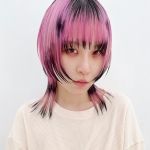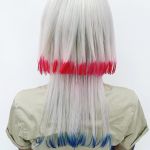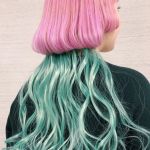 The most popular eccentric hairstyle of 2023? The jellyfish bob, a cut inspired by the eponymous sea creature that combines a rounded bob at chin level with a few strands in the middle that are intentionally left much longer to mimic the effect of a tentacled jellyfish. This is a more extreme take on the Mullet and Hime cut, which has also been worn in the past by Nicole Kidman for the cover of The Perfect Magazine. Are you intrigued and already making an appointment with your hairdresser? Remember that the bob and the long curls should be two different colours, preferably in contrast to each other, if you want to create a bigger wow effect.