Lana Del Rey has announced the release of a new album
The singer unveiled the title track and first single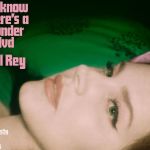 Lana Del Rey is ready to come back. We already told you about it last spring, but now it is the singer herself who announces it by sharing Did You Know That There's A Tunnel Under Ocean Blvd, a new title single that anticipates the release of her ninth studio album to be released on 10 March 2023.
It is a heartbreaking, dreamy ballad, in perfect Del Rey style, featuring jazzy piano chords and a reference to Harry Nilsson's 1974 song Don't Forget Me, including an homage to the singer-songwriter and his song in the lyrics when he sings "Fuck me to death. Love me until I love myself/There's a tunnel under Ocean Boulevard."
Del Rey wrote a letter in which he thanked his photographer Neil Krug, author of the new cover and also of the beautiful images that accompanied 2014's Ultraviolence, and the friends who contributed to the 16 tracks that make up the work, which will arrive in stores next year. Among the many names are Father John Misty, Jon Batiste, Bleachers, Tommy Genesis, SYML and Judah Smith (the pastor of the church Lana attends) who are all guest artists and producers Mike Hermosa, Drew Erickson, Zach Dawes, Benji and Jack Antonoff. Antonoff has worked with Del Rey before and is a long-time collaborator of Taylor Swift's to the extent that he produced her latest album Midnights, which contains a duet by Taylor with Lana entitled Snow on the Beach. Swift is not the only famous fan of the Born to Die singer, celebrities who adore her include Maneskin who performed a cover of Blue Jeans on stage at the Hammerstein Ballroom in Manhattan, New York. When will there be a duet with the Roman band too?