Emma Watson talks about her break from acting
«I think I felt a bit caged»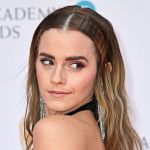 The announcement of a series TV, based on the Harry Potter saga, has led many fans of J.K. Rowling's books and the films produced in the early 2000s to wonder who can put a face to the bespectacled wizard and his friends within the walls of Hogwarts today, but also what the current protagonists are doing today. As it happens, two of the most popular actors are making news these days, but not because of new film projects. Daniel Radcliffe is in the news because he has just become a father, and Emma Watson because she revealed something in a recent interview.
In a wide-ranging conversation with the Financial Times on the occasion of her and her brother Alex's launch of Gin Renais, Emma talked about the reasons for her more than five-year break from acting since she shot Greta Gerwig's Little Women in 2018:
«I wasn't very happy, if I'm being honest. Please use the sharing tools found via the share button at the top or side of articles. I think I felt a bit caged. The thing I found really hard was that I had to go out and sell something that I really didn't have very much control over. To stand in front of a film and have every journalist be able to say, "How does this align with your viewpoint?" It was very difficult to have to be the face and the spokesperson for things where I didn't get to be involved in the process.»
Watson, who has grown up on film sets since childhood, has worked with notable directors such as Darren Aronofsky, Sofia Coppola and Alejandro Amenábar despite being in her early thirties, but the pressure and the impression that she was not fully responsible and involved in every aspect of the projects she was involved in convinced her to change direction in her life, at least for now:
«I was held accountable in a way that I began to find really frustrating, because I didn't have a voice, I didn't have a say. And I started to realise that I only wanted to stand in front of things where if someone was going to give me flak about it, I could say, in a way that didn't make me hate myself, "Yes, I screwed up, it was my decision, I should have done better"».
So the actress began to broaden her scope, to gain new experiences and to make more and more conscious decisions. Since becoming Hermione Granger, she studied English Literature at Brown University, became a Goodwill Ambassador for UN Women, launched the #HeforShe campaign with a speech at UN, highlighting the role of men in promoting gender equality, and became so passionate about sustainable fashion that she was appointed Director of Kering's Sustainability Committee. Last year, she also made her directorial debut with the Prada Beauty campaign. An experience she is rumoured to be repeating soon by directing the music video for a famous artist who is still top secret. Will she ever return to acting? Emma's answer to this question gives hope for the future (although some swear we'll see her on screen as early as 2024):
«Yes, absolutely. But I'm happy to sit and wait for the next right thing. I love what I do. It's finding a way to do it where I don't have to fracture myself into different faces and people. And I just don't want to switch into robot mode any more.»