5 things to know about the Venice Film Festival 2022
From the movies in competition to the stars expected on the red carpet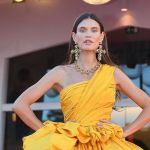 It's almost time now. From August 31 to September 10, the world's oldest film festival returns with an edition, the 79th, full of interesting films and filled with international stars. The Venice Film Festival 2022, which this year will have Rocío Muñoz Morales as its godmother, promises to be an unforgettable one, including auteur titles, pop projects, established auteurs and unexpected debuts such as that of Elodie, an actress in the gangster movie Ti mangio il cuore. Director Alberto Barbera has unveiled a packed program of titles that promises to bring the best of contemporary cinema to the Lagoon and plenty of stars on the red carpet.
Here are 5 things to know about the Venice Film Festival 2022.
The schedule
23 films in competition for the Golden Lion, including five from Italy. 19 out-of-competition. To which are added many other titles scattered in different categories bringing the total to 3659 of entries for the 79th Venice Film Festival. The high number of entries mirrors the variety of themes, formats, genres, directors and actors that will make this edition unique. There is Cate Blanchett ( apparently in a state of grace) in Todd Field's Tár where she plays an orchestra conductor who falls in love with two of his musicians; Sadie Sink from Stranger Things and Brendan Fraser, almost unrecognizable as an obese man who no longer leaves home, in Darren Aronofsky's The Whale; Hugh Jackman, Vanessa Kirby and Laura Dern in Florian Zeller's The Son which deals with an intense affair between father-son talks; Christoph Waltz and William Dafoe in Walter Hill's western Dead for a Dollar; Colin Farrell in The Banshees of Inisherin by Martin McDonald (former director of the acclaimed Three Manifestos in Ebbing Missouri); and Penelope Cruz stars in Emanuele Crialese's L'immensità, which returns 11 years after his last work. Two of the most talented and chic actresses will not be missing either: Tilda Swinton who, after winning the Golden Lion for Lifetime Achievement in 2020 and the Coppa Volpi in 1991, returns to the Lagoon with The eternal daughter, a mystery-drama directed by Joanna Hogg; while Isabelle Huppert stars in Jean-Paul Salomé's La syndacaliste, which will be screened within the Horizons section.
Most anticipated titles
The opening film is also one of the most anticipated. It is titled White Noise by Noah Baumbach and stars Adam Driver and Greta Gerwig, the director's partner and, in turn, a highly acclaimed author who recently finished directing the live-action on Barbie. Based on Don DeLillo's book of the same name, the film tells the story of an American family whose life is turned upside down by an unexpected event, taking an apocalyptic turn. Alberto Barbera, artistic director of the Venice Film Festival, called it an original, ambitious and compelling work, with very clear references to contemporary reality while examining our obsessions, doubts and fears rooted in the 1980s. Another fil that many are looking forward to seeing is Blonde. The biopic about Marilyn Monroe stars Ana de Armas as the diva from Some Like It Hot and, as expected, is generating much hype and controversy for both the Cuban-born actress' performance and director Andrew Dominik's uncensored, feminist film adaptation. The closing film, on Sept. 10, will be Francesco Carrozzini's The Hanging Sun. The cast of this thriller set in the eternal Norwegian summer, based on Jo Nesbø's best seller, includes Alessandro Borghi, Jessica Brown Findlay and Peter Mullan. For Franca Sozzani's son this is the litmus test, following the successful documentary about his mother Franca: Chaos and Creation.
The stars
Some of Hollywood's most talented performers such as Penélope Cruz, Timothée Chalamet, Cate Blanchett, Adrien Brody, Colin Farrell, Isabelle Huppert, Hugh Jackman, Anthony Hopkins will stop at the Lido. While among the Italians expected in Laguna are Elodie (who knows what she will wear? Versace as in 2020?), Monica Bellucci, Alessandro Borghi, Elio Germano, Giovanna Mezzogiorno, Benedetta Porcaroli and Valerio Mastandrea. Eyes not only on the red carpet, but also inside the luxury taxiboats that will dock at the Lido's Hotel Excelsior and Hotel Danieli at all hours loaded with celebrities, in the elegant cafes overlooking the Grand Canal or at the many parties that will enliven the Festival nights.
Harry or Timothée?
Will Harry Styles or Timothée Chalamet be more beleaguered by fans? The musician will be in Venice (and hopefully on the red carpet as well) with Don't worry, darling by and with Olivia Wilde, his partner off-screen as well. The plot sounds intriguing: Alice (Florence Pugh) and Jack (Styles) live in the 1950s within the experimental community of Victory, led by a sort of guru who fixes every aspect of daily life in this utopian place in the middle of the desert. Despite the apparent perfection, the girl notices that something is wrong and investigates to discover the truth. Timothée Chalamet, on the other hand, stars in Luca Guadagnino's film Bones and All, a sort of road movie set that follows the vicissitudes of a pair of cannibals in the American midwest.
The Awards
Who will win the Golden Lion for best film this year? Who the Volpi Cup for best actor? That will be decided by a jury chaired by Julianne Moore. For now, the only prizes already awarded are the Golden Lions for Lifetime Achievement, which will go to iconic French actress and Yves Saint Laurent muse Catherine Deneuve and U.S. director Paul Schrader.