5 "genuine" Italian destinations to visit last minute
For non-mainstream travelers looking for places not so touristy but equally dreamy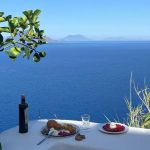 The year 2022 will once again be the year of Italy. Indeed, with the pandemic and the various restrictions, so many Italians have once again fallen in love with our beautiful country, the power of the Mediterranean and that unmistakable Dolce Vita-style aesthetic. But there are those who, especially in August, really don't want to know about booking in a chaotic destination, where practically 100 percent of tourism is concentrated between the local and the international. So we suggest five quiet, authentic and beautiful destinations that live by zero kilometers, close encounters with nature and artisanal excellence. It is worth, for example, temporarily saying goodbye to Capri to sail to Procida, or preferring a throwback between Alicudi and Filicudi over on-the-road vacations in more mainstream Sicily.
Alicudi
"Faremo il bagno tutti nudi a Filicudi e Alicudi", sing Colapesce and Dimartino in their hit Toy Boy. And we can confirm that you can do it in total peace of mind when you are aboard a little boat in the middle of nowhere. The beauty of Alicudi is that you take a dip into the past. On the smallest and wildest island of the Aeolian Islands in Sicily, in fact, there are no hotels and no restaurants. The island experiences breakfast and aperitifs in the only bar near the harbor and then having a picnic lunch by boat and dinner at strangers' homes. We have no destinations to suggest to you, just synchronize your phones and computers to look for the house that suits you best, even depending on how much breath you have to take between 100 and 500 steps each time you have to return to your vacation hickory. What we like about this island is that when you go to the local ladies' for dinner, who host a maximum of 15 people a night, you can have unexpected encounters, such as your best friend's colleague, coincidentally there as you are in Alicudi, or dancers arriving from Paris. During the day you can look for yoga classes around the island or go by boat to Filicudi Wildlife Conservation, a nonprofit that studies and protects cetacean and sea turtle populations, and where you can do turtle First Aid yourself.
Procida
Forget for a moment the jet set of Capri and the Amalfi Coast. Instead, go to the Isola di Arturo recounted by Elsa Morante, which is even the capital of culture in 2022. A fixed stop is a selfie from the promontory of Terra Murata, from where you can see all the emblematic little houses in the pastel colors of Marina Corricella, wanted so joyfully by the fishermen and which Alberto Moravia described as a "sort of beehives of tender colors, whose hues recall a great ice cream of different flavors in slow liquefaction, with the holes in the terraces made with a spoon." Experiment with glamping to sleep surrounded by nature but in luxury, at the Procida Camp & Resort, in a lodge or metallic camper. Then enjoy the sea from the boat, the beach from Il Postino and dinner at Mariano's, the island's culinary institution.
Pantelleria
Reaching the island that is not there, dubbed the black pearl of the Mediterranean Sea because it is halfway between Italy and Tunisia, is a veracious experience in itself, thanks to the aircraft flying there from Palermo. But once you arrive in this wild land, it will be worth it. The Pantelleria dwellings, called dammusi, are beautiful, and we recommend staying at the Pantelleria Dream Resort if you dream of luxury peace, with infinity pools overlooking the sea and pink sunsets to admire. And then off you go, riding in a locally rented Panda, to discover the natural wonders, from Lake Venus, salted with flamingos walking in it, and where you can get a sulfur-rich mud to see your skin immediately more exfoliated and glowing. Another regular stop is a visit to the Elephant Arch, a stacks equipped with a proboscis. The aperitif? It's at Kayà Kayà, at Beluga and at MaRai Farm, plus the inevitable visit to Donnafugata's winery in Khamma, where you can taste a fine passito wine.
Ponza
The most intriguing island in the Tyrrhenian Sea is described as surly but also beautiful. If the harbor may seem chaotic, you'll find peace as soon as you arrive at one of the colorful little houses perched on the island's promontory or at a dreamy boutique hotel, such as the Atlantis Inn Castelgandolfo or the Grand Hotel Chiaia di Luna. Before going up, however, the fixed stop is at Caffé Tripoli, where you can bite into a Ponza zeppola. You cannot go to Ponza without renting a boat and going to see the unreachable Chiaia di Luna, which, because of its shape and unmistakable color, is named after the moon. When the sun goes down, dinner is at the Oresteria or at Orerock's, both by chef Oreste Romagnolo, who has brought contemporaneity to the island's tradition while maintaining its true essence.
Langhe Monferrato Roero
Summer is not only synonymous with the sea. There is also contact with nature, in the countryside, preferably with a medieval village to visit. The Langhe, in lower Piedmont, between Cuneo and Asti, is not just the home of truffles and hazelnuts (aka Nutella). There is a world of castles, such as Serralunga and Grinzane Cavour, trails to discover while riding an electric bike, and plenty of wine to enjoy. We recommend staying at Casa Scaparone, a magical place, not at all conventional and with boho-chic details. Here you can relax but also have a cooking class, to learn for example how to make typical ravioli del plin by hand, or create dried flower arrangements. For lunch you go to Terrazza da Renza, for aperitifs, on the other hand, we suggest you enjoy them directly on the Torre del Barbaresco, while for dinner you head to Ostu di Djun, where the floor is made of hazelnut shells and you dine with bottles of Magnum, between a spaghetti with truffles and a tartare.