Google will delete the history for pregnancy interruption clinic visitors
A small step to protect women's anonymity and health when exercising their right to choose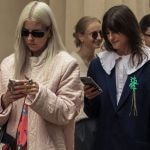 Now that there is no longer a ruling in the United States protecting the right to abortion at the federal level, women are living in a climate of uncertainty and suspicion that is forcing them to be more concerned about their privacy than ever before, to the point of uninstalling menstrual cycle monitoring apps. The fear is that their data will end up in the hands of anti-abortion groups or be used as evidence of abortions in possible criminal proceedings. A real fear that extends not only to apps, but to all online activities. This is why democratic politicians, human rights groups and pro-choice activists have called on major technology platforms such as Meta and Apple to stop storing personal data. The first (and so far only) company to answer the call was Google. The Mountain View giant has announced that it will remove the geographic location history of people in the United States who have been close to a clinic where abortions are performed, thus preventing this information from being disseminated or instrumentalised. Through its vice-president, Jen Fitzpatrick, it stated:
"If our systems identify that someone has visited one of these places, we will delete these entries from Location History soon after they visit."
So-called "sensitive facilities" include not only pregnancy termination clinics or other medical facilities such as counselling centres, but also domestic violence shelters, fertility centres, addiction treatment facilities, weight loss clinics, cosmetic surgery clinics and other places. In addition, the company said that users will soon also be able to quickly delete menstrual cycle data stored on Fitbit, its own health monitoring app. As for whether Google will still hand over its people's data if requested by the authorities, Fitzpatrick assures:
"We take into account the privacy and security expectations of the people who use our products, and we notify them when we accommodate government requests, unless human lives are at stake."
The new policy will come into effect in the coming weeks, and although it seems like a small step or, according to the more "wake" people, even pinkwashing, it should be noted that Google is the tech company to have granted privacy to those who want to terminate their pregnancy, but are afraid of ending up being pursued by anti-abortion governments.