5 LGBTQIA+ TV shows to watch during Pride Month
From Guadagnino's latest project to Betty's skaters
June is Pride Month, a special month in which everyone, brands and artists included, celebrate love in all its forms. Even the world of TV series, which in recent years has increasingly presented intelligent and truly inclusive queer content, does so. There are many and various projects that explore the plurality and complexity of LGBTQIA+ community members' lives, highlighting their diversity, beauty and going beyond mere stereotypical representations.
From We Are Who We Are, Luca Guadagnino's first TV project to the glamour of Netflix's Pose, from the choral story of Tales of the City to the stylish skaters of Betty, G-Club has selected 5 queer-themed TV series to stream to laugh, fall in love, dream, dance, fight, accept and emancipate together with the protagonists of these stories.
We Are Who We Are
Luca Guadagnino makes his debut in the world of TV series with a powerful and engaging coming of age show that follows the story of a group of teenagers, children of soldiers living on a US Army base in Veneto. There's Fraser (Jack Dylan Grazer), the son of the new base commander, played by Chloë Sevigny; there's Caitlin (Jordan Kristine Seamón), who is conflicted about whether to be herself or to be the perfect little girl her ultra-conservative father wants her to be. And then there are Britney, Danny, Craig, Sam, Henry, and Valentina. In this sort of non-place of barbed wire, deployed platoons, and military rigor, their feelings, like rebellion against traditional gender roles, explode. Among friendship, love, desire, anger, doubt and self-discovery, the costumes made by Giulia Piersanti, Head of Woman's and Man's Knitwear at Celine, stand out.
Please Like Me
Josh has shaggy hair, a squeaky voice, is logorrheic, cynical, and emotionally inaccessible, yet despite being a pretty annoying guy, he will definitely hold you stuck to the screen. On his twentieth birthday Claire, his longtime girlfriend, gives him a piece of cake and dumps him saying "Josh, you're gay!". From this "forced" coming out starts Please Like Me, Australian series created and produced by stand-up comedian Josh Thomas, who also plays the protagonist. Episode after episode, this bizarre blond takes us into his world, spent, between ups and downs, between family and new loves, along with his ex-girlfriend, his friend and roommate Tom, his bipolar mother, his father and stepmother. The result is a light, funny, light-hearted sitcom that critiques all the clichés that accompany the idea of the LGBTQIA+ community in society and that, despite the seemingly ordinary plot, always hides a few surprises.
Pose
TV's queer aesthetic has never been more glamorous and engaging. Ryan Murphy and Steven Canals take us back in time, inside the New York LGBTQ+ community of the early '90s, to the days of the birth of the voguing movement and ballroom culture. The pair of screenwriters and the inclusive cast, which features Indya Moore and Billy Porter, are perfect in staging this story of transition, as is the dichotomy between the glittering beauty that, from costumes to sets, characterizes the dance competitions and the marginalized lives of the protagonists, forced to deal with discrimination and the spread of AIDS.
Betty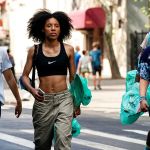 "Deeply queer, purposefully multicultural, and proudly feminist." Those are the words Vogue used to describe the Crystal Moselle-directed TV series, based on her 2018 movie Skate Kitchen. Titled Betty, which is a derogatory term for skater girls, the project follows a crew of young New York women who, amidst tricks, love and friendship, try to break into the purely male world of skateboarding. The protagonists are super cool zennials: from the stubborn Janay (Dede Lovelace) to the aspiring filmmaker Honeybear (Moonbear), from Kirt (Nina Moran) to Indigo (Ajani Russell), the young drug dealer with bleached eyebrows. Want another reason to watch the HBO series? If the format that reminds you of a sort of mash-up between Girls and Euphoria is not enough, there are the beautiful outfits (all to copy!) chosen by costume designer Camille Garmendiaa.
Tales of the city
Tales of the city is a 2019 Netflix mini-series, a new chapter in the television saga started in 1993 and based on Amistead Maupin's The Tales of San Francisco. At the center of the story is San Francisco's LGBTQ+ community, chronicled from the 1950s to the present, revolving around Barbary Lane number 28 and its histrionic owner, Anna Madrigal (Olympia Dukakis), who was born a man and made the full transition through many struggles. The new episodes continue to explore the themes of sexual identity, but also of cultural and social identity. Among the protagonists there is also the star and activist for LGBTQIA+ rights Elliot Page.