adidas will no longer collaborate with Beyoncé's Ivy Park
The German giant and the pop star's brand parted ways over "major creative differences"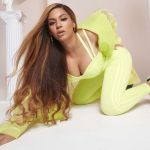 After five years, the partnership between Ivy Park and adidas is coming to an end. Founded by Beyoncé in 2016, the sportswear brand and the German giant had first teamed up in 2019, unveiling their first collection with an ad campaign that featured stars such as Missy Elliott, Cardi B, Kendall Jenner, Angela Bassett, Ciara, Reese Witherspoon and Hailey Bieber. In the years that followed, the collaboration went from strength to strength and included leggings, hoodies, outfits, jumpsuits and performance wear with eye-catching designs, high-quality fabrics and the idea of strong, independent femininity. Last January, the singer unveiled the latest collection, called Park Trail, "inspired by the resilience of nature, the spirit of the streets and the possibilities of the future" during her private show in Dubai, and then officially unveiled it with an ad campaign featuring Ice Spice.
According to reports from The Hollywood Reporter, the split is said to be due to "major creative differences" between Ivy Park and adidas, which led Beyoncé to continue her fashion journey alone in order to maintain her creative freedom. In reality, the reasons for the split would be mainly economic. A Wall Street Journal report in February 2023 stated that the partnership between adidas and Ivy Park was causing both parties large financial losses. Adidas had hoped to replicate the success of Yeezy, so it expected hundreds of millions of dollars in sales and promised Bey guaranteed annual commissions and creative control, instead it found itself with about half of the merchandise unsold. By the end of 2022, Ivy Park was expected to reach $40 million in sales. But according to the same source, Beyoncé would receive the same compensation last year as in previous years: $20 million. By the end of 2022, Ivy Park was expected to reach $40 million in revenue, down from $93 million the previous year. For 2023, documents showed that sales of $65 million were expected, compared to an earlier adidas target of $335 million. The question is what will become of Ivy Park now and whether Beyoncé will be able to revive the brand without the support of adidas.