The sensual dualism of Gothic Chic
If gothic aesthetic meets bon ton feminine vibes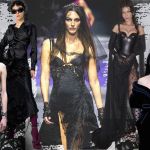 Fashion has gone over to the dark side, no doubt about it. And it could only make us more pleased. Already seeing Zoe Kravitz as Cat Woman in the latest The Batman opposite Robert Pattinson, the urge to fish out of the closet the 2000s black leather trench coat and total black patent leather knee-high boots had never been stronger. But with Halloween approaching and the return of four big-screen icons - the three Salem witches, in Hocus Pocus 2, available on Disney+, and Wednesday Addams, in the first TV series, Netflix-branded dedicated to her and due out Nov. 23 - there's no reason why we, too, shouldn't succumb to this exquisite lure from the dark side. The goth girl aesthetic, with a hint of attitude somewhere between an educand and a witch's apprentice, is officially back to the early days with the addition of twists and sensual details that not even Buffy the Vampire Slayer would dare despite her typically Y2K daring looks. Accomplices, ça va sans dire, are the designers and their areas of exploration.
Burberry's tailored garments, Givenchy's women, Valentino's glam girl with a rock soul, Alexander McQueen's sumptuous dresses, Saint Laurent's glossy cuissardes, Gucci's studs, and Balenciaga's total black. In the fashion vocabulary of autumn-winter 2022-23, black thus returns to signify power, not just fashion professionals. A golden word that we will also carry into 2023 and even influence spring wardrobes, power reconfirmed itself as a trend during the runways of the just-concluded fashion month, which reconfirmed it on the dark brides of Versace to the flowing shapes of Chanel and Coperni dresses. In short, the unilateral return of witchy style is making its mark, and not only for the night of October 31. The fashion celebration is clear and speaks to the remaining 364 days as well: away with dark lady layering and yay for the revenge, cyclical we might add, of black worn from head to toe as an act of pride.
Even on TikTok the popularity of the hashtag #whimsigoth, which draws inspiration from the more exquisite side of late 1980s gothic style, is growing. Black is thus here dictating, in the hic et nunc, all its rules revolving around magic and mysticism. A hypnotic non-color that attracts as much attention to itself as a potion out of the cauldron of some of the most powerful witches. Does black represent, given the world we live in, a cry of rebellion? Perhaps so. Or that it is a redemption of a femininity locked up and modified to the opposite extreme after the various lockdowns? One thing is certain: if you want to channel your austere vibe but be sensual at the same time, goth-chic is the most appropriate style. The right pairing has to be done by playing smart: no lace and lace to tone down the power, but rather use garments with strictly tailored lines, such as leather skirts with generous slits, floaty capes and high-waisted balloon pants, combined with details with erotic appeal, such as vinyl tights or a tight bustier to emphasize the décolletage. And if you really want to soften it up a bit, a see-through effect turtleneck and a pair of sheer tights may be just the right turn to take to this witchy mood. Charming and untouchable, just like a Wednesday, or like the Anderson sisters from Witches who finally returned to the big screen to teach us some new lessons in sisterhood and girl power. Amok, amok, amok!