The exposed thong is one of the most powerful '90s throwback trend recently
The Y2K born trend comes back thanks to Tribale by Elodie and Bella Hadid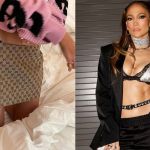 Past and present constantly chase each other in the world of fashion. One draws from the other in an endless game of inspirations, predictions and references that give us one certainty. Ugly or beautiful doesn't matter. If we wore it yesterday, we'll wear it again tomorrow. So, after platform and cargo pants, it is now the turn of underwear popping out of dresses, the bra of course, but, above all thongs and g-strings. From Versace to Elodie in the Tribale video, brands and celebrities have brought them back in vogue and, accomplice to the return of the low waist, today more and more outfits leave strings and slip in full view.
For a long time the thong was a garment reserved for strippers and burlesque dancers, a way to bypass modesty laws by showing as much skin as possible without embracing total nudity. Then, in the fabulous seventies, Austrian fashion designer Rudi Gernreich, with his fashion that celebrated the body regardless of gender, popularized it for both men and women, but it entered the mainstream when in the 1980s more and more working women, with physiques sculpted by long fitness sessions, began to want to wear invisible, seamless underwear that could be glimpsed from jersey dresses or skirts, but that was both comfortable and made them feel attractive, powerful, and free. The most iconic thong ever, however, remains the G-string worn on the runway by Tom Ford for Gucci's 1998 spring collection, the same one that caused a stir with Anna Oxa at the 1999 Sanremo Festival and embellished the plunging neckline of the dress sported by Gillian Anderson at Vanity Fair's 2001 Oscar party. Two examples of porn chic, far removed from the somewhat kitschy style of the early 2000s. In the new millennium, Britney Spears was making her VMA debut in a nude, glittery jumpsuit that gave a glimpse of the sides of her thong, Sisqó was singing Thong Song soaring Victoria's Secret sales, and celebrities like Paris Hilton, Christina Aguilera, and Halle Berry were making the visi-thong their fashion statement.
In the golden age of nostalgia for Y2K, visual underwear is called Whale Tail and the hashtag #whaletail is all the rage on Tik Tok with over 74.9M views. Gen Z and its icons have been decrying, reworking, and adapting the 90s "visible thong" trend for a couple of seasons now. Remember Hailey Bieber at the 2019 Met Gala in a baby pink dress, complete with an Alexander Wang logo thong? How about Bella Hadid going to the airport with panties poking out of her jeans? Or Kim Kardashian in Givenchy by Matthew Williams in a total black dress enlivened by a very thin red thread? Similar looks for Kylie Jenner, JLo, Dua Lipa, Julia Fox, Cardi B, and Alexa Demie, who showed up at the Los Angeles premiere of Euphoria in 2020 wearing a snakeskin dress with a back neckline from which a black thong with Swarovski crystal side strings stood out.
According to fashion historian Roberta Gorin-Paracka, "young female celebrities kept the whale such that it sprouted from the back of the pants or with elastic bands completely above the waist to manifest their sexuality that otherwise could not be expressed." An idea also shared by Chantell Fenton, senior editor of underwear and swimwear at trend-forecasting company WGSN, who points out that the thong is a way to reclaim the female gaze "from women who dress for their own pleasure and not for the male gaze. This time the thong is for girls, not for boys." It is, however, fashion expert Miranda Holder who notes the main difference between the trend of past decades and the current one, "Whereas the noughties iteration of this look relied on people having to reveal their own G-strings under a pair of hipster jeans or Juicy Couture joggers, the 2022 version sees the designers doing the hard work for us." More and more brands, in fact, have taken up the visible thong in recent seasons, combining pants or skirts with underwear in one outfit. New outfits from Versace, Givenchy, Dion Lee, Supriya Lele, Nensi Dojaka and Miaou have the visible thong or thong sewn into the clothes. So the whale tail is back in fashion, shaking off any grunge and hip hop vibes to embrace a more glam side.