The role of fashion inside Gossip Girl's reboot
More minimal, gender fluid and emerging brands outfits
Hello, Upper East Siders, Gossip Girl is back. On July 8, HBO aired the first episodes of the reboot, blowing away all the nostalgic OG series fans and fashion addicts who couldn't wait to get a glimpse of the new outfits of New York's coolest kids. It takes little to understand that Blair and Serena have left their place and their wardrobe full of Dior and Marc Jacobs to a more contemporary style, made to conquer Gen Z and, for this, inevitably influenced by Instagram and TikTok, as also admits Eric Daman, the costume designer who worked on both versions of Gossip Girl. Compared to its predecessors, the student crew that sits in 2021 on the stairs of the MET has a more hybrid, gender fluid, minimalist style, a bit '90s slacker. He loves to mix big brands like Gucci with many emerging ones like Monse, Cinq à Sept, Bode, LaQuan Smith and Christopher John Rodgers and alternates XXL varsity sweatshirts worn with biker shorts and sneakers to skinny micro dresses, a bit like IG influencers.
The character who most represents the fashion of the new episodes is definitely Julien Calloway (Jordan Alexander). Inspiring her looks, many bought mostly on Mytheresa or The RealReal, were the images of Kaia Gerber, Sofia Richie, Hailey Bieber (especially in the vogue Paris shoot where she re-imagined iconic shots of Lady Diana) and Adut Akech for the unique way she interprets international streetwear.
Julien introduces a new palate of gender-fluid school uniforms. - Daman explained to Variety - On her mood board, there's pictures of Destiny's Child at the VMAs from that time period. Trying to bridge the gap between that vibe and contemporary fashion within the boundaries of uniforms was an exciting challenge.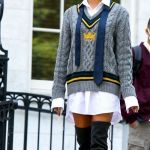 If the influencer is the character everyone will want to copy (didn't the first look of Jean Paul Gaultier's Couture look perfect for her?), the one most focused on the sociopolitical battles that have inflamed the media in recent times such as the Black Lives Matter movement is her half-sister Zoya Lott. The bags she show off in the episodes, in fact, come from Black-owned bookstores such as Revolution Books in Harlem, Adanne in Dumbo or Word Up in Washington Height. Many of the items she wears are also from Black-owned brands, starting with the Beyoncé x adidas Superstar platform sneakers she chose for her first days at Constance Billard. Daman used Whitney Peak's wardrobe to give a voice to minorities and reflect the inclusivity of the cast through clothing as well, while also reminding fans of Jenny Humphrey with her grunge mood, combat boots and plaid flannel shirts:
Zoya is the new kid in town. She comes from a different economic background and her aspirations are more sociopolitical. She's a writer and is an activist, and it was important to fuse that into her wardrobe. That to me meant finding Black-owned clothing goods stores and bookstores. She wears a Revolution Books tote, from the Black-owned bookstore here in New York.
People compare Max Wolfe to Chuck Bass. So Daman designed a series of looks for him that are a bit dandy, but adding something more playful and mixing in garments that were also initially designed for womwnswear, like a pink lace blouse by Paco Rabanne.
He represents a new male identity that is more fluid, that is pansexual. - The costume designer told Variety - He wears a women's lace blouse and wears it as a gender-fighting piece. It's a dialogue this generation is very vocal about that we could not have had during the original series.
Although the Gossip Girl reboot is full of fashion, intrigue and interesting characters, many will miss Blair Waldorf, but fans can console themselves because, in part, the style legacy is preserved by Audrey Hope (Emily Alyn Lind). The girl has an efforless "American Ragdoll princess" style and is adept at pairing masculine socks and sweaters, headbands and bows, preppy cardigans and leggings.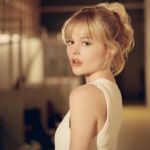 To defend the memory of Blair, along with Audrey, whose icon is not Audrey Hepburn but Grace Kelly, there are also Monet De Haan (Savannah Lee Smith) and Luna La (Zión Moreno) with their miniskirts and designer blouses and headbands.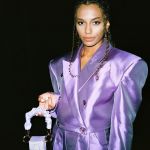 Akeno "Aki" Menzies (Evan Mock), with his pink hair and streetwear looks, is the skater boy of the group, someone you'd see better hanging around Brooklyn than the Upper Eastside. His essentials? Hoodies, flannel shirts, cargo pants and baggy jeans from brands like Alexander McQueen and Tom Brown.