Beauty tutorial to try during quarantine
From how to cut your own bangs to how to make the perfect cat-eye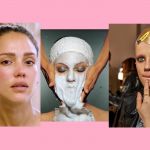 There are many beauty issues that afflict us in this long quarantine: roots, broken nails and dull skin. With a bit of heart and patience, we can shine again. How? Following the tips of Instagram's make-up guru and vloggers. Get ready to play with eye shadows, mascara, lipsticks, learn the recipe for moisturizing cream or cut your own bangs.
nss G Club loves you and we give you with the ultimate beauty guide of the best and easiest tutorials for welness at home.
Skin
One of the few good things about this period at home is that we have more time to take care of our wellness, maybe learning how to use a jade roller correctly.
Now that we've massaged the face, let's move on to the rest of the body. Here's how to make a body moisturizer cream with natural ingredients.
Just for DIY beauty pro, here is the tutorial to make glitter bath bombs at home.
Make-up
During these days, business or friends video calls are the only opportunities we have to get in touch with others. Our advice is, stay dressed easy, even with the tracksuit, but highlight your beauty with no make-up make-up.
With the mask on the face, the focus is all on the look. Alexa Chung, one of the coolest and most followed it-girl of recent years, teaches how to get the perfect cat-eye effect.
If, on the other hand, you want a less minimalist look, opt for color and play with pigments, eye shadows, eyeliner and pencils following @rowisingh.
For a little extra inspiration, here's the nighttime beauty skincare routine of Camila Mendes aka Veronica Lodge in Riverdale.
Hair
If before the lockdown you planned to give a twist to your look with bangs, but you didn't have time to go to the hairdresser, why don't you try cutting it on your own? It's quite simple, all it takes is a little bit of courage and a pair of scissors.
You already have bangs, but is it too long? There are two solutions: turn it sideways and stop it with a hairpin or trim it on your own. The secret is to make short vertical cuts.
If your problem is hiding your roots and you can't continue to wear headbands and caps during your videocalls, try braiding your hair as in this tutorial.
Nails
Now that you're alone, trapped in the house you don't know how to remove semi-permanent nail polish. Don't panic. Arm yourself with cotton, acetone, aluminum foil, nail groomer and follow the instructions.
The nails are back natural, the next step is the basic manicure. Choose the color nail polish you prefer and in a few minutes you're done.
If you want something more special, but basic and cool, we suggest you to follow Betina Goldstein's star nail tutorial, one of our favourite nail artists.