Bella Hadid is Charlotte Tilbury's new muse
A new beauty era begins
Real fans had figured it out. Charlotte Tilbury, the famous beauty brand, has announced that Bella Hadid has joined the parterre of muses. After days of speculation, this is the news that has caused great excitement among fans of the beauty brand and the global supermodel. Charlotte Tilbury's parterre of muses already includes big names from the world of fashion and film, such as Kate Moss, Lily James, Michaela Jae Rodriguez, Jourdan Dunn and Han So Hee. "Bella Hadid is a generational talent at the forefront of the cultural zeitgeist and I am thrilled to finally unveil our creative partnership: We are not just talking about a modern beauty icon, but also a creative innovator and digital native - and together we will dream, create, inspire, celebrate life and inspire the world. From the magic of beauty to the technology of beauty and more, Bella is as obsessed as I am with pushing boundaries and transcending the real and virtual worlds - and I can not wait to share with you all the extraordinary, magical moments we have in shop," said Charlotte Tilbury MBE, founder of the eponymous brand. The synergy between the power of Charlotte Tilbury's beauty tech platforms and Bella Hadid's digital leadership will make this collaboration an inspiration and launching point for new products, iconic campaigns, original content and groundbreaking global moments in the brand's 10th anniversary year.
Charlotte Tilbury is known as a make-up artist and as the
company's pioneer in creating beauty looks that are easy to choose and recreate
thanks to a wide range of products designed to meet the needs of every consumer. Bella Hadid, in turn, is the perfect beauty muse to bring these looks to life. She is the
epitome of Gen Z
, always forward-thinking and able to apply her unique vision to all her creative projects, maintaining her own identity and telling it in chameleon-like and unexpected versions. "I have been following and admiring Charlotte for years, she is a true force of nature and we both share a passion for the theme of empowerment and developing a community that champions a modern and inclusive concept of beauty. When I saw Charlotte at the Prince's Trust Gala last year, I remember her standing at the table next to me dancing - the only one doing so; it was love at first sight and I knew immediately that she would be my new dance partner. Charlotte radiates a unique light, both at work and in general when she approaches people," Bella reports.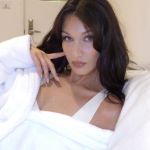 The collaboration between Charlotte Tilbury and Bella Hadid promises to be an extraordinary success for both
, with a significant impact on the world of beauty, fashion and beyond. "Bella knows how much make-up boosts confidence and together we want to inspire everyone in the world to feel that way, because when you feel more beautiful and confident, you can conquer the world and achieve your dreams," explained Charlotte Tilbury. With the combination of Charlotte's creativity and experience and Bella's sensitivity and influence,
the brand is preparing for a new beauty era with innovative and bold proposals in which we can all reflect ourselves.