The sinister aesthetic of Succubus Chic
From Medieval times to 2023, passing through '90s
Let's grab a shovel and get ready to bury Clean Girls, Hailey Bieber's donut glaze and eccentric, glittery Euphoria-esque make-up because fashion and beauty have gone over to the dark side. Catwalks and social feeds are asking us to unleash our dark feminine energy, wear outfits with Goth Chic aesthetics brought back into the spotlight by Tim Burton's Wednesday, and experiment with eyeliner, eye shadow and lipstick to create looks capable of "inspiring obsession" like a true Dark Mermaid fresh from the depths of the abyss or, better yet, like a Ghoulish Girl newly risen from the grave of coolness.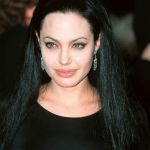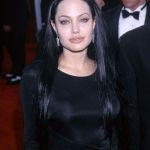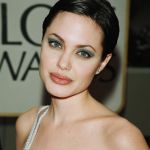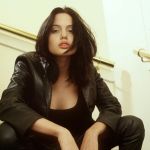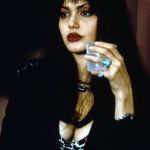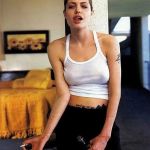 Forget the goths of the 1980s who listened to Bauhaus or Siouxsie and the Banshees and wore no-logo dresses, their 2023 version looks like a Corpse Bride in Versace who doesn't adhere to any subcultural movement, leaves any philosophical foundation or musical preference in the past in exchange for a designer wardrobe and a handful of followers. The original model of this aesthetic that some call Succubus Chic and others Voguish Vampire is the Angelina Jolie in the early 1990s. The quintessential sexy bad girl, The "Born to be wild," to quote the title of a 2000 Elle magazine editorial dedicated to her, in leather pants and black tee walking around with a vial containing the blood of her second husband (actor Billy Bob Thornton) hanging around her neck, loved knives and living dangerously. The contemporary Ghoul Girl has the same attitude and look: long, black hair (usually parted in the middle); pouty lips, either natural or enhanced by bold lipstick; smokey or siren-eyes; high cheekbones and hollowed-out cheeks (no matter whether genetic inheritance, the effect of skillful contouring or the result of buccal fat removal); and, above all, very skinny, shaved or bleached eyebrows, discolored to the point of disappearance.
The new Ghoul Girl archetype is a gothic and sensual young woman who embodies the zeitgeist of the moment characterized by a desire for imperfection, darkness, and causeless rebellion. If Angelina Jolie is the OG, Mia Goth and Arca are two of the forerunners of the new millennium version, the celebrities who have best interpreted its codes are TikTok creator and Nasty Cherry singer Gabbriette Bechtel, along with models Amata Alp and Amelia Gray Hamlin. Hamlin's sudden transformation from nepo baby to it-girl with bleached eyebrows proved particularly fortunate for her career by allowing her to walk the runways of major brands such as Diesel and Balenciaga. The latest to embrace the Succubus Chic style was Kylie Jenner and, you know, if a Kardashian-Jenner embraces a certain aesthetic or core it means that one is about to become a real trend. On winter vacation in Aspen, the founder of Kylie Cosmetics shared a new, decidedly gothic image with her followers: black denim bustier with a frayed hemline; raven hair gathered in a high, disheveled bun; 90s contour lips; cheeks hollowed out by makeup; and undone eyebrows. Looking at her in this unprecedented version, she looks perfect for a crossover between The Vampire Diaries and Gossip Girl. Yeah because the Ghoul Girl's ideal habitat is a virtual world of the undead and luxurious clothes, where every outfit is designed to garner likes on Instagram and makeup between sexy and emaciated trumps every existential dilemma.