10 make-up trends to try this fall
From bold eyelids to jelly lips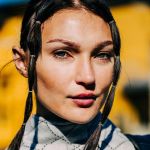 Summer is coming to an end, but it is no time to abandon color and statement make-up. In spite of the dreary weather that awaits us in the coming months, our trousse will be filled with new palettes of eyeshadows, eyeliners, lipsticks, blushes, nail polishes and skincare products dedicated to making special and, why not, funny and colorful. Color in its brightest shades together with extra dark black and face gems is the solution of make-up artists and fashion brands to make even school and office days special.
Here are 10 trends coming straight from the fashion shows dedicated to autumn-winter 2022 to try.
Bold eyelids
Full color. The latest fashion weeks suggest daring with fingers and brushes playing "strega comanda color" as children blending powders and pigments all over the eyelids. Valentino makes bright fuchsia a true beauty statement, Saint Laurent prefers purple, Dion Lee red, Versace black, Gucci silver, Hardware Ldn yellow. There are those who apply eyeshadow with precision, spreading it full in the center and blending outward, and those who like a smudged effect, those who prefer powdery formulas and those more watery, but, in the coming months, the rule is the same for everyone: take an eyeshadow palette and paint your eyelids like a rainbow capable of brightening even the grayest of autumns. A true dopamine beauty gesture!
Extra black eyeliner
Tremulous, comma-shaped, full and thick, subtle and playful, straight as a straight line that cuts the eye or graphic. Eyelineris the must-have item in the fall makeup bag. In fact, just a little extra black flick is enough to give character and charm even to a totally clean face as shown by Paul & Joe's asymmetrical graphisms, Roksanda's parallel stripes and Anna Sui who for her last fashion show created a sort of exaggerated winged eyeliner broken up by a negative space in the central part of the lower eye rima.
Statement lips
Not only eyes. Lips, too, after years of being hidden under masks, return to prominence. They claim attention with full colors, preferably in all shades of red ranging from coral to burgundy. The bravest can take inspiration from Lanvin, Versace, Gucci or 16Arlington and dare with blueberry, black and metallic finishing. In addition to wow effect lipsticks, better add glosses to our shopping list. Dolce & Gabbana, Miu Miu, Max Mara, Supriya Lele and Giorgio Armani teach us that lips are more beautiful, sexy, voluminous and plump with a swipe of vinyl-textured lipsticks or jelly lip glosses, even transparent ones.
Fresh face
Watchword: minimalism. The complexion for the coming months is uniform, fresh, luminous, almost ethereal, as at Coperni, Peter Do, Fendi and Chloè, where to add a touch of color to the natural glow at most there is a veil of blush. To make this clean look even more impactful, the advice, in addition to careful skincare, is to keep the eyes and lips neutral, passing only a glossy product.
Stand out nails
If Hailey Bieber's glazed nails dominated this summer, this fall, as with eyes and lips, we will let our imagination run free, mixing vibrant-colored nail polishes with graphic designs, paint flecks, rhinestones, glitter and pearls. For some inspiration just take a trip to Pinterest and Instagram or look at the latest fashion weeks. At The Blonds, the nails are long sharp and deep red; at Dion Lee they are square and chrome, almost alien; at Christian Cowan they are immense and profiled with golden pearls; at Weinsanto they combine hot pink and black, perfect for a modern vampire; at Yuhan Wang they are sky blue and decorated with a sort of mini eyelashes ton sur ton.
The return of the pixie cut and of the side parting
Let's call it, playing a bit, the revenge of the Millennials, but the side parting, for years derided by Gen Z who preferred the center parting, is about to have its moment. Who says so? It's being done by Giambattista Valli with its ultra-chic wet look, Chanel, which stops hair with cute little clips, Hermés with its natural locks, Saint Laurent with its rigorous chignons, but also Fendi and Miu Miu. If, on the other hand, you want to start the fall with a new look why not follow the example of the star of Prada Beauty's campaign, Emma Watson, who in the images accompanying the launch of the Paradoxe perfume sports a perfect pixie cut. The same one is also chosen by Chloé, Valentino and the ever-iconic Twiggy.
Skinny or bleached eyebrows
Dust off your tweezers and mirrors because skinny brows are back. We anticipated it to you already last year that after seasons spent thickening and intensifying, fashion has begun again to bring thinner and thinner lines to the catwalk or opt for even more drastic solutions. We are talking about bleached eyebrows, the same ones adopted by Gigi and Bella Hadid for Versace, Lila Moss for Richard Quinn and many other models for Coperni, Burberry, Viktor & Rolf, Preen and Annakiki. Copying them is easy just follow the many hacks online.
Empire of Blue
The color that will dominate next fall-winter will be blue, in all its shades. The catwalks, from Gucci to Kim Shui, via Christian Siriano, Dion Lee, Saint Laurent, and Zimmermann have painted lips, eyelids, and nails this way. And if the cinema fell in love with blue make-up long ago, the latest to do so were Kendall Jenner and Taylor Swift.
Gem stones and highlights
Call it the Euphoria effect, but face gems are now mainstream, a make-up that makes a look instantly special. If the show with Zendaya and her many fans aren't enough proof, the FW22 runway shows are proof. Givenchy created a kind of trompe l'oeil piercing on the forehead, giving the models an air between cyberpunk and alien; Simone Rocha combined the gems to create a dramatic and, at the same time, romantic effect; at Burberry the crystals, artfully placed by Pat McGrath, form regal masks; at Connor Ive they serve to bring the party people of the early 2000s to life; at Koché they are the only detail that illuminates the look.
Grunge glam
The inspiration is the Teddy Girls of the late 1950s, the Goths of the 1980s, and the grunge style of the iconic Courtney Love. Learning the lesson are not only Julia Fox, but, more importantly, brands such as Versace, Cormio, Blumarine, Eckhaus Latta, Vaquera, Lanvin and Sportmax who brought models with smudged or unevenly applied eyeshadow, dramatic smokey eyes, pronounced eyeliner, red or dark lips to the runway. Make-up that has always been a statement of empowerment, rebellion and, even, glamour.