Hailey Bieber launches Rhode, her beauty brand
First products to get a perfect "glazed skin" hit stores
We've been waiting for it for a while, and now, after a series of teasers in which the model posed in a flesh-colored bikini showing off a perfect "glazed skin," Hailey Bieber has unveiled the first products from Rhode, her beauty brand debuting in stores these days. Each is suitable for all skin types, non-irritating and non-sensitizing, and "offers immediate nourishment and radiance, repairing, protecting and nourishing the skin for long-lasting results that will reveal themselves over time." Bieber and her team, led by cosmetic chemist Ron Robinson and celebrity facialist Joanna Czech, worked hard to achieve the desired results:
"We spent years working on our formulas with our skin board of dermatologists and chemists to make sure that every rhode product restores, protects and nurtures your skin. our formulas only use high-performance ingredients at efficacious levels. each one is purposeful, non-sensitizing, and chosen for its efficacy because a happy skin barrier is a glowy skin barrier."
Bieber's skincare idea relies on a few but very specific ingredients such as niacinamide, a form of vitamin B that helps strengthen the skin barrier, minimize the appearance of pores, and prevent UV damage and inflammation. The other must-have are peptides, a series of amino acids that are constituents of proteins and help keep skin plump and firm by stimulating collagen production. Hyaluronic acid, glycerin and squalane give additional hydration and protection.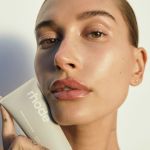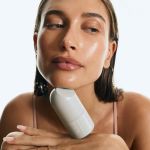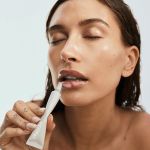 Thus Peptide Glazing Fluid, Barrier Restore Cream and Peptide Lip Treatment are born. The former, which is recommended to be used morning and evening after cleansing and before applying moisturizer, is the secret to glazed skin and a model's glowing complexion. It is a lightweight, fast-absorbing gel-serum that, thanks to niacinamide, peptides and marula oil, smooths fine lines, plumps and visibly hydrates the skin. Rhode's Barrier Restore Cream is an intensive moisturizer that comforts, soothes and restores the skin barrier with its antioxidant and peptide formula. Among its ingredients are shea butter, açai and squalene. Finally, Bieber presents Peptide Lip Treatment, a restorative to be used day and night for naturally plump, soft and glossy-looking lips. It is available in natural, watermelon and caramel.
All products are available on Rhode's website and are encased in packaging, made from recycled paper or FSC-certified materials, that has a minimal chic look, featuring an understated shade of gray and a clean font. The prices? Peptide Glazing Fluid and Barrier Restore Cream are on sale for $29, while Peptide Lip Treatment is priced at $16 each ($42 for all three variants). There is also the option to buy all the products in this first drop in one set for $95.