The perfect Halloween costume for every star sign
What to wear on the scariest night of the year according to the stars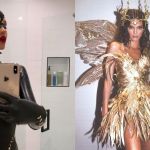 Halloween is around the corner, so it's time to start thinking "What do I want to dress up as this year?". Instead of recycling yet another obvious and somewhat boring outfit, why not let the stars influence you? As we know, each sign possesses different characteristics that stand out in one's personality and allow themselves to be discovered with time and astral movements. So letting the stars guide you in choosing the creepiest costume for the night of horrors is a great idea. Find out which Halloween costume is perfect for your zodiac sign.
Aries | Freddy Krueger (but make it hot)
The Aries personality is edgy and sharp, just like the "claws" of Freddy Krueger, the "dream monster" star of the horror film saga Nightmare. Here is how to interpret the look in perfect Aries style: hat, gloves with blades (of course), cropped jumper with red and black stripes, black mini skirt and high boots.
Taurus | Betty Boop
Dominated by Venus, Taurus is one of the Femme Fatale signs par excellence. The perfect disguise is Betty Boop to be replicated like this: red dress with matching accessories, raven black pixie haircut, very long eyelashes and super red lip color.
Gemini |Playboy Rabbit
With a self-deprecating, flirty and playful personality, the perfect Gemini Halloween dress should be the perfect mix of hot & fun, just like a Playboy bunny. Here's how to reinterpret this iconic look: black bodysuit and tights, white cuffs and collar, headband with bunny ears and last but not least, white pompom as a pigtail.
Cancer | Mummy
Ruled by the Moon, Cancer has an often variable mood. This leads him to be very indecisive until the last minute, especially when it comes to outfits. This is why the perfect costume is the Mummy: simple and quick to make, just make some rags from an old white sheet and dirty them up, wrap them around the body et voila, you're done.
Leo | Fairy
With great charisma and attitude, Leo does not like to go unnoticed, especially at themed parties. That's why his looks will always catch everyone's eye, by choosing sparkling accessories. The perfect Halloween costume is therefore a Fairy: mini dress, wings and hair accessories all in gold.
Virgo | Witch
Blessed with great precision and attention to detail, the sign of Virgo loves the great classics, even when it comes to costumes. This is why the perfect Halloween dress is the Witch: little black dress, gloves, boots and, of course, the ever-present hat.
Libra | Jessica Rabbit
With a strong feminine energy, Libra (tends to) love dressing up as iconic women. Why not try Jessica Rabbit? Long orange hair, a sparkling red dress and long gloves. A true lady from another era.
Scorpio | Catwoman
A lover of black and mystery, Halloween is one of Scorpio's favorite holidays. And it is precisely at themed parties that she loves to be at her best. Latex, total black and incognito are the big themes of this Halloween Dress: Catwoman. A total body suit, a mask with cat ears and boots.
Sagittarius | Pirate
With an adventurous soul, the Sagittarius loves to explore faraway territories. That's why the ideal Halloween disguise is the Pirate. White dress, corset, boots and, why not, bandana!
Capricorn | Cruella de Mon
A sign endowed with great sarcasm, Capricorn knows very well that it is more fun to be a villain than a princess. Precisely for this reason for Halloween, it has to be the baddest of them all: Cruella De Mon. Black dress or jumpsuit, white (or Dalmatian patterned) fur, cigarette mouthpiece and of course the black and white super wig.
Aquarius | Female Joker
Subversive and otherworldly, the perfect disguise for Aquarius is a hero. And why not make him in a female version? The perfect costume is therefore female Joker: green wig, scenic make-up and a masculine outfit are the must-haves to achieve this look.
Pisces | Ariel
The sign of the abyss cannot fail to dress up as the most magnetic aquatic personality there is: the Little Mermaid. Here's how to replicate your Ariel costume: red wig, a shell top and precious green skirt with sequins.