Dua Lipa will duet with FKA twigs
The couple will perform together and present a new song during Dua Lipa' Studio 2054 Show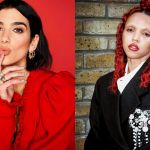 There are few hours until the beginning of Studio 2054, Dua Lipa's great virtual show that will be streamed on LIVEnow today, Friday, November 27th, and the names of the guests who will be on stage with the singer were revealed. The last to be added to the list is FKA twigs, which will present a new song written together with the pop star.
Talking about the collaboration with KKBOX, Dua said:
twigs is working on some new stuff and she hit me up and was like, "Do you wanna get in the studio? Should we do something together?" We made a song that we both really love. Then I asked her whether she wanted to be in the live-stream, and maybe we could tease a little bit of the song. So that's what we're gonna do, which I'm really, really, really excited about.
The event, which coincides with the release of the new double CD version of her second album, Future Nostalgia, previewed by the remix of Levitating ft. Madonna and Missy Elliott, will be a must-see night full of music, dance and theater. As anticipated, it will be a brand new multidimensional live experience: "kaleidoscopic rocket fuelled journey through time, space, mirrorballs, roller discos, bucket hats, belting beats, throbbing basslines, and an absolute slam dunk of the best of times in global club culture throughout the decades".
In addition to FKA, the guests who will perform are many, among the most awaited are Elton John, Kylie Minogue, Miley Cyrus, with whom Dua has worked for Prisoner, Angele, who has collaborated in Fever, Bad Bunny, J Balvin and Tainy, featuring in Un dia - One day.
The appointment with Studio 2054 is today at 9.30 pm, to join it just buy the ticket available on the official website dualipa.com and connect to the link you will receive.