Why are all the fashion girls obsessed with furniture
Is Oscar Piccolo's pleated lamp the new black?
Interior design accounts have really blown up on social media, so it was honestly only a matter of time until the fashion girls of Instagram took a special interest in design content. Not all that surprising since, after all, what is furniture if not just an extension of your style? Not to mention, a great addition to your Instagram feed! Which is the ever-so-humble driving force of influencer content. No wonder we are obsessed.
Interior design content is at the moment most visible on social media platforms where it has been gleefully utilized by various fashion and lifestyle influencers. But as far as we can see it got its start from the usual suspect - Celebrity culture. I mean, is it really a trend if celebrities haven't had their personal decorator's pawns in the mix from the start? Don't think so. However, this time we can give the lion's share of credit to the real style bible of publications - Architectural Digest, which seems to be the not so invisible puppet master behind trending furniture content due to their immensely popular "Open Door" series. The series welcomes the audience to peek inside celebrities' homes in an exclusive open-door policy home tour. Several Hollywood's IT girls and style icons such as Dakota Johnson and Emma Chamberlain have been featured in the series and received praise from the adoring public, in awe of their trendy home decor. And as we all know, what famous trendsetters do, we weep over our wallets and try to do too. In fact, shortly after Dakota Jonhnosson's house tour was uploaded to AD's site, audiences fell in love with her earthy mid-century house and not to mention, the patented green bathroom tile that quickly became popular amongst even the celebrity elite. A similar tile was later witnessed in Kendall Jenner's powder room. While Dakota's house was featured in the publication several years ago, it seems as relevant, if not even more so today, concluding from the number of re-shares and linked content on social media.
As for now, the warm interior and soft furniture aesthetic are trending as the previously toked "Boring" Beige has become a new found classic after millennials were scared back into style after the "Millennial Grey" TikTok haze that managed to call out an entire generation in one trend. Talk about one small step for an internet troll and one huge shove forward for the demand for new home decor inspiration! To combat these colorless runes of yesteryear's interior, many have now opted to soften their living space with more neutral colors and furniture that fits the theme. Taking this oh so literally, the popular choice has been a white teddy seating piece, often mimicking Pierre Paulin's Groovy Chair or The Pastill Odette Pouf. While this is the popular choice, many have opted for a more classic fabric style. Regardless of the material, it seems there is no escape from the white couch - Which, overall, is a fine choice if you happen to possess more grace than a drunken pirate with an inner ear problem and not spill anything in the vicinity of the couch. Sounds easy but have you ever tried to eat spaghetti with a white shirt on? The same logic applies. But it seems here that the fashion girls don't share this problem, or they hide some pretty messy secrets on the flip side of those couch cushions.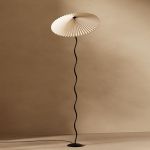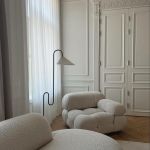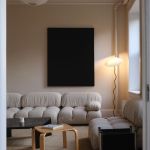 And of course, no one loves a trend piece more than the fashion girl. May it be the 90's Thong Sandal or in this case Oscar Piccolo's Pleated Lamp. This Sicilian artist is the creator behind the immensely popular pleated lamp that with its abstract shape, has shone the light (and with it, high demand!) on asymmetrical floor lamps. Definitely the choice for the stylish based on its visibility on social media. One reason why everyone loves this lamp at the moment is its ability to adapt to different interior aesthetics. The lamp itself is a statement piece but not too showy in a way that it would overshadow the overall interior. It is versatile and can be styled with just about anything without losing its spotlight, so to say. One might call it a forever piece and this is why we love it.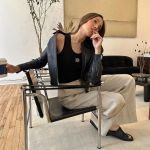 We love pieces that last. This is more than proven by the fashion crowd's undying love for second-hand fashion and vintage pieces right now. Finding a well-working vintage furniture piece is pretty much the fashion equivalent of finding a vintage Versace in a thrift store. You don't have to be a bonafide expert to realize that is a find! That is why one trend we are seeing a lot of right now is vintage furniture. People are investing in lasting vintage statement pieces just as much as pining over the new shiny item. The great thing about this is that you don't have to choose. Any reliable fashionista knows how to mix and match, whether it is pink boots and an orange coat or a vintage Luigi Saccardo armchair and a checkered mat. Underneath it all it's just putting together a look and that is why the leap from fashion to furniture wasn't much of a leap at all for all of our favorite style starlets that got us in a chokehold with their newly found interior-inspired content. After all, your outfit looks only as good as the chair you are draping them on. So take a page out of the fashion girls' grand book of style advice and don't let your style be limited to your closet.