Is the Kardashian-Jenner clan be banned from the 2023 Met Gala?
According to the latest rumours, Anna Wintour has removed their names from the guest list for the event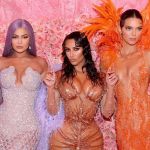 What would the Met Gala be without Kim Kardashian transforming into a shadow woman, clad head to toe in a Balenciaga catsuit or squeezing into a Marilyn dress just to catch paparazzi flashes and give us clues for new memes? According to the latest rumours, we may soon find out, as it seems that Anna Wintour is severely restricting the guest list for the annual fashion event and that no Kardashian-Jenner will be on the list. Other sources close to the family have reportedly already denied this, but the doubt remains.
And to think that Kim, Khloé, Kourtney, Kylie, Kendall and Kris Jenner appeared together for the first time on the red carpet at the Metropolitan Museum of Art in New York just last year, delighting fans with a barrage of selfies and looks, from Kylie's voluminous dress to Kendall's gothic version. The two Jenner sisters are the ones with the most appearances at the May 1 event, surpassed only by Kim, who has been one of the most anticipated guests since her debut in 2013 alongside ex-husband Kanye West. Each edition has stunned with spectacular outfits by Givenchy, Lanvin, Roberto Cavalli, Balmain, Vivienne Westwood, Versace and Balenciaga, as well as a vintage Marilyn Monroe' model from 1962, so curiosity was high as to what she would wear this year, as the dress code is "In honour of Lagerfeld".
The KarJenners have long struggled with marketing strategies to secure their place in the celebrity and fashion world. This went as far as dictating trends and collaborating with big brands like Dolce&Gabbana and Balenciaga. However, it is said that despite the hype and the flow of money that seems to follow them, many still turn their noses up at Kim & Co. as well as other celebrities who come from reality TV and social media. And it is this category of personalities that seems to be most at risk of not being invited to the 2023 Met Gala, sparking the age-old controversy between influencers and professionals that has yet to recover since Emma Chamberlain replaced André Leon Talley as the gala's red carpet fashion correspondent.
To find out if the Kardashian-Jenner clan will really be absent next May 1, thus confirming its decline, well have to be patient, as the official guest list will remain top secret until the very end. The only thing that is certain is that this edition will be dedicated to Karl Lagerfeld, his creations and influence in the fashion world, and will be co-hosted by Dua Lipa, Penélope Cruz, Michaela Coel, an emerging talent known for the TV series I May Destroy You, Chewing Gum and the movie Black Panther: Wakanda Forever, and tennis player Roger Federer.