Are you ready for a Jonas Brothers revival?
And, amid enthusiasm and thanks to the family, they announce the release of a new album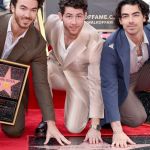 From early 2000s teen pop to music history. The Jonas Brothers' journey, which began on Disney Channel, has been a long one, full of ups and downs, accompanying a generation that grew up listening to songs such as When You Look Me In The Eyes or Burnin' Up. On Monday Kevin, Nick and Joe celebrated a new milestone: a star on the Hollywood Walk of Fame. The three moved brothers arrived on Hollywood Boulevard accompanied by their respective families, whom they thanked for their support and with whom they shared this special moment.
Among the most emotional moments of the ceremony there was Nick's speech, who said he was especially grateful to find «the same faces who were there in the hard times and who are here today celebrating with us» and urged young people who dream of becoming musicians to keep working hard and hoping because one day they might have the same luck he had. He then addressed his wife, actress Priyanka Chopra, to whom he has been married since 2018: «To my beautiful wife, you are the calm in the crazy, the rock in the storm, and I love being married to you. It is the greatest gift. I love being a parent with you, so Malti Marie» and to his barely 1-year-old daughter, Matli Marie, whom he had kept out of the spotlight since she was born in January 2022 by surrogate mother: «Hi baby! I can't wait to come here with you in 15 years and embarrass you in front of your friends.» The same mixture of gratitude, irony and much emotion was expressed by the other two brothers. Both mentioned in their acceptance speeches their sons and partners, Danielle Deleasa, Kevin's wife since 2009, and Sophie Turner aka Sansa Stark from Game of Thrones, married to Joe Jonas since 2019 and mother of his daughters.
During the ceremony for their star on the Hollywood Walk of Fame, the Jonas Brothers also announced the release of a new album, titled simply The Album, scheduled for May 5, to be followed by a tour by the end of the year. Fans have greeted the news with enthusiasm and are looking forward to learning more details about the new work. For now it is known that guest appearances include Ryan Tedder of OneRepublic and rapper Jon Bellion, while as for the sound and lyrics Kevin, Nick, and Joe have revealed that it "features elements of classic 70s pop and America with a modern twist." Curious?