Sex in the age of dating apps
And what remains of love in the society of abundance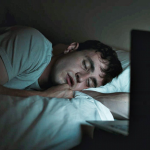 According to research conducted by GlobalWebIndex, 41% of single users reported using dating apps or sites, while a Pew Research study found that one in three relationships begin online. «It seems that every single person has at least five dating apps on their phone: Everyone from pre-teens to boomers uses them. The pandemic has given a boost to everything virtual, from dating apps to sexting: what used to be a less common practice is slowly becoming something commonplace, like shaking hands» explains Valeria Montebello, a journalist who also ran a podcast on erotism at the time of TikTok, Il Sesso degli altri, a clear yet absurd testimony - as only reality can be - to her journey among dating apps, produced by Spotify Studios in collaboration with Chora Media. The topic itself is huge, just think of the galaxy of websites and apps that make up the world of online dating: from Match, a reality that emerged back in 1995 and now has more than 200 million users, to Tinder, perhaps the world's best-known online dating app, from Bumble to Her, to Badoo, Hinge and Blindlee, a new platform that offers blind dates via blurry three-minute video calls between users who match each other's criteria. But there is also room for other companies: this week Grindr, a very popular dating app in the LGBTQ+ community, went public and its share value rose 400% in a few hours, closing the first day of trading at +200%. In general, people are more and more inclined to pay for a subscription to find love.
«They are getting more detailed and specific: there are questions to profile you and find you better, tying you to the decision of an algorithm that, who knows, might choose better than you. There are the apps for haters that make you talk to other people who hate the same things you do, but the funniest are the ideological apps: there's someone who only wants to fuck you only if you are really left-wing and vice versa.»
Given this data and a birth surge that has pushed the world's population to 8 billion, one would expect millennials and Generation Z to have, if not an unbridled, at least an active sex life. Instead, a study published in Archives of Sexual Behaviour examined a 'demographically troubling' phenomenon by analysing two groups of more than 4,000 US 14-to 49-year-olds between 2009 and 2018: the percentage of teens reporting no sexual activity increased from 28.8% to 44.2% for boys and from 49.5% to 74% for girls. We are talking more and more about sex, but the data is clear, we are having less and less of it, almost as if the advent of online life has helped inhibit face- to-face interaction, that without foreplay in chat rooms, without the fleeting certainty of a match to protect us. «We are trying less and less live, no doubt about it. And I do not know if it was better when you were face to face with someone who was drunkenly slurring words that made no sense. But getting to know each other online, and especially liking each other online, is just as complicated as liking each other live, if not more so. While getting to know each other in person can go right or wrong because you eat awkwardly, sweat too much, do not pay the bill or have bad breath, getting to know each other online can go right or wrong because you have one too many emoji, do not understand the tone of the conversation or have a photo with your ex.»
It's impossible to sum up a person in six photos and a bio, but it's enough to give us a first impression, idealised, polarised, biassed, the result of the medium from which the information comes. And if social conventions, quiet lives and fear of being labelled crazy or rude drive us to at least behave civilly, online conversation breaks through the imaginary wall. We can say and do things we would not even consider live, including ghosting, skipping, blocking, because in a 'sea of fish' you can always hope for a better catch. The thrill of the chase, the mystery of the taboo, all are obliterated by abundance.
Perhaps in the social media society, the goal is not so much to have sex, but rather to make others believe they can have it. And if the false myth that hovers around dating apps speaks of compulsive swiping and the eternal hunt for the next casual hook-up, the reality is quite different: a portrait emerges of youth who are generally uncomfortable, inhibited even more by the pandemic, introverted and depressed, Dazed has described Gen Z as 'heteropessimistic'. In Call Her Daddy, the podcast by Alexandra Cooper and Sofia Franklyn, a guest pointed out a phrase that has become commonplace: "if you've been with more than ten men your chances of meeting your soul mate drop by 50%". «Before, you had the people who lived in your country and that was it. The choice was limited. Now it is potentially infinite: dating apps offer everything and can push users to look for different, better things, it can become a kind of sex supermarket. If you find someone, though, and you feel like stopping despite all the means at your disposal, maybe it means you're really taken.» Really taken, yes, but for how much?
In what philosopher Byung-chul Han calls a 'society of the positive' - an idiomatic expression to emphasize the contradictory nature of the capitalist system - we are always faced with better options: we aspire to a better house, a more expensive car, a better paid job, a better boyfriend, without even a shred of that semblance of eternity we were raised with as children, the idea of a marriage or a love that might actually lasts 'till death do us part'. Food, clothes, the latest iPhone, seem to have a predetermined expiration date, a whiff of death that hovers at the moment of purchase. And enclosed as we are within concrete walls and self-imposed beliefs with the aim of giving us a semblance of security in a world adrift, encounters with the other can prove destabilizing or surprising: to mitigate, there are dating apps. At least until the story ends and the merry-go-round begins again.