Who's the highest paid model between Gigi and Bella Hadid?
From the iconic Giselle Bunchen to Kendall Jenner, here are the richest top models of 2022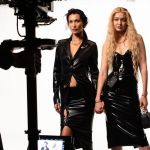 Beautiful, loved, imitated and often rich. Between constant judgment and prohibitive rhythms, the model's job can hide many pitfalls, but undoubtedly also many satisfactions: travel, haute couture clothes, passionate love stories, homes worthy of a decorating magazine and spectacular parties. That must be why, from Twiggy to Kate Moss, we have always loved them, electing them as unmatched icons to admire and learn beauty and style secrets from. The Hadid sisters, Gisele, Kendall, Rosie, Cara and the other tops fill our social feeds and our daily lives, between summer gossip and compulsive shopping. There are certainly many times when we have wondered what it would be like to live their lives for a day. To try to find out there is Instagram, however, to find out which are the 10 highest paid models in the world keep reading below.
Kendall Jenner – $40 million
Difficult to unseat her from the top of the ranking. In 2017 Kendall managed to snatch the top spot on the chart from Gisele Bündchen (who held it for a good 15 years) and hasn't moved from there since. She has been in the spotlight since she was a child thanks to Keeping Up With The Kardashian and continues to be so now that the show has changed its title and moved to Disney+, but she has been able to put the popularity she has gained to good use. Guided by the very astute momager Kris Jenner, she has established herself as a model by becoming the face of brands such as Givenchy, Messika or Michael Kors, and has started long-term collaborations with oral hygiene brand Moon, Kylie Cosmetics and with FWRD, for which she has the role of Creative Director. Is that all there is to it? Obviously not. A few years ago, she followed of many other celebrities by launching 818, her own tequila brand.
Chrissy Teigen – $39 million
Chrissy Teigen is much more than John Legend's wife. The former Sports Illustrated cover star chooses her collaborations carefully and divides her time between family, work commitments and being an influencer. With more than 38 million followers, she is one of Instagram's most beloved celebrities thanks to her direct approach with fans with whom she shares everything from recipes from her cookbooks to attending social events such as the Oscars, from days with her children Luna and Miles to private and painful moments such as the miscarriage of her third child.
Gisele Bündchen –
$35 million
Gisele Bündchen is one of the world's most famous supermodels. Although she has retired from the catwalks and, according to her Instagram account, spends her days doing yoga and growing a vegetable garden, she remains an icon. In recent years, she has attempted a career in film (remember her in The Devil Wears Prada?), has been involved in charity work, has written a memoir, and, producing new editorials and ad campaigns from time to time, has reminded us that we can get more beautiful with each passing birthday.
Rosie Huntington-Whiteley – $32 million
Like Gisele, Rosie Huntington-Whiteley has also said goodbye to the catwalks, but not to the fashion world. The beautiful Englishwoman continues to star in advertising campaigns and photo shoots, with a few forays into the world of film, such as in the action Transformers: Dark of the Moon. In addition, Rosie has made several underwear and clothing capsules and has her own beauty brand called Rose Inc. That's not enough. The top woman also has impeccable taste in personal style and interior design. Check out her Instagram profile for inspiration in her minimalist looks and the Los Angeles home she shares with her partner, British actor Jason Statham.
Adriana Lima – $31 million
The queen of Siren eyes started modeling professionally when she was only in elementary school. Once she grew up, she moved to New York City and officially started her career after coming second in the Ford Supermodel of the World competition. Since then, her future has been dotted with many covers and runways. The most recent ones? Adriana walked the runway for Savage Fenty and Balmain showing everyone why she is one of the longest-serving angels in Victoria's Secret history.
Cara Delevingne – $20 million
Cara Delevigne comes from a family of aristocrats and cool girls, but she became known for her modeling through which she collaborated with brands such as Burberry, Mulberry, Jason Wu and Dolce & Gabbana. Today, she prefers LGBTQIA+ rights activism and film to fashion. Lately, she has appeared as a guest star in Only Murders in the Building, the successful series with Selena Gomez, but her resume includes Suicide Squad, Paper Towns and Anna Karenina.
Gigi Hadid – $20 million
Frankly, we thought we would find her higher on the list because she started modeling at a very young age and one of the runway queens of recent years. From Jacquemus to Versace, they all want her and often choose her not only as the face and body of their creations, but for real capsule collaborations like Maybelline and Tommy Hilfiger did. The latest? A bikini collection with Frankie's Bikinis.
Bella Hadid – $19 million
Bella is definitely one of the biggest contemporary influencers. Her more than 53 million followers adore her and copy her every outfit, turning every item she wears into a trend: from jorts to corsets, cargo pants to skinny eyebrows. Add to that her countless ad campaigns and runways, and that's why Bella is one of the highest-paid and most relevant models of 2022.
Joan Smalls – $19 million
How many people remember her from Beyoncé's Yoncé video? Yet Joan Smalls' long resume includes that experience as well. Famous as the first Latina model to represent Estée Lauder, Smalls is one of the presences that never fails to appear on major runways. Season after season Moschino, Marc Jacobs, Givenchy, Stella McCartney and many other brands vie to have her in the cast of their runway shows.
Liu Wen – $19 million
Since her debut in 2005, she has become one of the world's top models so much so that she was one of the first top Asian models to walk Victoria's Secret runway. Liu, who is originally from Yongzhou, is one of the most sought-after names in recent seasons and has walked the runway for iconic brands such as Jean Paul Gaultier, Gucci, Tom Ford and Chanel.