Who's Joey King, Brad Pitt's stylish co-star
The young actress is making waves for her talent and style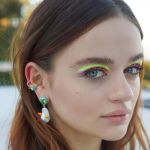 LA-based, born in 1999, Joey King is one of Hollywood's up-and-coming talents. Despite her young age, the actress has a long career behind her, filled with many different projects, but she came to fame thanks to the Netflix trilogy The Kissing Booth and her lovestory with set partner Jacob Elordi. The teen-movie series opened the doors of Hollywood for her, giving her increasingly interesting and important roles. In the coming weeks, in fact, we will see her as the heroine fighting for her independence in The Princess, the new Le-Van Kiet film produced by Disney, and alongside Brad Pitt and Sandra Bullock in the action comedy Bullet Train. During the film's presentation tour, Joey is capturing attention for her edgy, chameleon-like outfits, leading many to wonder: who is that young actress?
Here are five things to know about Joey King.
She has worked on more than 60 movie and television projects
She had her first starring role when she was only 4 years old, in the Life Cereal commercial, but that was only the first step toward a busy career. Since that early debut, in fact, she has appeared in more than 60 film and television projects, trying her hand at very different genres, from the comedy Ramona and Beezus opposite Selena Gomez to the horror film Wish Upon, from the psychological thriller The Lie to the supernatural teen-drama The In Between. In between, there are many small jobs. The list of titles is long: White House Down; Crazy, Stupid, Love; Wish I wash here; Slender Man;... Each experience has allowed her to grow professionally and get more complex parts such as that of the tenacious heroine in the action-fantasy The Princess or that of Gypsy in The Act, a young woman guilty of killing her mother who suffered from Munchausen's by proxy and abused her for years. Thanks to this performance in the Hulu series Joey received her first Emmy and Golden Globe nominations. The latest? It sees her opposite Brad Pitt as a professional assassin in Bullet Train, which will arrive in Italian theaters next August 25.
The Kissing Booth and Jacob Elordi
The Netflix movie-phenomena that made her known to international audiences and brought her great popularity are those related to The Kissing Booth saga. In the three teen-dramas inspired by Beth Reekles' books Joey is Michelle Evans aka Elle. She and her best friend Lee (Joel Courtney) grew up together and, in order not to ruin their friendship, they made a pact never to date each other's relatives. When Elle falls in love with Lee's brother Noah, played by Euphoria star Jacob Elordi, things start and get complicated and she is faced with several difficult choices about her future and personal relationships.
During filming Joey found fame, but also, at least for a time, love with co-star Jacob Elordi. Apparently, the affair between the two actors was born out of an actual French kiss exchanged in one scene. In this regard, King joked that it is practical to find a boyfriend on set, because "you can try it on for seventeen hours a day every day before you decide if it's worth keeping." After nearly two years together, Joey and Jacob severed their relationship, disappointing fans of the saga who were happy to see the romance of the films transposed to reality.
Her style is "Dark Y2k"
In Bullet train, the action-thriller starring Brad Pitt and Sandra Bullock, Joey is part of a group of killers who find themselves indoors on an ultra-fast train traveling between Tokyo and Kyoto. The film will not arrive in theaters until a few weeks from now, but in the meantime, the real show is the film tour. As had happened with Zendaya for Dune, the press previews for King turned into a fashion show of sorts. Advised by stylist Jared Eng, the young actress is sporting a series of black outfits that reflect the strong temperament of the assassin she plays. Among her most interesting looks are the black bodysuit - long skirt set in two-tone checks by Marc Jacobs, accessorized with opera gloves; the jumpsuit by Balenciaga; the satin dress worn with sandals by Naked Wolfe; the black & white bustier shirt and skirt by Thom Browne; the tomboy chic outfit by Kenzo; and the Matrix-esque outfit consisting of a vegan leather jacket and pants by MATERIEL paired with a bralette by DIDU. Like many other celebrities, Joey could not resist the allure of flossing and Nensi Dojaka's creations. The actress wore a sheath dress of hers with cut-out details along with a pair of sheer tights and platform-equipped boots. Not just dresses, Joey enjoys changing hair styling and plays with Dimitris Giannetos experimenting with pastel pink bobs, spiky buns inspired by Jenna Rink from the cult hit 13 Going 30, 1920s waves, Y2K-style baby braids, and curtain bangs.
Her best friend is Sabrina Carpenter
Sabrina Carpenter and Joey King knew each other for years before they became bff. Both started acting at a very young age and hung out in the same circles, dating each other from time to time. In recent years, however, the two have become increasingly close. They often share on Instagram and TikTok moments together where they laugh, drink wine, sing and dance. The actress also starred in the music video for Carpenter's Sue Me. This cameo could be a preview of a future joint project. Sabrina and Joey, in fact, dream of working together in a Tina Fey/Amy Poehler-style comedy.
She's Getting Married
After her lovestory with Jacob Elordi, Joey found her soul mate on another set: Steven Piet, the producer of The Act series. They are very much in love, so much so that the actress announced their engagement with a very romantic statement on Instagram: "I never knew happiness could be so powerful that it can take the air from your lungs, overwhelming every part of you that you can't help but feel your eyes well from the undeniable joy. I never knew that a person's presence and heart could feel like a real home. I never knew love could be so unquestionably beautiful. I never knew until you." Definitely a lot of love in the air!