The Rise of Emma Chamberlain
From Youtube to Met Gala interviews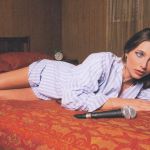 Emma Chamberlain is back. After a six-month hiatus, she has reappeared on You Tube with What's good in New York, a travelogue of sorts in which the Cal girl, armed with a microphone and a sign that reads "Please let me ask you just ONE question for my funny YouTube video," wanders around New York City interviewing people she meets on the street.
"This is how I make friends."
She says at the start of the video, 18 minutes in which the 21-year-old in denim shorts, white tank top and red pullover over her shoulders gets advice from interviewees about the city's most overrated destinations or favorite places to eat, shop and ends up drinking margaritas and nibbling on burritos at a chain of Mexican restaurants and buying home decorations at a small, expensive boutique. It's Chamberlain's attempt to try something new, after the disruptive success that took her from being a teenage vlogger to a star with 11.5 million subscribers on YouTube and 15.7 million followers on Instagram in just a few years.
Her first YouTube video was published in 2017 and since then Emma has kept millions of people company, mesmerized by her ironic and disenchanted way of communicating, a constantly open window on her daily life where nothing seems to really happen and time oscillates lazily between times when she lies in bed, paints, cuddles her cats, shops in organic supermarkets, drives through the streets of LA and consumes liters of coffee (a passion she has managed to turn into a real brand called Chamberlain Coffee). "Chamberlain created an approach to vlogging that changed the very style of YouTube," Time Magazine wrote in 2019, listing her as one of the 25 most influential people on the Internet. She certainly has paved the way for a new type of content that not only breaks the norm of vlogging, but also breaks the boundaries of what is considered taboo for people, particularly famous people: from social anxiety to depression, from acne to bowel movements. All with a naturalness, spontaneity and total lack of judgment that is refreshing. Jonah Engel Bromwich of the New York Times is right when he writes that Chamberlain 'invented the way people talk on YouTube today, particularly the way they communicate authenticity. All of which allows her to count on a large and supportive fan base. Among the comments you read underneath her videos the most common are: "I like how you share freely"; "Emma is the most recognizable person ever, the way she explains everything so perfectly is so comforting" or "I genuinely care about you like you're a real friend. That's the impact you have on people, Emma. You manage to make our day better with just a 10-minute video." This is the key to her popularity: her sincerity, her irony, her being "one of us".
The same spontaneity, now a Chamberlain trademark, Emma brings to her videos, her Anything Goes podcast, the dump aesthetic of her Instagram shots and the way she interacts with other celebrities, be it friend Hailey Bieber or one of the guests at the Met Gala. A perfect example is her exchange of banter with Jack Harlow on the red carpet of the most important event of the year: Emma, in the role of interviewer for Vogue, and the rapper flirting in a sort of surreal talk about the artist's Givenchy suit that ends with an unexpected and funny reaction from Emma. Result? The video circulates virally and then becomes a meme.
On the fashion side effortless recognisability and replicability are the keys to Emma's style. At least they were at the beginning of her career and continue to be so in the youtuber's private moments: a mix of Californian mood made of denim shorts, crop tops, loafers and Boston Birkenstocks with white socks, vintage handbags, and Y2K inspirations. With time and popularity, thanks to the advice of stylist Jared Ellner,, but above all her new role as brand ambassador for Louis Vuitton and Cartier and as creative director of @badhabit, she has evolved and refined towards modern party girl outfits.
Emma Chamberlain is back. She is experimenting with different formats and roles trying to reclaim her place in the world. Perhaps she will move more towards fashion, perhaps she will revolutionize the way her generation communicates again. What we hope is that she will remain an evolved and mature version of the little girl who used to chronicle her daily life on You Tube.