Raffaella Carrà's life will be turned into a TV series
The star will also star in a documentary and a musical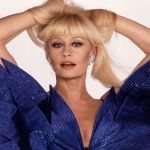 Raffaella Carrà is still the definitive icon of Italian TV and music. No one was as talented, versatile and recognizable as she was, with her unfailing blond bob and sparkling, broad-shouldered dresses. She knew how to do it all: sing, dance, present, shock the moralists while staying a reassuring, mainstream figure. Despite the fact that she was a major player in the Italian pop and cultural scene (but not only) for at least five decades, but there are also many things that most people do not know about her. A few examples? She studied at the Centro Sperimentale di Cinematografia and acted in films alongside Mario Monicelli and Frank Sinatra. These two small curiosities could be part of a new television project. Interesting news for all her fans: Raffaella Carrà's life will be turned into a TV series.
Italian International Film - Gruppo Lucisano and Umberto Massa's Kubla Khan 1990 have acquired the biographical rights to make the new project, as producer Paola Lucisano enthusiastically declared:
"I am really happy to announce this project and to be able to collaborate with Raffaella's heirs, as well as the production partnership with Umberto Massa. We are all excited about this new adventure, as it allows us to represent a unique figure in the world of show business. A legend who influenced entire generations, an artist who was able to enchant audiences of all ages, genders and cultural levels. Her extraordinary popularity has crossed Italian borders and made her an icon of music and customs in every part of the world. And it is to the world that we will take her."
The question many are asking is who will play the role of Raffaella. There are no rumors about this yet, but we can assume that ample space will be devoted to Carrà's career: from her years on the RAI and on the Canzonissima stage, where she debuted the famous Tuca Tuca, to those of popular shows such as Carramba che Sorpresa; from her beginnings as an actress to her consecration as an international diva and gay icon.
The one by Italian International Film - Gruppo Lucisano and Kubla Khan 1990 is not the first project dedicated to the Italian star. A documentary is in the works and will be made by Fremantle; while Ballo ballo by Nacho Álvarez, a film based on Carrà's songs that has also become a musical, presented during Sanremo 2022, is already available on Amazon Prime Video.