The new Chanel CEO focuses on human capital
Leena Nair enters the pool of female leaders in the fashion industry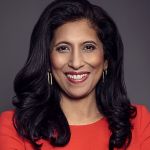 Focus on people and their potential, cultural differences and a background away from the fashion world that of the new CEO of Chanel from January 2022, Leena Nair who will replace the current CEO Alan Werthmeier at the direction of the company after spending about a decade at the giant retailer Unilever. The new role of the current CHRO (Chief Human Resources Officer) marks a change of direction of the French maison in terms of governance and financial structure, in an attempt to modernize the company that since the death of Karl Lagerfeld in 2019 has experienced several destabilizing changes, always winning in terms of economic results, despite the blow dealt by the pandemic. Nair said on Twitter following the announcement:
"What Chanel represents inspires me a lot, is a company that believes in the freedom of creativity, in cultivating human potential and in moving to have a positive impact on the world."
I am so inspired by what @CHANEL stands for. It is a company that believes in the freedom of creation, in cultivating human potential and in acting to have a positive impact in the world.

— Leena Nair (@LeenaNairHR) December 14, 2021
clearly expressing the attention to human capital and its fundamental role to lead a luxury company so important and structured in the world, for her "as important as financial capital". The sensitive approach to issues such as corporate responsibility, environmental and social sustainability make Nair a perfect candidate to put Chanel on the right track to shine as a competitive company in the field of the selection of resources and selected talents increasing its intrinsic and economic value.
Born in Kolhapur, India, she became the first woman in the leadership team of the South Asia conglomerate Unilever as head of human resources in 30 years. His figure is intertwined with those of Helena Helmersson, Sonia Syngal, Lauren Hobert and many other CEO of major companies in the global scenario in managerial positions that represent concretely the change of direction towards a fashion industry more attentive to corporate diversity. According to Nextail in 2020 the female Ceos had grown 100% in the clothing industry, and in 2021 the rate is growing according to
the Fortune report
, which casts a ranking of the 500 most profitable companies in the world, companies with female CEOs have increased by 8.2% globally, (23 out of 500) but only 6 of them are black women.
Inclusivity
and
diversity
are part of top business values for the future, as evidenced by the data and also the new office of Leena Nair and her background in HR, But the leadership of most companies in the world is still reserved for men, and the conception of power, difficult and delicate as it may be, is still far from being eradicated.