Victoria De Angelis is Måneskin's ruling force
A free, cool and rock'n roll future icon of Italian music
When he is little more than a teenager, at the scientific high school J.F. Kennedy in Trastevere, two kindred spirits meet, finding the right partner with which to found a band. One of them is Vic, born in 2000, a Danish mom and an Italian dad, he wants to play metal music, hard, edgy and for this the first time he hears Damiano David sing he discards it because too much pop. With his music partner Thomas Raggi he thinks about it, he chooses it and with the arrival of Ethan the circle closes. All that is missing is the name, which is always suggested by her: Måneskin, that is, moonlight in Danish. When they appear at the auditions of X-Factor the four judges have no doubts: they face very stylish hit makers (also thanks to Vic who took care of the look of the group before Nick Cerioni, hyper talented stylist with the ability to sharply tackle the group's rebel soul. The rest is history in the making.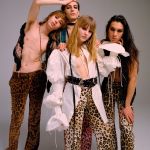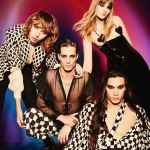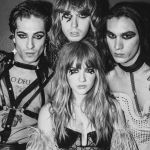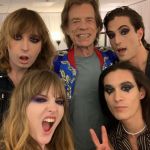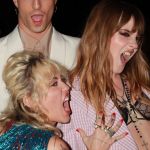 The international success
Victoria De Angelis is the leader of her band, Måneskin, that she brought from playing in the streets of Rome to winning the Eurovision Song Contest, dominating the Spotify charts and performing on the Rolling Stones' stage. Everyone wants them. Jimmy Fallon and Ellen DeGeneres invited them to guest appear on their shows, Alessandro Michele welcomed them in the front row of Gucci fashion show alongside international stars such as Miley Cyrus and Billie Eilish, and fans sang the verses of Mammamia as the ultimate rock'n roll mantra. It sounds crazy if we think that until a couple of years ago most people looking at those four little boys a bit freak was highly skeptical, ready to bet that they would prove to be yet another "the great rock'n'roll swindle made in Italy". Yes, because everyone knows that in the Bel Paese we only play mandolin and eat pizza. But Damiano, Victoria, Thomas and Ethan have overturned all negative predictions, proving that "Why so hot? / Cause I'm Italian" is possible. Their success is due to a rare mix of talent, style, coolness, boldness, luck and to the fact that they speak the same language as their listeners, sharing their battles and beliefs. All these elements wouldn't have worked without Victoria.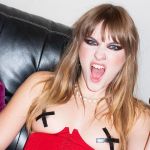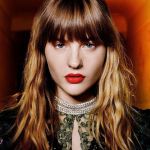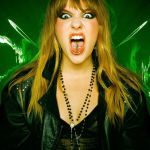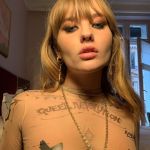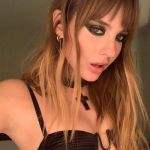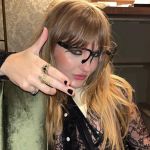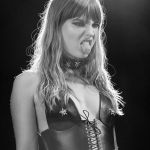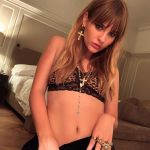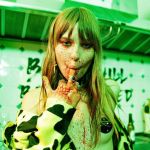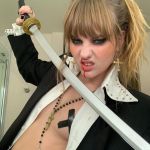 The importance of being yourself
Breaking down clichés. Måneskin have always done this. Simply by playing their music, dressing the way they want, and talking openly about sexual liberation, heteronormativity, diversity, inclusion, and mental illness, as she told Elle:
Stereotypes make us feel wrong, when I was a kid they made me so angry. Now I'm more serene, perhaps because I've learned to surround myself with open-minded people. I suffered from certain rigid distinctions between male and female: when I was six years old I really had a rejection for all things childish: I skateboarded, I kept my hair short, I dressed like a boy. I didn't wear skirts, not because I didn't like them, but to reclaim the chance to be myself. Rock embodied that surge of freedom.
Victoria's ideals
It's a kind of freedom that speaks of empowerment, self-confidence and also passes through outfits, bare breasts or selfies. Playing with her own image, mixing masculine and feminine, transgressive looks and soap and water images is a way, however indirect, very effective to emphasize that feminism is synonymous with equality between the sexes and that, although seeing the emergence of "a strong woman is a good sign, there is space, and beauty, in every mood or situation." De Angelis goes on telling her story without filters, touching sensitive points as bisexuality and panick attacks:
For society, being heterosexual is the norm, and so one often automatically pegs oneself that way, depriving oneself of the freedom to experience many different nuances and facets of love. Once I overcame the initial insecurity of having to question my own certainties, I lived my sexuality in a very natural and freeway, as it should be possible for everyone. There was something broken in me and I didn't know how to fix myself. I used to be ashamed of it, now I don't need to hide it anymore.
The style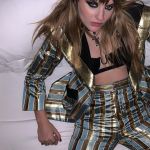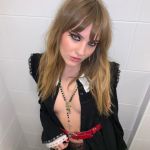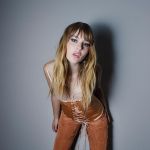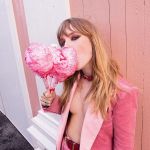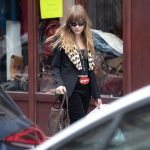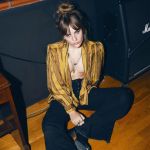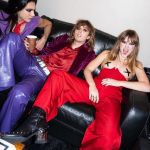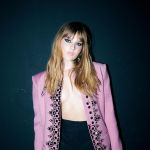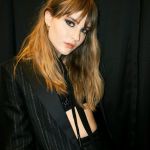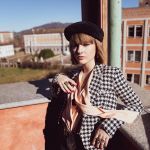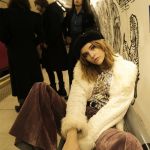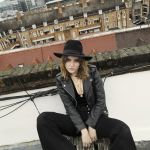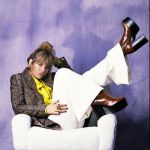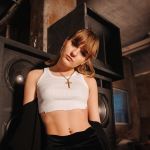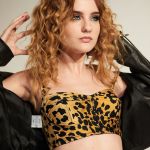 The first to turn the band towards outfits with a vintage touch, that seem to come out from the cover of a 70s vinyl or from Hedi Slimane's catwalks, was Victoria. Before Nick Cerioni and Alessandro Michele came to further refine an aesthetic that, against all odds, came out of the Roman suburbs to conquer the States and Europe with glitter eye-liner and tight jumpsuits. Måneskin's looks and attitude are the results of a baroque mix of elements taken from the history of rock'n roll, from icons such as Mick Jagger, Jim Morrison, David Bowie or Iggy Pop, with a special focus on its most glamorous phase in which male and female merge to embrace a genderless style, fluid and far from any gender stereotype. Måneskin shared a wardrobe made up of essentials such as animal prints, corsets, bohemian shirts, cropped tops, leather or flared pants, transparencies, fetish leotards, fishnet stockings, ankle boots, dark lipstick and smokey eyes. All elements that are updated with every video and every live performance, with a drift that seems more and more oriented towards a sort of eccentric and sophisticated tailor made by Gucci for daily wear interviews and 70s fetish punk a la Vivienne Westwood for the on stage looks. Although Damiano, with his fishnet stockings and bodysuits, is the member who is the most visible, the one who best embodies the rebellious mood, adding a new empowerment factor, is Vic. On the net, the shots that portray the bassist in tailored suits worn on bare skin, mesh jerseys, transparent bralettes and pants with such a high waist that they become a corset that leaves her breasts free, covered only by x black adhesive tape, are multiplying. A little bit nineties riot girl, a little bit seventies punk and a little bit 2000s femen. Beautiful, cool and free to be just who she is.
The references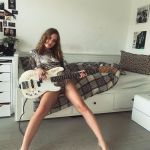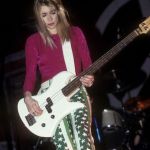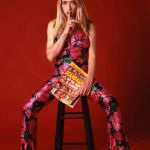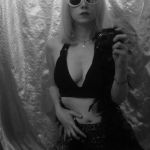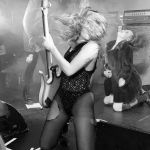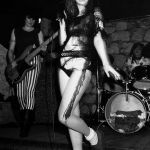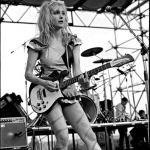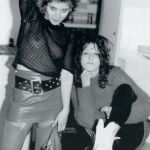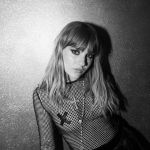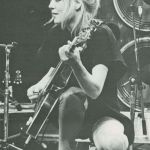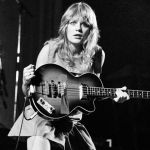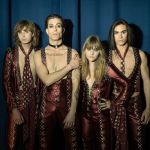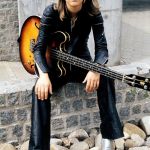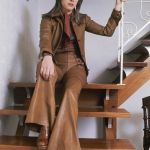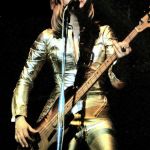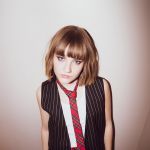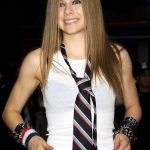 She loves the style of Harry Styles and the expressive, versatile freedom of Lady Gaga, but as a child, Vic's idol was Avril Lavigne with her mix of music and pop-punk outfits. As she grew up her tastes became more and more refined and sophisticated. To those who ask her today what is her greatest source of inspiration she almost always answers Kim Gordon, the iconic bassist of Sonic Youth:
In those years, rock was a male world, she always didn't care, she blew every beauty stereotype, in her way of being on stage there was something aggressive, loud, but she conquered thousands of people through her instrument.
An example of 90s coolness on and off stage that is still copied today, but definitely not the only one. Looking at Victoria's outfits you can easily recognize the influences of iconic female musicians and bass players: from Tyna Weymouth of the Talking Heads to Kim Deal of Pixies; from Melissa Auf de Maur of Hole and the Smashing Pumpkins to Roberta Sammarelli of Verdena; from Suzi Quatro with her leather jumpsuit and platform boots to The Slits, seminal girl punk band of the 70s. If you want to know more about Vic's references, our advice is to add to your reading list Clothes, Clothes, Clothes. Music, Music, Music. Boys, Boys, Boys: Viv Albertine, the memoir of the guitarist of The Slits and Kim Gordon: No Icon and Girl in a band, scrapbook and autobiography of the iconic American bassist.