The rise of Zendaya
From Disney teen star to fashion icon
In just a couple of years, Zendaya has gone from being one of the many teen stars of the Disney universe to a highly acclaimed actress and style icon who embodies the zeitgeist of the contemporary era so much so that she was included by Time among the 100 most influential people of 2022. How did she do it? She did it thanks to a strategy based on three simple points that, together with talent and beauty, have allowed her to focus attention on herself: carefully selecting her movies, trusting the guidance of a brilliant stylist and collaborating with great fashion houses without losing sight of Gen Z.
The importance of the right roles
Zendaya has been working nine to five since she was 13 years old. In the beginning, there was only Disney Universe. As a kid, Zendaya made her TV debut on the Disney Channel sitcom Shake it Up, alongside Bella Thorne who was the true star of the show. Then came teen movies like Zapped and the KC Undercover series, followed by a handful of appearances on Dancing with the Stars, Beyoncé's Lemonade visual and Bruno Mars' Versace on the Floor video. The first role that brought Miss Coleman among the big players is the perfect combination of teenager and blockbuster adapted to all ages audience: MJ, the girlfriend of Peter Parker, in Spider-Man: Homecoming. Thanks to the movie, she not only met her current boyfriend, Tom Holland, but gained fame and love among the mainstream. And continues to grow in love with the pink-haired acrobat of The Greatest Showman. The quantum leap that allows her to prove her interpretative skills comes with Euphoria. The HBO series that tells the story of seven teenage boys in search of new experiences among excesses, risks and wild nights becomes a hit. It sets the trends not only because it portrays a story in which Gen Z can relate with, but also for beauty. Zendaya and her Rue perfectly embody this success. A few months later, the artist takes another step towards maturity as an actress and fashion icon with Malcolm & Marie. Netflix's stylish project, with its glossy black and white and the protagonists' relationship fights, makes Zendaya even more iconic. How can we forget the white and minimal underwear or the lamé long dress designed by Aliétte and inspired by an iconic outfit of Cher, worn on the occasion of a duet with Raquel Welch in 1975?
Waiting to watch the new chapter of the Spider-Man saga, Zendaya's latest project is Dune. In the film she plays Chani, a mysterious creature native to Arrakis and endowed with extraordinary powers that populates the dreams of a young nobleman (Timothee Chalamet) and will be crucial to his destiny. Despite the hype generated by her participation in the movie, fans were disappointed because it seems that her character remains on screen no more than 10 minutes. Don't panic, because the director promises that in the sequel Zendaya will have much more space! Dune 2, due out in 2023, is on her list of future engagements such as directing an episode of Euphoria 3 and Challengers, Luca Guadagnino's new film where she will play a tennis player-turned-coach who transformed her husband (Mike Faist) from a mediocre player to a world-class Grand Slam champion.
Law Roach
The first time Zendaya walked the red carpet she wore a romantic powder pink mini dress, a denim shirt and a pair of combat boots, all from Target. The last was a sophisticated and sculptural Rick Owens from the fall/winter 2021 collection. In between, there were about ten years of carefully selected outfits that marked her natural transition from teenager to a young woman and from starlet to star. The creator of this couture miracle is Law Roach. The Image Architect, as the stylist likes to define himself, began collaborating with Miss Coleman almost by chance. He was working as a personal shopper for a family friend of Zendaya's, and she needed help for an event, so they went shopping together and from that moment they have never left each other so much so that they have nicknamed each other "fashion soul mates".
We have such a relationship that there's no fear when it comes to fashion. There's nothing she won't try. She's fearless. - Roach told People - She has this really beautiful talent of going on the carpet and evoking whatever story we created in the background. [...] All my looks have to tell a story. We create that narrative. There has to be something more than just a pretty dress. Zendaya's always been my partner in going out to the event and telling a story without even opening her mouth.
As a sort of fairy godmother (to reference the Cinderella-inspired couple look sported at the 2019 Met Gala) @luxurylaw took the talented little girl out of the Disney universe and led her step by step to a bright future as a fashion icon. Among her most memorable outfits are the Joan of Arc look by Versace for the 2018 Met Gala, the green Vera Wang for the 2019 Emmy Awards, the yellow Valentino for the 2020 Oscars, the Moschino butterfly dress from the Australian premiere of The Greatest Showman, the two-tone Ralph & Russo chosen for the 2018 GQ Men of The Year Awards, the white Vivienne Westwood long dress from the 2015 Oscars or the Peter Do suit seen at ELLE's 26th Annual Women In Hollywood event. The most special and viral remains, however, the beautiful pink Tom Ford corset chosen in 2020 for the Critics' Choice Awards. Equally cool were the two looks, Valentino Haute Couture and Sportmax, chosen for the Oscars 2022: white silk cropped shirt and a train skirt covered in silver sequins; scanned at the afterparty with an ultra-chic tuxedo.
Law's strategy was as unconventional as it was successful: focusing on emerging brands. Having a rookie actress wear the creations of young designers, slowly growing both of their reputations in a sort of osmotic relationship, worked really well.
We've been able to build out our careers using emerging and independent smaller brands and designers. Because I think when we first started, we were looked at as emerging…so that's how it was - He said, adding - If you look at the things she wears, she still wears a lot of independent, emerging designers. Peter Do, Christopher Esber, Christopher John Rogers. We stick to that identity because it's worked for us and it actually feels really good.
In fact, in a recent interview, she reiterated that the star "still hasn't worn a lot of the big brands that Hollywood tells you that you have to or you're not a real fashion girl" such as Dior or Chanel. When this has happened, for example with Valentino, it was the Maisons that were interested in Zendaya first and not the other way around.
Law's other winning move? Often selecting looks that have just appeared on the runway, such as the gray dress with a jeweled bust from Loewe's spring/summer 2022 collection seen at the Women in Film Awards. A simple and effective way to make Zendaya a trend maker able to intercept and often predict the zeitgeist of contemporary fashion so much so that she was crowned Fashion Icon 2021 by the Council of Fashion Designers of America.
Dune Fashion Week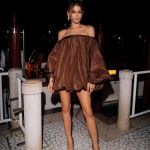 Not just a promotional tour. For Zendaya, Timothée Chalamet and the rest of the crew, the red carpets to present Dune have been turned into a real fashion show, a series of fashion weeks around the world with the young actress as the leading star. It all started last September, during the Venice Film Festival with a Balmain look. The actress appeared in front of the photographers with a wet-effect creation that seemed sculpted directly on her body, a butterscotch-colored dress that evoked the Renaissance sculptures that line the Venetian squares, but, in the nuances, also the costumes of the movie.
From that moment on, every premiere and photocall of the movie directed by Denis Villeneuve has given us an outfit cooler than the other. Each choice was glamorous and in some way designed to enhance her role as the heroine of a dystopian future: from the micro top and long skirt combo by Alaïa by Pieter Mulier worn in Paris to the top consisting of draped chain top and plaid skirt from Vivienne Westwood's SS20 collection. In the British capital, the star also walked the carpet in another beautiful dress, a total white creation in virgin wool, embellished with sequins that hid a special detail on the back: a deep and curved neckline that looks like a nautilus shell. To further amplify the sci-fi mood there was also the hairstyle that seemed to wink at the iconic Princess Leia in Star Wars, the cult movie that was among the inspirations of the never-produced original version of Dune by Alejandro Jodorowsky.
Collaborations
Zendaya's partnerships are also carefully chosen and, like her looks, have increased in importance as her career and her status as a rising diva has evolved. In 2016, the actress launched her own clothing line called Daya by Zendaya, which was gender fluid and focused on inclusivity. Despite anticipating two themes that have become essential today for every brand, her first venture into the fashion world failed soon after due to logistical and order delivery difficulties. Definitely more lucky was, however, her collaboration with Tommy Hilfiger. Together with the American designer, the former star of Shake it Up has set up a prolific and long-lasting relationship, marked by the Tommy x Zendaya capsules which looked like a mix between streetstyle, 90s preppy looks and Bianca Jagger's wardrobe in the seventies.
Her on-screen and red carpet successes made her move to brand ambassador almost mandatory. Currently, the actress is the face of three major players in the fashion and beauty industry: Valentino, Lancome and Bulgari.