History of the total leather look
From symbol of rebellion to trend beloved by brands and celebrities
In recent days, Kylie Jenner has dominated the Instagram feed and beyond. The reason? The launch of Khy, her fashion brand, which debuts with a twelve-piece collection that has an edgy, cool aesthetic that borders on fetish, gothic and biker style, but aims to attract a modern glamour. The young businesswoman has thrown herself perfectly into the role of testimonial for her own brand, taking advantage of every social occasion and post for weeks to wear maxi trench coats, fitted trousers, tops, bomber jackets, skirts, mini dresses and boots. All in black leather. Suddenly every cool girl, from Hailey Bieber to Kendall Jenner, seems to be dressed from head to toe in leather. Many are rediscovering a trend whose roots go way back in time and which is cyclically regaining popularity by finding its way into the wardrobes of celebrities and the offerings of major brands.
G-Club takes a step back in time to discover the origins of the total leather look and then returns to the present to find out who is wearing it today and which brands have brought it back to the catwalk for autumn/winter 2023.
Native Americans, BDSM, bikers, rockers and rebels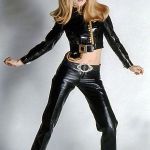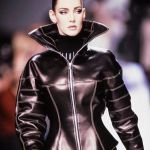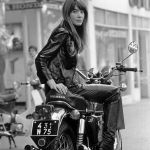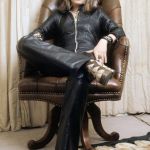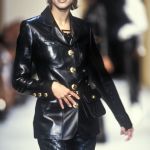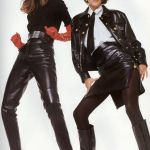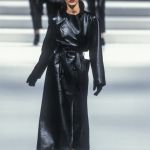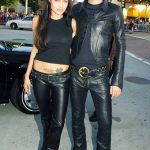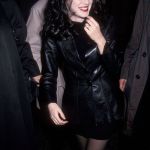 The history of leather in fashion goes back to prehistoric times, when it was used to protect Cro-Magnon man from the cold and weather around 50,000 years ago. Early humans hunted animals for food and then used their hides for clothing and footwear. Since then, leather, whether real, synthetic or made from alternative materials, has characterised the style of every era. Leather trousers, for example, were worn by Native Americans, a garment that was soon adopted by European settlers who used them for work, just as the American cowboys did. The leather jacket, the very famous Perfecto, on the other hand, was born in 1928 thanks to Irvin Schott. What really popularised leather clothing, however, were the subcultures of the post-war period. The so-called "greasers" of the 1950s, who emulated Elvis Presley, Marlon Brando and James Dean, made the leather jacket the symbol of teenage rebellion par excellence. A perfect blend of edginess, freedom and style, leather quickly became a must-have for many and secured a place of honour in the wardrobes of bikers, rockers and punks. Not to mention the importance of this material in the gay community or in BDSM and the fetishisation of the female (but also the male) body that goes hand in hand with the use of leather tools, accessories and clothing.
The head-to-toe leather outfits of celebrities
For a long time, no look was considered more transgressive and hotter than a woman dressed from head to toe in leather. A theory that was partly influenced by the costumes of comic book heroines and partly by fetish subculture. Over the decades, the most famous and rebellious female characters have worn catsuits, trousers, miniskirts, jackets and dresses made of leather, especially in black. A few names? Suzi Quatro, Joan Jett, Brigitte Bardot, Françoise Hardy, Vivienne Westwood, Madonna, Winona Ryder, Kate Moss and even Victoria and David Beckham. Even today, there are many celebrities who opt for total leather looks, starting with Kyle and Kendall Jenner. The Kardashian family has a real passion for this material that involves each of its members, including Kim, Kourtney and Khloé. Even among celebrities, the rule is that friends often copy each other's looks. Among leather fans, we must mention Bella Hadid, Hailey Bieber, Rihanna, Irina Shayk and Vittoria Ceretti.
The total leather looks on the latest catwalks
Brands and designers have repeatedly opted for leather for their looks. Depending on their mood, they flirt with eroticism and perfect dominatrix outfits or give even the most sophisticated outfits a rebellious twist. On the FW23 catwalks, too, black is still the most popular choice, as seen at Bottega Veneta, Alexander McQueen, Coperni, Coach and Saint Laurent, but leather outfits in other colours also appear time and again. Jil Sander opted for butter, Brandon Maxwell for brown, Prada for fiery red, Tod's for grey, Isabel Marant for burgundy, Miu Miu for green and orange. So, for this cold season, the green light for trousers, skirts, trench coats, dresses and boots. As long as they are made of leather.